April 22, 2020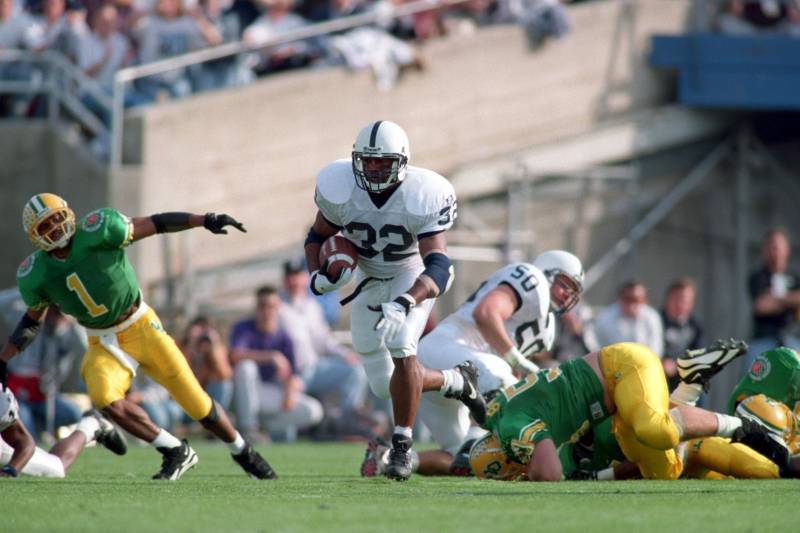 The 1995 NFL Draft was held on April 22-23, 1995. A total of 249 players were chosen over 7 rounds. The Cincinnati Bengals chose Running Back Ki-Jana Carter from Penn State as the first pick in the draft. Future Hall of Famers Warren Sapp, Ty Law, Derrick Brooks, Curtis Martin and Terrell Davis were selected in this draft.
Ki-Jana Carter powered through undersized defenses for 1,539 yards rushing while scoring 23 touchdowns and averaging 7.8 yards/rush. He finished second in the Heisman voting that year, earned a co-MVP for the Rose Bowl with 156 yards and three touchdowns and led the Nittany Lions to an undefeated season in 1994.
In today's NFL, if someone puts up those numbers, players are lucky if they even entertain the possibility of a first-round pick on a running back… much less someone selected first overall.
Just five weeks after reconstructive surgery he was jogging. There was no economic imperative for him: He had pocketed a $7.125 million signing bonus and was guaranteed salaries of $726,000 and $150,000 in his first two seasons, whether he played a down or not. But he felt a sense of duty to the Bengals. "I know it sounds dumb," he says, "but one of the first things I did after the injury was apologize to Mike Brown. I felt bad." Not because of Cincinnati's investment in him, but because of its hopes for a decent season. "He was embarrassed," says Mike Shula, as if in disbelief. "Here's a kid who was handed a $7 million check, never had to play football again. I don't think he spent $7 million, and here he is. It could be a neat story."
Carter's career was plagued by injuries, and after missing his entire rookie season, he played just 35 games in Cincinnati before moving on.