April 11, 2020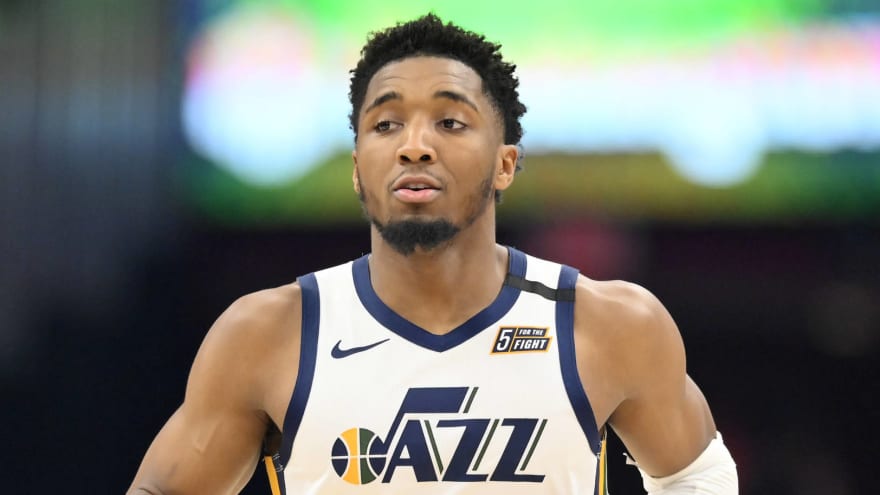 In March, when Utah Jazz center Rudy Gobert tested positive for COVID-19 and later so did teammate Donovan Mitchell, there were multiple reports that their relationship was on the rocks.
In a detailed look at what happened behind the scenes, Shams Charania, Sam Amick and Tony Jones of The Athletic shared that the relationship between Gobert and Mitchell "doesn't appear salvageable," and Mitchell "remains reluctant to fix what might have been broken."
That's not great news. However, it's worth noting that teammate Joe Ingles thinks the team will be fine, whenever it's time to get back to work.
"I'm confident our team is going to be totally fine," Ingles told The Athletic. "I heard Donovan's response (on GMA), or whatever it was, to that question, and a part of that is on Donovan and Rudy to sort out if he's frustrated with him or whatever. But I have no doubt when we go back to training, or when our season starts again, our team is going to be what we have been and what we are. … I'm confident our team will be completely fine. The chemistry will be fine."
Oklahoma Thunder guard Chris Paul, Atlanta Hawks guard Trae Young, and Chicago Bulls guard Zach LaVine are among the players who will participate in the H-O-R-S-E competition being organized by the NBA, NBPA, and ESPN.
Utah Jazz guard Mike Conley, former NBA stars Chauncey Billups and Paul Pierce, newly elected Hall-of-Famer Tamika Catchings, and three-time WNBA All-Star Allie Quigley will fill out the eight-person field for the event.
The NBA has reportedly created some new temporary rules for teams to abide by regarding draft prospects.
According to CBS college basketball reporter Jon Rothstein, NBA team interviews with draft-eligible players for the 2020 Draft will be limited to two hours per week for each player and four hours total for each player.
Rothstein says NBA teams are further prohibited from attending workouts and sharing video of players that occurred after April 6, 2020.
As Major League Baseball continues to look for ways to bring America's Pastime back as quickly and safely as possible, the league's recent proposal could see MLB return as early as May. While discussions for how to implement the plan are ongoing, one aspect of the proposal could result in a dramatic change for many players and teams.
MLB's plan, which ESPN's Jeff Passan reported on Monday night, would move all 30 teams to Arizona and quarantine them, along with team personnel for the entire 2020 season. The only travel allowed would be to and from the stadium and players would be tested frequently to check for symptoms of COVID-19.
The COVID-19 pandemic has brought many professional sports across the world to a stop. Now, as MLB is just beginning to make a plan for a 2020 season without fans, a Taiwan-based baseball team has found a way to bring some energy to an empty stadium.
The Rakuten Monkeys, who play in the Chinese Professional Baseball League, will start their season on Saturday. Facing the reality of playing in empty stadiums, the team decided it will put robot mannequins in the stands dressed in the team's colors.
Saints QB Drew Brees  could've joined the television side of things this coming season but decided to re-sign with New Orleans on a two-year, $50 million deal.

While Tony Romo inked a 10-year, $180 million deal from CBS, ESPN isn't using that to model a deal for Brees. Romo's contract was the largest in sportscasting history, so Brees probably won't make anywhere near that amount unless he rakes in viewers on more of an entry-level deal.

Although he won't make Romo money, ESPN could offer around $6.5 million for the services of the longtime Saints QB.
The 2020 NFL Draft is fast-approaching, and former Alabama Crimson Tide quarterback Tua Tagovailoa remains the biggest wild card in the first round. While there are growing concerns about his durability, even after video of his impressive Pro Day was sent out, many around the league expect Tagovailoa to land with one specific team.
According to Bleacher Report's Matt Miller, there is an overwhelming expectation around the NFL that the Los Angeles Chargers will select Tagovailoa with the No. 6 overall pick if he is available. Los Angeles is in the market for its future face of the franchise after allowing Philip Rivers to leave, creating an opening that Tagovailoa would slide into perfectly.
Some college coaches, particularly in football, have been vocal about their desire to get players practicing again as soon as possible despite the coronavirus pandemic. Mike Krzyzewski thinks that's irresponsible.
The Duke basketball coach told FS1's Colin Cowherd on Thursday that the lack of unified messaging was a problem, and delivered some unspoken criticisms at those who he felt were not thinking of the players first.
"It's disappointing that we don't come out with a more unified voice," Krzyzewski said, via Dan Lyons of The Spun. "As a college coach, we represent the college player, not the college coach. And we should be the voice of the college player in the environment that that college player is in now, not 10 years ago or 20, and we should help streamline the changes that help the college player. And we don't do that. There's no way we do that. And that's a failing. That's why we're in the dark ages in some of these things. … The NCAA came out with a great decision to hold all the sports, and all that. But really how we run this thing is not good."