March 29, 2020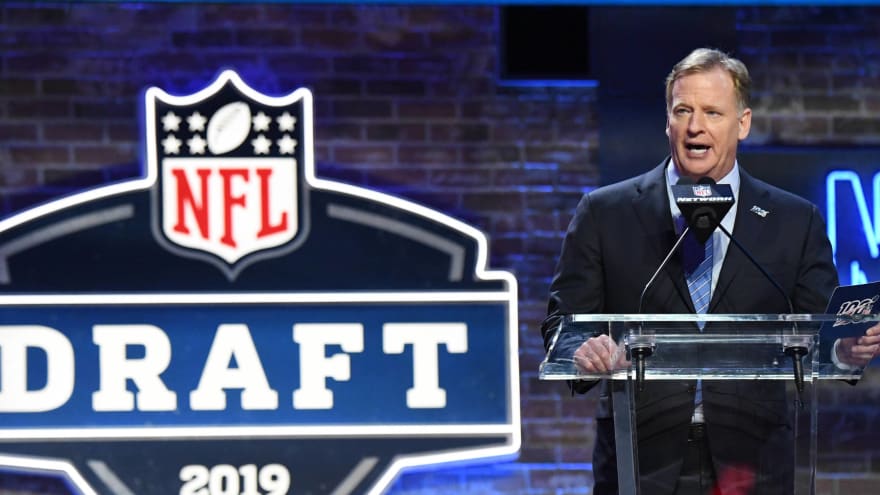 The 2020 NFL Draft will not be rescheduled due to COVID-19 concerns, according to Tom Pelissero of NFL.com. The league's Management Council Executive Committee discussed the issue earlier Thursday, and commissioner Roger Goodell subsequently sent a memo to teams indicating the committee "was unanimous and unequivocal that the draft should go forward as scheduled on April 23-25, 2020."
The first three picks in the upcoming NFL Draft seem to be locked in and confirmed by the same mock draft experts all predicting the first three players going off the board.
The Cincinnati Bengals will make Joe Burrow, QB from the National Champions LSU the first pick in the 2020 NFL Draft. The Washington Redskins will take Chase Young, DE from Ohio State No. 2 and the Detroit Lions will choose Jeff Okudah, CB from Ohio State.
The Dallas Cowboys and franchise quarterback Dak Prescott are back at the negotiating table after months of little movement on a long-term contract.
Discussing the situation Thursday, ESPN's Ed Werder shared that a resolution isn't necessarily close, but noted the discussions are not contentious and that "Prescott will emerge as [the] highest-paid NFL player."
With franchise quarterback Tom Brady leaving the New England Patriots, the spotlight now turns to Jarrett Stidham.
In two NCAA seasons at Auburn, Stidham completed 63.6% of his passes for 5,952 yards, 36 touchdowns, and 11 interceptions as a starter. Prior to that, Stidham started his career with Baylor where he started three games as a true freshman in 2015.
In between his stints with Baylor and Auburn, Stidham spent a semester at McLennan Community College (in Waco, Texas) where he did not play football.
New Orleans Saints head coach Sean Payton is on the mend after testing positive for COVID-19 last week and is "feeling a lot better."
Payton shared the good news of his recovery during an appearance with WWL Radio, as shared by Jeff Duncan of The Athletic. Duncan noted that Payton was tested a week ago Monday and received his results the next Thursday. As of today, he is 10 days removed from when his symptoms first began.
New York Knicks owner James Dolan has tested positive for coronavirus.Dolan, 64, is in the age demographic that is most affected by the novel coronavirus. However, it does not seem that he has any underlying conditions. He did, however, have issues with drugs and alcohol.
James Dolan and former New York Knicks fan favorite Charles Oakley are still tangled up in a legal battle, and one of the greatest players in franchise history is calling for them to bury the hatchet.
Oakley had his civil lawsuit against the Knicks dismissed last month, but he is currently going through the appeals process. When asked about the situation during an appearance on ESPN Radio's "The Bart and Hahn Show" on Wednesday, Patrick Ewing said he wishes Dolan and Oakley would sort out their differences.
ESPN broadcaster Doris Burke tested positive for the coronavirus. She broke the news that she felt symptoms on March 11, the same day she worked the Denver Nuggets-Dallas Mavericks game on the final night of action before the NBA suspended its season.
"I'm doing quite well now, to be perfectly honest with you."
Burke recalled the first time she experienced symptoms, and it was before the game even started. "I remember sitting at lunch with my broadcast crew for that evening," Burke said. "I looked at my colleagues … and said 'I am so tired right now. My head is pounding.' "
Multiple current NBA players are currently dealing with the coronavirus (COVID-19). It was just a couple short weeks ago that the NBA season was suspended after Utah Jazz star Rudy Gobert tested positive for the virus.
Now comes this piece of information from former NBA player Jason Collins, who announced on social media Tuesday that has also tested positive.
Rudy Gobert, Donovan Mitchell and the rest of the Utah Jazz staff have been cleared of the coronavirus from the Utah Department of Health after following instruction to self-quarantine, the team said in a statement, according to Mark Medina of USA Today.
The 2020 Summer Olympics have been postponed due to the ongoing COVID-19 pandemic. It took a while for organizers and the nation of Japan to come to this conclusion, but it had to be done.
With about one-third of the world's population currently on lockdown, there was no way for the year's biggest sports event to go on as planned.
We're now hearing when the postponed Olympics might start. According to Tariq Panja of the New York Times, organizers are aiming for the opening ceremony to be July 23, 2021.
"The I.O.C. said a final decision could come in weeks, but it is now much more likely to be announced earlier, according to the people, who spoke on condition of anonymity because of guidance issued by the I.O.C. The Japanese state broadcaster NHK on Saturday also reported the July 23, 2021 date as the new target," the report read.
MLB Commissioner Rob Manfred said that "baseball will be back" and that it "will be part of the recovery," in an interview on ESPN's SportsCenter Wednesday night.
However, while he noted that "nothing is off the table" in terms of the league starting its season following a postponement due to the coronavirus pandemic, he also threw cold water on the idea of playing a full season this year.
The Midsummer Classic could be one of the unfortunate casualties of a shortened MLB season.
Bob Nightengale of USA TODAY Sports reported on Friday that having an All-Star Game in 2020 is unlikely but has not been ruled out. He also added that both the league and the players are willing to play up until Thanksgiving, if necessary, in order to play as close to a full season as possible.
Donald Trump looked for advice and help in many areas in formulating his response to the coronavirus pandemic. That search apparently included consulting with one of entertainment's biggest power couples.
ABC's Katherine Faulders and John Santucci reported on Friday night that the president sought advice from Alex Rodriguez and Jennifer Lopez regarding the coronavirus.
Without live sports, athletes are looking for new ways to connect with their fans. The NBA is the largest brand on TikTok, but smaller operations like the XFL and PBR have embraced it, too. Players are also using the platform to post PSAs urging proper hand washing and social distancing.
Tech companies are aiming to prevent internet congestion during the pandemic by limiting bandwidth for applications like consumer video and game downloads.