February 23, 2020
One Big Thing: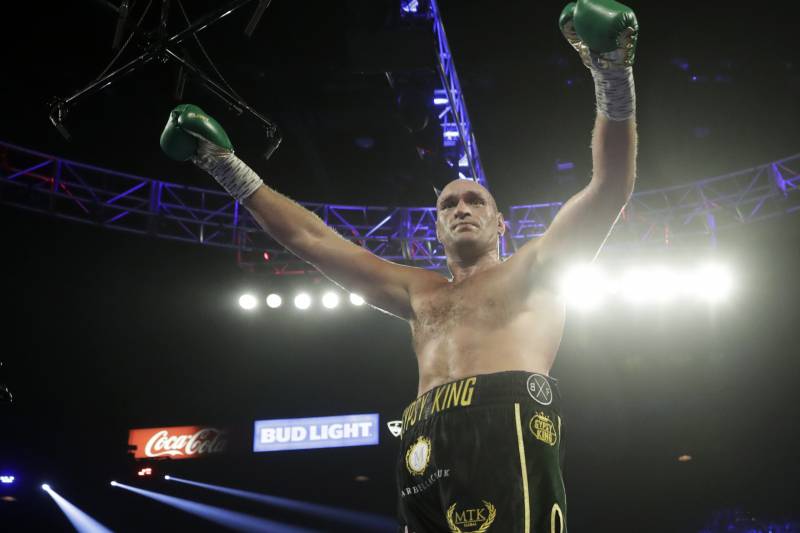 Tyson Fury became a world champion once again Saturday, and he did it by outslugging the knockout artist. In one of boxing's most anticipated rematches in years, Fury defeated Deontay Wilder via seventh-round TKO at the MGM Grand Garden Arena in Las Vegas, capturing the WBC world heavyweight title in the process.
What did the experts say:
Chris Mannix
"That was a bell-to-bell beating that Tyson Fury put on Deontay Wilder. Two knockdowns. Wilder didn't win a round. Didn't win a minute. What a performance by Tyson Fury."
Ian Drake
"Sizzling performance from Tyson Fury. Dominated and totally outclassed Wilder from start to finish. Corner did the right thing saving their man from taking any more. Compassionate."
Bad Left Hook
"I know AJ has three of the four belts and respect to him. But there is now zero real question about the best heavyweight in the game today. It's Tyson Fury."
Skip Bayless
"Fury literally tried to lick some of the blood on Wilder's neck. Continued to attack, lay on Wilder on the ropes. But Wilder hung in pretty well. Lost 10-9."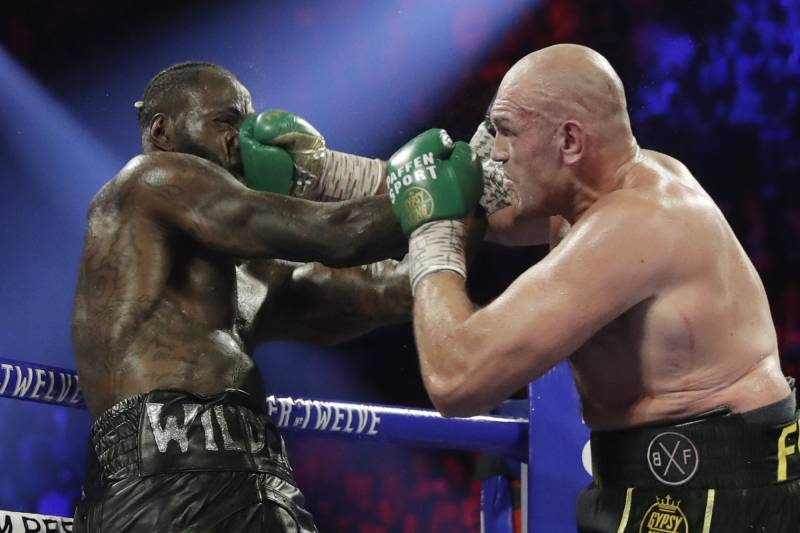 On This Day:
1906 Tommy Burns beats Marvin Hart in 20 for heavyweight boxing title
1934 Casey Stengel becomes manager of Brooklyn Dodgers
1937 Happy Birthday Tom Osborne, Nebraska Cornhuskers football coach
1938 Joe Louis KOs Nathan Mann in 3 for heavyweight boxing title
1943 Happy Birthday to my friend Fred Biletnikoff, NFL wide receiver Oakland Raiders
1958 5-time F1 World Drivers champion Juan Manuel Fangio is kidnapped by Cuban rebels from Fidel Castro's 26th of July Movement; released soon after Cuban GP
1968 Wilt Chamberlain becomes 1st NBAer to score 25,000 points
1980 American speed skater Eric Heiden wins Olympic 10,000m in world record 14:28.13; sweeps all 5 speed skating events at Lake Placid; only athlete to win 5 gold medals at one Winter Games
1985 Indiana Hoosiers basketball coach Bobby Knight throws a chair during a game
1986 Despite losing, Red Sox Wade Boggs gets largest arbitration ($1.35M)
1988 Chicago gives Cubs right to install lights & play up to 18 night games
2014 XXII Winter Olympic Games close in Sochi, Russia
2014 Canada wins the Olympic ice hockey double with a 3-0 victory over Sweden in the men's gold medal game in Sochi; first team to finish the tournament undefeated since 1984
What's New:
John Beilein lasted just 54 games with the Cleveland Cavaliers, but he's hardly the first coach to see his career quickly bust. Even legends like Magic Johnson and Bill Russell had their own coaching disasters.
CBS and Turner sell out March Madness in record time. Nothing but net as advertisers snatch up the last of the tourney's ad inventory a full month before tipoff. Last year, roughly 5 percent of the in-game units were still in play when Prairie View A&M and Fairleigh Dickinson met in Dayton for the first of the tournament's 67 games.
Patrick Mahomes, who become the youngest quarterback to win Super Bowl MVP honors, says his relatability is a key factor in building his brand post-Super Bowl LIV win. After his win, Mahomes is poised to get even more money for endorsement deals and his next contract with the Chiefs.
NFL owners approved the terms of a potential new collective bargaining agreement between the league and the NFL Players Association, the league said in a statement following the owners' meeting in New York on Thursday.
According to Extreme Networks, the average user consumed 595.6 megabytes of data during Super Bowl LIV an increase of 21% from 2019. Indicating more people are spending more time on their devices while at the game.
Boston Red Sox tickets sales are down a little more than 15% from this time last year, according to MassLive. After missing the playoffs in 2019 with 24 fewer wins than in 2018, the team said in October it would raise ticket prices by an average of 1.7% in 2020.
Jessica Mendoza will no longer be on Sunday Night Baseball for ESPN. ESPN announced that they are going back to a two-person booth for MLB's flagship broadcast. It will be incumbent play-by-play guy Matt Vasgersian and incumbent analyst, Alex Rodiguez. Buster Olney will still do his sideline thing.
Sidney Crosby the captain of the Pittsburgh Penguins and sure-fire Hall of Famer has taken a team riddled with injuries all the way to the top of the Metropolitan Division and they're not done yet. What can Crosby and his crew do in the playoffs once they get healthier?
In a pair of dueling motions filed late Thursday, the U.S. women's national team and the U.S. Soccer Federation both sought to finally put an end to the ongoing wage discrimination dispute that has lingered since 2016. The USWNT is seeking back pay of nearly $67 million, arguing that U.S. Soccer made compensation decisions based purely on "gender stereotyping," citing depositions from former U.S. Soccer president Sunil Gulati and current president Carlos Cordeiro.
Since Lunar New Year on Jan. 25, Adidas said a "pronounced traffic reduction within the remaining store fleet" had seen business activity tumble roughly 85% when compared to the same period a year earlier, CNBC reported.
Amazon Prime Video became the fastest-growing streamer in the UK in the final three months of 2019 after broadcasting Premier League football for the first time.
Sperry has long been the footwear brand of choice for males. Now the boat shoe brand is looking to re-engage that audience through athlete influencers. Boating shoemaker worked with 12 pro athletes in 2019 after gaining little traction with style influencers. E-commerce has increased 20% in the past year on higher traffic.
All eight XFL teams are performing well compared to other teams in their respective markets in terms of household ratings, according to Nielsen Media Research data, cited by Fox Sports executive vice president and head of strategy Michael Mulvihill.
Seattle is the top XFL home market thus far, averaging a 6.9 local household rating through two games – albeit, with no current local team to compare with.
In St. Louis, the BattleHawks are averaging a 6.5 household rating, while the Blues have averaged a 4.3.
In Tampa, the Vipers are averaging a 4.7 household rating, while the Lightning is averaging a 1.6.
In Houston, the Roughnecks have averaged a 4.6 household rating, compared to 2.3 for the Rockets.
In Dallas, the Renegades have averaged a 4.0, while the Mavericks have averaged a 1.5 and the Stars a 0.4.
In Washington D.C., the Defenders have averaged a 3.4 household rating, compared to 1.2 for the Capitals and a 0.6 for the Wizards.
The Guardians have averaged a 2.1 household rating, beating out the Rangers, Knicks, Nets, Islanders, and Devils, all of which have averaged a 1.0 household rating or less thus far this season.
The lone exception of an XFL team not leading their local markets is in Los Angeles. The Wildcats have averaged a 1.8 household rating thus far, better than the Clippers, Kings, and Ducks. However, that is behind the 3.1 household rating the Lakers have drawn thus far.