February 17, 2020
The Houston Roughnecks (2-0) defeated the St. Louis BattleHawks (1-1) at home with a final score of 28-24.
P.J. Walker has passed for 442 yards and seven touchdowns in Houston's two wins.
"Coach June Jones had the list of quarterbacks," Commissioner Oliver Luck said. "He and personnel director Randy Mueller had scouted him. I was delighted they wanted P.J. Ultimately, that's the kind of guy that's perfect for our league and perfect for June because he fits June's system so well and has a chance to play and prove himself."
Walker spent two seasons on the Colts' practice squad when Luck's son, Andrew Luck, was the team's starting quarterback.
Walker, 24, played for Matt Rhule at Temple. So, it stands to reason, with Rhule now in Carolina, that Walker might parlay a good season in the XFL into a second chance in the NFL playing for Rhule a second time.
The BattleHawks' Jordan Ta'amu completed 30 of 37 passes for 284 yards and three touchdowns. He also ran for a score. But he also threw the first two interceptions of his pro career.
The BattleHawks' contest, a 15-9 victory on the road over Dallas that was televised by ESPN, was seen in 7.4 percent of homes in the St. Louis market with a TV. That not only far surpassed the rating the reigning Stanley Cup champion Blues drew locally in prime time Saturday, 4.8, it was the top-rated sporting event televised in the Gateway City over the weekend.
Dallas Renegades (1-1) at Los Angeles Wildcats (0-2)
The Dallas Renegades moved to (1-1) on the season with a 25-18 victory over the Los Angeles Wildcats who fell to (0-2)
Bob Stoops and the coaching staff have to be impressed with Landry Jones. Jones, coming off an injury, made his first XFL start and performed great. Jones became the first 300-yard passer this XFL season. He had a 70% completion percentage, 305 yards, 1 TD on the day.
Cameron Artis-Payne was lights out finding the end zone twice in the 4th quarter to help the Renegades get the win. Artis-Payne finished with 14 carries 99 yards, 2 TDs, and 131 total yards.
Former Dallas Cowboys running back Lance Dunbar added six carries for 42 yards and five catches for 34 yards.
"It was a heck of a game" HC Bob Stoops said postgame on the ABC broadcast" and fortunately we made a lot more plays in the second half."
Wildcats QB Josh Johnson, who missed the 37-17 loss to the Houston Roughnecks because of a thigh injury suffered in training camp, threaded the needle between two defenders for a 13-yard pass to wide receiver Nelson Spruce.
Johnson was a fifth-round choice of the Tampa Bay Buccaneers in the 2008 NFL draft out of the University of San Diego. He played 29 NFL games with the Buccaneers, Cleveland Browns and Cincinnati Bengals between 2009 and 2013, starting five, completing 96 of 177 passes for 1,042 yards and 10 touchdowns.
Nelson Spruce had a huge game, the WR had 6 catches for 89 yards and 2 TD's.
"It was a heck of a game" HC Bob Stoops said postgame on the ABC broadcast" and fortunately we made a lot more plays in the second half."
L.A. became the first team to execute a three-point conversion.
New York Guardians (1-1) at D.C. Defenders (2-0)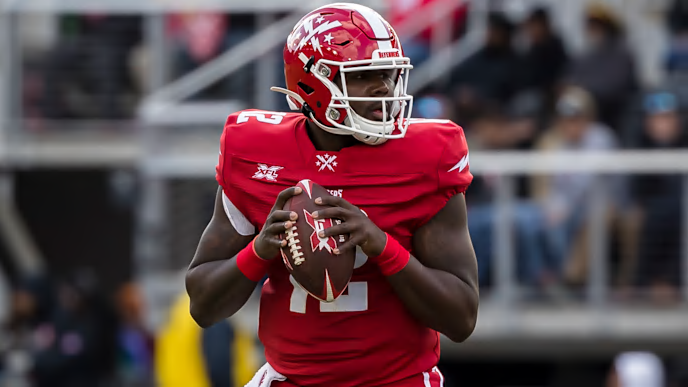 The D.C. Defenders improved to (2-0) on the season Saturday with a dominant 27-0 home win over the New York Guardians, marking the first shutout in the revamped XFL.
The Defenders defense held Guardians to 137 total yards and forced three turnovers.
Guardians QB Matt McGloin, the former Penn State and Oakland Raiders signal-caller completed just 42 percent of his passes for 44 yards with no touchdowns and two interceptions.
Marquise Williams replaced him and finished with more passing yards (51) despite significantly less playing time. He even added 16 yards on the ground.
In an interview at the end of the second quarter, McGloin suggested the offensive play-calling was to blame, "We need to change the whole entire gameplan."
Guardians head coach Kevin Gilbride later took issue with those comments, "I need to go talk to him & figure out what the problem is because he needs to play better."
In contrast to Defenders QB Cardale Jones, the former Ohio State star went 23-of-37 for 276 yards, two touchdowns and one interception.
Receiver De'Andre Thompkins returned from injury and was a big boost on offense, finishing 6-92-1 on nine targets.
With Saturday's win, the Defenders look like the XFL's team to beat, while the 1-1 Guardians have plenty of work to do, especially on the offensive side of the ball.
Tampa Bay Vipers (0-2) at Seattle Dragons (1-1)
The Seattle Dragons (1-1) had some first-half jitters in their first home game in XFL history, but they came out on top in a frantic second half to topple the Tampa Bay Vipers (0-2) on Saturday, 17-9, at CenturyLink Field.
An XFL-record 29,172 in attendance were rewarded with a duel of big plays after the halftime break, with the Dragons coming through on two big scoring plays.
The second half started with a boom. With the Seattle Dragons needing a jolt, quarterback Brandon Silvers went deep to find wide receiver Keenan Reynolds for six.
The decisive score came late in the third quarter when Dragons defensive end Marcell Frazier made an athletic play to pick off Vipers quarterback Quinton Flowers at the Tampa Bay goal line.
After netting 97 ground yards in the opener, Seattle's backfield topped 100 with distribution once again, with Trey Williams and Kenneth Farrow each contributing 45 yards.
The Tampa Bay Vipers got their first touchdown of the season with a 78-yard pick-6 from cornerback Tarvarus McFadden.
 Jacques Patrick (73 yards on 14 carries, 5.2 average) and De'Veon Smith (11 carries, 46 yards, 4.2) proved more useful in this tight game than their Week 1 blowout loss.
Vipers, starting QB Taylor Cornelius went 16-of-27 for 154 yards and two INTs while Flowers, who spelled Cornelius at times and played some running back, went 3-of-7 for 43 yards.
Vipers head for their home opener on Saturday, Feb. 22, against the Houston Roughnecks at 2 p.m. ET on ABC.
Dragons welcome in the Dallas Renegades at 5 p.m. ET on Saturday, Feb. 22, on FOX.