February 16, 2020
One Big Thing: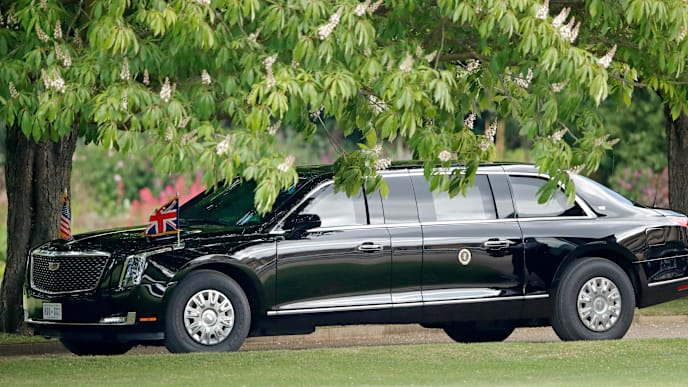 President Donald Trump will attend Sunday's Daytona 500 and is toying with the idea of getting out on the track himself. Trump is planning to take a lap in the presidential limousine nicknamed "The Beast," per multiple sources. Though, everyone involved cautions that nothing is finalized at this point.
NASCAR named Trump the grand marshal of the Daytona 500, marking the first time a sitting president has held the honor. He is the latest of several presidents to visit the historic race.
Former President George W. Bush attended the Daytona 500 in 2004. His father, former president George H.W. Bush, attended a July race at Daytona in 1992 and Ronald Reagan attended a race in 1984.
On This Day:
1936 IV Winter Olympic Games close in Garmisch-Partenkirchen, Germany
1950 Writers fail to elect anyone to Baseball's Hall of Fame
1953 Ted Williams safely crash-lands his damaged Panther jet, later awarded the Air medal
1959 Happy Birthday John McEnroe, American tennis player (US Open 1979-81, 84 / Wimbledon 1981, 83, 84), born in Wiesbaden, Germany
1963 North Carolina forward Billy Cunningham grabs a record 27 rebounds in a game vs Clemson
1970 Joe Frazier TKOs Jimmy Ellis in 5 for heavyweight boxing title
1972 Wilt Chamberlain of the Los Angeles Lakers becomes first player in NBA history to reach the career 30,000 point mark during a 110-109 loss to the Phoenix Suns
1980 American speed skater Eric Heiden wins 5,000m in Olympic record 7:02.29; second of record 5 gold medal sweep of events at Lake Placid
1984 Bill Johnson becomes 1st American to win Olympic downhill skiing gold
1984 3-time men's figure skating world champion Scott Hamilton of the US wins the gold medal at the Sarajevo Winter Olympics from Brian Orser of Canada and Jozef Sabovčík of Czechoslovakia

1985 Livingston Bramble defeats Ray "Boom Boom" Mancini to win WBA champ

1989 Red Sox pitcher Roger Clemens signs $7.5M-3 year contract
1992 LA Lakers retire Magic Johnson's #32 uniform
1999 O.J. Simpson's 1968 Heisman Trophy is sold for $230,000 to help settle a $33.5 million civil judgement against Simpson for the deaths of his ex-wife and her friend
2012 Gary Carter, American Hall of Fame baseball catcher dies from brain tumor at 57
2014 At age 36, American Bode Miller becomes the oldest medalist in Olympic alpine skiing history when he ties for bronze in the super-G in Sochi
What's New:
St. Louis Blues defenseman Jay Bouwmeester suffered a cardiac incident earlier in the week in a game against Anaheim which was ultimately postponed. After undergoing some testing, the team announced that he has undergone a successful Implantable Cardioverter Defibrillator (ICD) procedure. The procedure is done to restore the heart's normal rhythm.
The New York Knicks, who have not won an NBA title since 1973, saw their value jump by 15 per cent in the last year from US$4 billion to US$4.6 billion. This was fueled in part by a lucrative local TV deal with MSG network and playing at Madison Square Garden in New York, the US' richest sports market.
Colin Kaepernick, the former San Francisco 49ers QB will release the memoir on his own Kaepernick Publishing. Audible has also entered a multi-project deal with Kaepernick Publishing to create original audio projects focused on "amplifying the voices of notable authors, creators and other influential figures."
Houston Astros' brand suffers amid fallout from cheating scandal. Sentiment toward Astros drops to worst in the league following MLB's report. Astros' net favorability fell by 12 points among U.S. adults following release of cheating report. League brand not impacted significantly by findings of sign-stealing probe.
Former Dallas Wings superstar Skylar Diggins-Smith is heading to the Phoenix Mercury to link up with fellow heavy hitters Diana Taurasi, and Brittney Griner, essentially creating the WNBA's first "Big Three"
Charlie Strong visited Alabama on Friday and could be a candidate to join Nick Saban's coaching staff in an off-field role. Nick Saban has rehabilitated a few former head coaches and seen then get re-hired. Could Charlie Strong be the next reclamation project at Alabama?
Signing deals with global organizations "is part of the norm of what we do", according to Jim Van Stone, the president of business operations and chief commercial officer at Monumental Sports & Entertainment (MSE), the company which owns Washington DC's National Hockey League (NHL) and National Basketball Association (NBA) franchises.
ESPN once again was the cable network perceived as the most valuable by cable operators, according to the latest survey by Beta Research. The sport channel, which commands the industry's highest fees, has topped Beta's list for 20 years.
Queensland could generate AUD $36 billion (US$24.2 billion) from hosting the 2032 Olympic and Paralympic Games, according to a state government report.
Serena Williams announced on Wednesday that she will serve as strategic advisor for the Mom Project, a platform that connects mothers with employment opportunities. In the US, 34% of women leave their jobs after having a child, a decision often made in large part due to inflexible work schedules and exorbitant childcare costs.
The NBA and integration into other major professional sports leagues such as the NFL and NHL, KINEXON has now found that college teams are starting to invest in its game-changing technology as well. To date, 11 D1 schools such as Stanford, West Virginia and Butler are all working with KINEXON.
Ultimate Fighting Championship is draining its cash reserves to fund big payouts to celebrity investors  even as its fighters gripe that they are vastly underpaid. The mixed martial arts giant has approved a massive $300 million dividend to UFC's investors — a star-studded list that includes Mark Wahlberg, Charlize Theron, Gisele Bündchen, Ben Affleck and tennis stars Serena and Venus Williams.
Media giant NBCUniversal's NBC Olympics division has secured a partnership with NowThis, a mobile-focused video news outlet. The deal will see NowThis briefed to produce in-depth pieces about US athletes in the lead up to the Tokyo 2020 Olympic and Paralympic Games. Content will include video profiles, sit-down interviews, as well as opinion pieces voiced by athletes.
Did you know the game of Tug-of-war was an Olympic sport from 1900-1920