February 4, 2020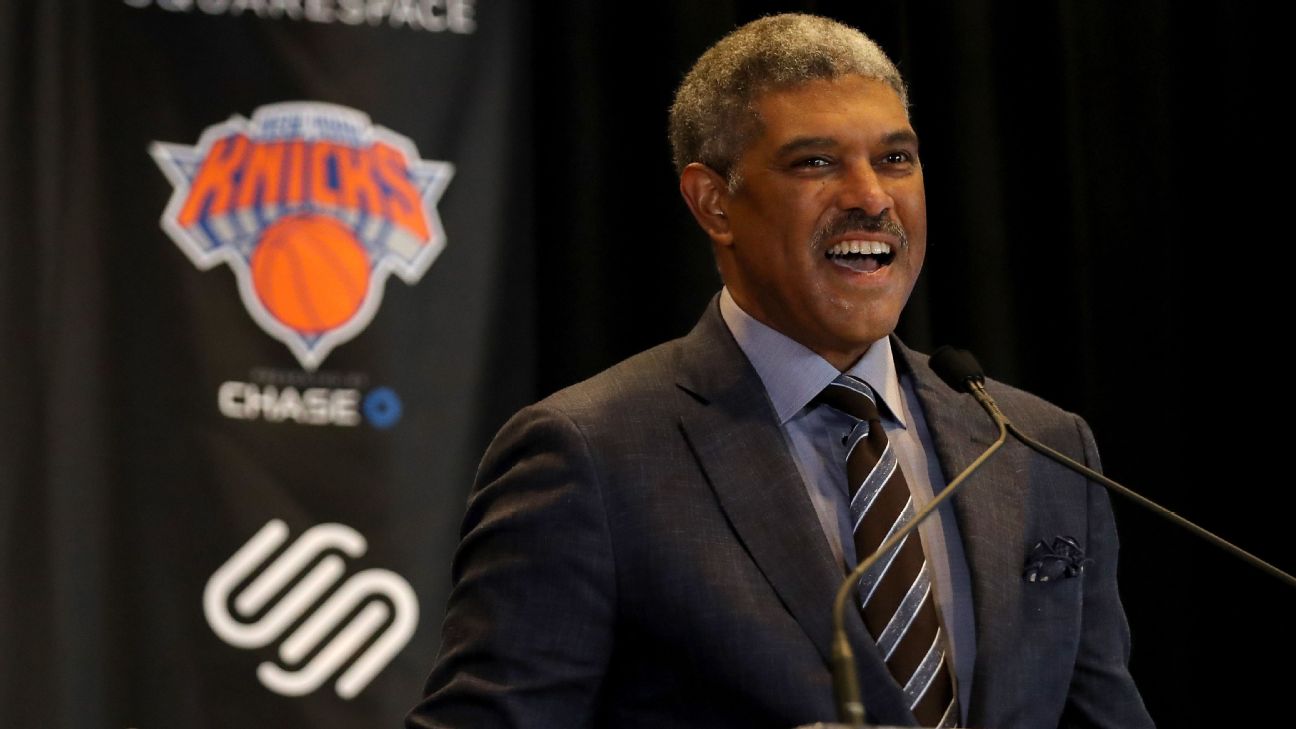 The New York Knicks fired President Steve Mills on Tuesday, shaking up the front office just two days before the NBA trade deadline. General manager Scott Perry will take over control of the basketball operations, the person said, speaking to the AP on condition of anonymity because no announcement had been made.
The Portland Trailblazers Los Angeles Lakers game, the first game for the Lakers since the death of Kobe Bryant, drew 4.41 million viewers. That number makes it the second most-watched regular season NBA game in ESPN's history.
A public memorial has been announced for three of those killed along with Kobe Bryant when their helicopter crashed in foggy weather last month outside Los Angeles. The service for Orange Coast College baseball coach John Altobelli, his wife, Keri, and daughter Alyssa will be held Feb. 10 at Angel Stadium of Anaheim.
The Minnesota Timberwolves are orchestrating multiteam trade discussions with Houston Rockets and Atlanta Hawks in hopes of ultimately turning discussions into a four-way deal that brings Golden State Warriors guard D'Angelo Russell to Minnesota.
The Jacksonville Jaguars will play consecutive home games in London next season, potentially strengthening the franchise's foothold in an overseas market the NFL is eager to expand.
Patrick Mahomes already sports a significant collection of endorsement deals and was heavily featured in State Farm commercials this season alongside Green Bay Packers quarterback Aaron Rodgers. He is also sponsored by Adidas, which released a new ad alongside the Super Bowl that features Mahomes and highlights his background and road to the NFL. Mahomes was the cover athlete of this year's EA Sports Madden 20 video game, and also has a deal with Oakley. Mahomes may be able to bring in as much as $7 million a year in additional endorsement income thanks to his latest success.
An average audience of 102.1 million people watched Super Bowl LIV across the game's television and digital broadcasts. That audience includes the viewers that watched on FOX and FOX Deportes, as well as on the digital platforms of FOX, Verizon, the NFL, and the Chiefs and 49ers properties.
Sales of Chiefs' Super Bowl championship merchandise across the Fanatics network of sites, which includes both NFLShop.com and the Chiefs' online store, are up more than 70% year-over-year compared to sales of New England Patriots' championship merchandise in 2019. The Chiefs are on pace to become the 2nd best-selling Super Bowl champion of all-time, trailing just the 2018 Philadelphia Eagles
Dwayne Johnson may never have achieved his dream of playing in the NFL, but Sunday night he managed to be all over Super Bowl LIV. The Rock debuted a new spot for his Teremana Tequila, a new Jalisco, Mexico-based tequila brand founded by Johnson and Dany Garcia, as well as Tequila Avion vets Jenna Fagnan and Ken Austin.
Willie Wood, the Hall of Fame defensive back who won five NFL championships with the Green Bay Packers under coach Vince Lombardi and made the first interception in Super Bowl history, died Monday. He was 83.
The lone baseball writer who did not vote for Derek Jeter for the Hall of Fame chose to keep his or her ballot private. The Baseball Writers' Association of America released the ballots of 315 Hall voters on Tuesday, and all public ballots included the longtime New York Yankees captain.
The Philadelphia Phillies will retire the late Hall of Fame pitcher Roy Halladay's No. 34 this season. The Phillies will pay tribute to Halladay on May 29, 2020, the 10th anniversary of his perfect game against the Marlins. It was the 20th perfect game in MLB history. Halladay was 40 when he was killed in a plane crash in November 2017.
Two former Chicago White Sox employees have been charged after allegedly scheming with a ticket broker to fraudulently sell thousands of tickets to baseball games.
NHL Commissioner Gary Bettman noted that puck and player tracking would be up and running at all 16 sites that make the playoffs in this spring's NHL playoffs. This technology initiative has been a long time coming for the league.
The USGA and the R&A on Tuesday released their "Distance Insights Project," which revealed a steady increase in distance for more than 100 years with average gains of about 30 yards by PGA Tour players in the last 25 years and golf courses that keep expanding.
Coach Kelly Graves and Oregon made history, handing UConn one of its worst home losses under Geno Auriemma. Ruthy Hebard had 22 points and 12 rebounds as No. 3 Oregon rolled past the fourth-ranked Huskies 74-56 on Monday night, UConn's first loss on campus in seven years. UConn had never had a defeat this bad while playing in Gampel Pavilion, which opened in 1990.
The Georgia Athletic Association remains one of the most profitable enterprises in the Southeastern Conference, netting nearly $31 million over expenses in Fiscal Year 2019.
GF Sports, the investment business backed by private equity firm GF Capital Management & Advisors, is going to the dogs. The company is teaming up with the 136-year-old American Kennel Club a nonprofit dedicated to promoting purebred canines on a joint venture that will take dog shows on tour later this year.
Budweiser last week debuted a specialized labeling for social sharing as part a massive promotional effort around the Super Bowl. The SelfieBud special edition label is printed backward so it appears normal in selfies on social media apps such as Instagram and Snapchat.
TikTok aired a 30-second Super Bowl commercial during the game, leaning into the realness of its creator base. The tagline at the end of the video suggests TikTok is "real athletes, real fans, and real videos." The spot celebrated the short videos people take of going a "little extra during a touchdown" or the quirky things friends do when they hang out.