January 30, 2020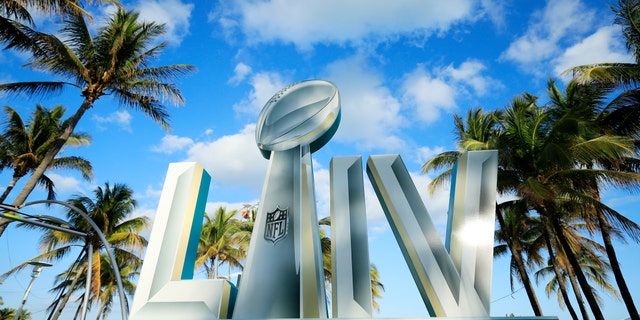 The Kansas City Chiefs and San Francisco 49ers will meet in Super Bowl LIV, with kickoff scheduled for 6:30 p.m. ET at Hard Rock Stadium in Miami Gardens, Florida. The game will be televised live in more than 180 countries and territories and will be broadcast live in almost 25 languages.
Chiefs quarterback Patrick Mahomes, last year's league MVP, is looking to join Ben Roethlisberger and Tom Brady as the only quarterbacks to hoist a Lombardi Trophy before their 25th birthday. Mahomes is the fifth-youngest quarterback to start in the Super Bowl.
Mahomes has 75 touchdown passes and 9,238 passing yards in his first 30 career games, both the most by any player through his first 30 career games in NFL history.
If Kansas City wins, Mahomes will become the youngest player to win both an NFL MVP award and a Super Bowl title, surpassing Pro Football Hall of Famer Emmitt Smith (24 years, 233 days old on the last day of his MVP 1993 season).
Jimmy Garoppolo tore his ACL in the third game of the year as the 49ers limped to a 4-12 finish. Garoppolo went through an intense rehab and has thrived this season.
Garoppolo started all 16 regular-season games, completing 69.1% of his passes for 3,978 yards, 27 touchdowns, 13 interceptions, and a 102.0 passer rating though notably in this postseason Garoppolo is just 17-27 for 208 yards with a touchdown and interception in two games.
Garoppolo has two Super Bowl rings himself, from when he was Brady's backup with the Patriots. Garoppolo told reporters this week that he received texts from Brady and Patriots head coach Bill Belichick congratulating him for winning the NFC championship.
"I respect the heck out of him," coach Andy Reid said. "I think Jimmy, they decided they've been running the ball here, but Jimmy if you really look at it his quarterback ratings, his percentages, all the statistical facts about him you see he's a heck of a quarterback throwing the football. When you come in to play the 49ers, you better be ready to play a complete game, the run and pass game. You better be ready to do it for four quarters so that's how we're preparing. We love the challenge so it not about being nervous, it's about loving the opportunity to play against a great team and a great setting that's why we do this and that's the exciting part of it."
Andy Reid has the most wins of all time as a head coach without winning a Super Bowl or NFL title. In his second Super Bowl appearance in 21-year coaching career. The 61-year-old Kansas City head coach said, "This is America, man. I'm in it to win. This is what we do. I don't want that to be slighted. But I also understand and have a perspective of life. Maybe it's my age now, but that doesn't mean that I'm not going to work hard and coach hard."
Reid will have the benefit of the bye week to prepare for the 49ers' No. 1 ranked pass defense, and history says that's an advantage. Reid is 23-5 in games after a bye (including playoffs), has Super Bowl coaching experience and is also calling the shots for a top-three scoring offense that averages 383.6 yards per game. Of that total, 283.7 yards have come through the air. And even if San Francisco's stout front seven can force third-and-long situations, the Chiefs own a near-50 percent third-down conversion rate (47.3 percent).
"First and foremost, they have a great system that they run over there," Tyrann Mathieu said Thursday. "I feel like Garoppolo has done a great job finding guys that can really take advantage of certain coverages in certain situations. He likes to get the ball out quick, which kind of goes into the kind of guys that they have on that side of the ball — guys that can run after the catch. So, it will be important for us to disrupt the timing, slow those guys down. He does have a hard time throwing in tight coverage — most quarterbacks do — so, I think ultimately that will be the goal for us: To disrupt these guys at the line of scrimmage, play tight coverage, and then try and make a play on the ball."
Shanahan is the 40-year-old son of two-time Super Bowl-winning coach Mike Shanahan. They are the only father-son duo to each appear in a Super Bowl as a head coach in NFL history.
Shanahan is also known for his time when he was with the Atlanta Falcons as offensive coordinator and when Atlanta relinquished a 28-3 lead and lost to New England in Super Bowl LI.
The 49ers know their opponent brings the juice. But the 49ers also have Richard Sherman, king of confidence and keeper of those who have slighted him or his teammates — or in Wednesday's case, the teams his squad has already conquered.
"I don't know. It'll be a great challenge for sure, but to say it's the greatest challenge would almost be a disrespect to some of the great passing games we've played, because we've played some outstanding passing teams this year," Sherman said. "We've played the Saints and everything that Drew Brees had to bring. We played Tampa Bay and early on in the season with their two 1,000-yard receivers and everything that they brought. We played the Rams and Sean (McVay) and his system and how they get things done and played them twice.
"We played some teams that can sling it around pretty good, some quarterbacks that can sling it, some receivers that are really talented. We also played Atlanta with Matt (Ryan) and Julio (Jones) and they're outstanding. But these guys are fast and they're talented, so it'll be a great challenge, for sure."
Bill Vinovich, whose officiating crew was responsible for what's widely considered the worst blown call in NFL playoff history, will referee the game Sunday between the Chiefs and the 49ers.
Vinovich, a 15-year NFL veteran, is a third-generation referee. His father, Billy, and his late grandfather William (Butch) Vinovich Sr. officiated college basketball and multiple high school sports.
Vinovich's crew missed an obvious pass interference infraction by the Rams and the no-call essentially cost the Saints a trip to the Super Bowl.
Vinovich, 58, a certified public accountant in Southern California who also officiates Division I college basketball games, preparing to referee his second Super Bowl in five years.
The Super Bowl is one of the biggest gambling events of the year, with nearly $7 billion expected to be wagered when the Kansas City Chiefs take on the San Francisco 49ers.
Kansas City, the AFC champion with its high-speed offensive attack, is a slight favorite. The Chiefs are in their first Super Bowl in 50 years, with their lone title coming in Super Bowl IV.
According to data compiled by ESPN, a $1 million bet was placed on the 49ers moneyline on Jan. 29 at +120 odds at the MGM Mirage in Las Vegas. If the 49ers were to win the game outright, the person who placed the wager would win $1.2 million on top of their initial $1 million bet, walking away with $2.2 million.
Four of the top 10 largest bets have been placed on the 49ers, including the aforementioned $1 million bet and a $684,000 wager placed in New Jersey on Draftkings Sportsbook on Jan. 21, at -114 odds.