January 20, 2020
One Big Thing:
For the first time in 50 years, the Kansas City Chiefs will compete for a Lombardi Trophy. The Chiefs (14-4) beat the Tennessee Titans 35-24 to win the AFC title.
Coach Andy Reid and owner Clark Hunt accepted the Lamar Hunt Trophy named after his father emblematic of the AFC title.
Reid has only appeared in one Super Bowl, when he was the Philadelphia Eagles head coach. The Eagles lost to the New England Patriots 24-21 in Super Bowl XXXIX.
Kansas City fought back from an early deficit to tally 28 unanswered points, establishing a commanding lead while preventing Tennessee from ever getting back into the game.
Patrick Mahomes ran down the sideline for a 27-yard game-turning touchdown and added 23-of-35 for 294 yards, three TD passes in the Chiefs win. Mahomes finished the game with 56 yards on the ground.
Kansas City held Titans' tailback Derrick Henry, who had at least 180 rushing yards in each of Tennessee's previous two postseason games, to just 69 yards on the ground.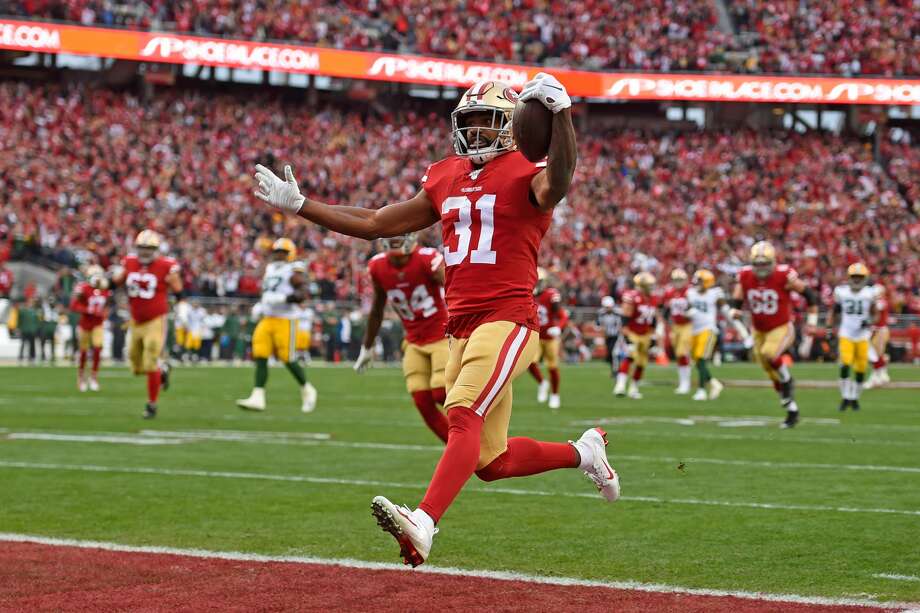 The San Francisco 49ers will play the Kansas City Chiefs in Super Bowl LIV.
Jimmy Garoppolo didn't need to do much passing. He completed six of eight passes for 77 yards. "I think I threw more (than eight passes in warmups)," Garoppolo joked as the Niners hoisted the George Halas Trophy.
The 49ers join Hall of Famer Don Shula's 1971 and 1973 Dolphins (twice) as the only teams to finish a playoff game with fewer than 10 pass attempts in the Super Bowl era.
Raheem Mostert, the journeyman running back put together one of the most dynamic rushing performances in playoff history, the Niners throttled the Green Bay Packers for the second time this season, this time by a score of 37-20, on their way to their first NFC Championship crown since the 2012 season.
Last week it was running back Tevin Coleman carrying the freight, this one belonged to Mostert, who ran over, around and through Packers defenders all day on his way to 220 yards on 29 carries to go with four touchdowns.
The Niners became the third team in the Super Bowl era to go from four or fewer wins in one season to a Super Bowl berth the next, joining the 1999 St. Louis Rams and the 1988 Cincinnati Bengals. Those Rams went on to win Super Bowl XXXIV, while the Bengals, who played only 15 regular-season games that season because of a player strike, lost Super Bowl XXIII to, coincidentally, the 49ers. That game was also played in Miami.
On This Day:
1910 Stanley Cup, Dey's Arena, Ottawa, ON: Ottawa Senators outclass Edmonton HC, 13-7 for a 2-0 sweep of challenge series
1952 The NBA's first superstar George Mikan scores a career high 61 points leading the Minneapolis Lakers to a 91-81 double-overtime victory over the Rochester Royals
1964 Happy Birthday Ozzie Guillén, Venezuelan baseball shortstop and manager (3-time MLB All Star; Chicago White Sox), born in Ocumare del Tuy, Venezuela
1966 Happy Birthday Rich Gannon, American football quarterback (KC Chiefs), born in Philadelphia, Pennsylvania
1967 Happy Birthday Mark Stepnoski, American football player (Houston/Tennessee Oilers), born in Erie, Pennsylvania
1967 Philadelphia 76ers center Wilt Chamberlain makes all 15 of his field goal attempts in a 119-108 win over LA Lakers; NBA record for consecutive shots made; beats mark twice before 1966-67 season ends
1968 Houston Cougars defeat the UCLA Bruins 71-69 to win basketball's Game of the Century and end UCLA's 47 game winning streak
1973 Jalen Rose, American NBA guard (Denver Nuggets), born in Detroit, Michigan
1974 Essex Comm College beats Englewood Cliffs 210-67 in basketball
1980 President Jimmy Carter announces US boycott of Olympics in Moscow
1980 Super Bowl XIV, Rose Bowl, Pasadena, CA: Pittsburgh Steelers beat LA Rams, 31-19; MVP: Terry Bradshaw, Pittsburgh, QB
1982 Future Hockey Hall of Fame center Darryl Sittler is traded by the Toronto Maple Leafs to the Philadelphia Flyers in exchange for Rich Costello, a 2nd round draft pick and future considerations
1985 Super Bowl XIX, Stanford Stadium, Stanford, CA: San Francisco 49ers beat Miami Dolphins, 38-16; MVP: Joe Montana, SF, QB
1989 Pittsburgh center Mario Lemieux becomes just the 2nd player in NHL history to score 50 goals in less than 50 games; #50 in 44th game as the Penguins lose 7-3 to the Jets in Winnipeg
1989 Happy Birthday Nick Foles, American NFL quarterback (Super Bowl LII MVP), born in Austin, Texas
1995 1994-95 NHL Season begin after a lengthy strike
2007 Utah coach Jerry Sloan passes Larry Brown for 4th on the NBA's all-time win list (1,010) after the Jazz beat the Chicago Bulls, 95-85 at the United Center
What's New:
Red Sox President Sam Kennedy once again said he wouldn't discuss anything regarding the investigation into the 2018 Red Sox' efforts to illegally use technology to steal signs. The Red Sox placed blame on Alex Cora, when they said he apologized and owned up to his wrongdoings before they parted ways.
The Boston Red Sox are seeking to package the former AL MVP Mookie Betts with the contract of veteran pitcher David Price. The Red Sox are asking for a pair of frontline prospects.
Dusty Baker arrived in Houston on Sunday and spoke with reporters ahead of his interview with the Astros. Baker spoke highly of the Astros, calling them a "good team" and saying it would be an "honor" to manage them.
Marcell Ozuna is still looking for a team. Source say that the St. Louis Cardinals will "have to up their offer for him to return."  Ozuna recently hinted that the Cards and Rangers were his two top suitors, and reports from earlier this month suggested that the Reds were also still in the mix.
On Wednesday, Zion Williamson, the No. 1 draft pick will finally step onto the court. The former Duke phenom and now New Orleans Pelican was supposed to miss only six to eight weeks after having knee surgery the day before the season began, but like most things in life, his recovery took a little longer than anticipated.
The National Basketball Association and Louis Vuitton will announce the launch of a brand new partnership at the French luxury goods brand's Avenue Montaigne store in Paris on 22nd January.
The Women's National Basketball Association has announced that its 2020 season will feature a 36-game schedule for the first time and the inaugural edition of the Commissioner's Cup tournament.
While the Kansas City Chiefs will be making their first Super Bowl appearance in 50 years, the San Francisco 49ers will play in their seventh Super Bowl.
Super Bowl LIV will provide quite a contrast in styles, pitting the high-octane Patrick Mahomes led Chiefs offense against the throwback 49ers running attack.
Fifty-three years ago this week, the Green Bay Packers beat the Kansas City Chiefs in the first Super Bowl. More than 70 million people watched the game on TV. Jeremy Coon and Tim Skousen launched a Kickstarter campaign Wednesday, the 53rd anniversary of Super Bowl I, to raise $50,000 to complete work on "The Tape: The Lost Recording of Super Bowl I."
Green Bay Packers QB Aaron Rodgers felt he should have been drafted by the San Francisco 49ers first overall in 2005, he fell to 4-6 all time, including an 0-3 mark in the playoffs.
The Cincinnati Bengals have no intention of trading away the No. 1 selection in the upcoming 2020 NFL Draft. Will tempting offers make them change their mind on making Joe Burrow their QB for the future.
Dez Bryant spent the entire 2019 season out of the NFL, the former Dallas Cowboys star receiver is still looking for another shot with the Cowboys. Bryant is willing to play TE for the Cowboys. Jason Witten may follow former Cowboy head coach now OC for the New York Giant to the big apple.
Althetic footwear and apparel brand Saucony, a division of Wolverine Worldwide, is running its first Super Bowl ad, the company revealed in a press release shared with Marketing Dive. The ad will run on Fox's streaming platforms during the game.
The San Jose Sharks have a lot of work ahead of them since they have benn picking in the back third of the draft for years, The problem is the number of unrestricted free agents that aren't likely to bring in a first-round picks between Joe Thornton, Patrick Marleau, Melker Karlsson, Brenden Dillon, Stefan Noesen, Tim Heed, Radim Simek and goalie Aaron Dell. Sharks general manager Doug Wilson will have to navigate many avenues soon.
Alaska Airlines has become the official airline and founding partner of the National Hockey League's new expansion franchise in Seattle, Washington.
Comcast-owned US media giant NBCUniversal has revealed the initial sports offering for its new Peacock subscription streaming service, including extensive coverage of this year's Tokyo 2020 Olympic Games and English soccer's top-flight Premier League.
Bill Simmons could try to re-establish his relationship with ESPN following the departure of former boss John Skipper to DAZN. Simmons wants roughly $200 million from Spotify Technology or other bidders looking to purchase The Ringer.
A new-multi year deal with TNT will not only keep AEW on the network through 2023, but it will also give the promotion another weekly show to go alongside "Dynamite," which airs on Wednesday.
UFC 246 was such an anticipated fight card, with the return of Conor McGregor and the fan-favorite Donald Cerrone. McGregor came out extremely strong against Cerrone and hit him with several shoulder strikes. The huge 30 second knockout of Cerrone shocked the MMA world.
Drew Dober didn't need much time to pick up his first win of 2020.
In less than two minutes he landed a thudding left hand that dropped Nasrat Haqparast before following up with multiple shots on the ground to bring the fight to a close.  Drew Dober def. Nasrat Haqparast via technical knockout out, Round 1, 1:10
Sodiq Yusuff continued his positive development as a complete fighter, earning a victory at UFC 246 over Andre Fili. Yusuff combined power shots on the feet with dominating grappling to earn the decision. Sodiq Yusuff def Andre Fili via unanimous decision, 29-28, 29-28, 29-28.
Maycee Barber showed exceptional levels of heart but even before the knee injury that limited her abilities, Modafferi had put on a strong performance. Roxanne Modafferi def Maycee Barber via unanimous decision, 30-27, 30-27, 30-26
Did You Know:
Did you know, the Olympic flag was designed in 1913