January 11, 2020
Happy Birthday Hon!
One Big Thing:
Red Sox, Mookie Betts Avoid Arbitration With Record-Breaking Deal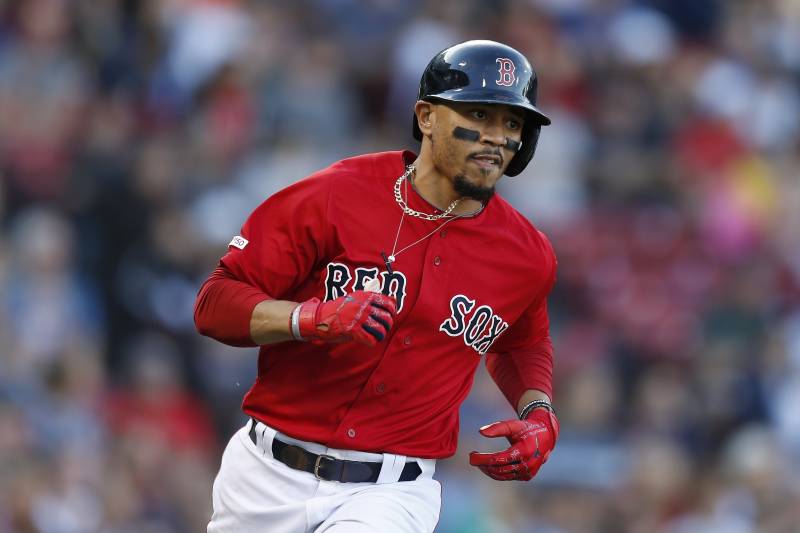 Outfielder Mookie Betts is getting a one-year, $27 million deal from the Boston Red Sox in a record agreement to avoid arbitration.
Betts' deal breaks the previous arbitration record of $26 million signed by Colorado Rockies third baseman Nolan Arenado last January.
Like Arenado, it's still possible for the Rockies could move Arenado and the Red Sox could move Betts before the start of the season. The Los Angeles Dodgers have had discussions with Boston about the four-time All-Star.
The 27-year-old Betts, who will be a free agent after the 2020 season, hit .295 with 29 home runs and 80 RBIs last season. He also led the AL with 135 runs scored. Betts is a homegrown talent who led the team to its World Series championship in 2018, also avoided arbitration in 2019 by settling with the Red Sox for $20 million.
Boston selected Betts in the fifth round of the 2011 draft, Betts is a career .301 hitter with an .893 OPS. Since making his major league debut in June 2014, Betts has led the major leagues in runs scored (613), is second in extra-base hits (394) and fourth in hits (965). He also has led the Red Sox in home runs (139) and is second in RBIs (470) during that span.
The Red Sox still have looming decisions to make with RHP Brandon Workman, RHP Matt Barnes and RHP Heath Hembree.
On This Day:
1952 Happy Birthday Ben Crenshaw, American golfer (US Masters 1984, 95), born in Austin, Texas
1953 J. Edgar Hoover declines 6 figure offer to become president of International Boxing Club
1967 San Diego is granted an NBA franchise to be called the Rockets; franchise moves to Houston for the 1971-72 season
1970 Super Bowl IV, Tulane Stadium, New Orleans, LA: KC Chiefs beat Minnesota Vikings, 23-7; MVP: Len Dawson, Kansas City, QB
1976 NBA player Pete Maravich (27) weds college sweetheart Jackie Elliser in Metairie, Louisiana
1983 LA Kings' center Marcel Dionne picks up his 24th NHL career hat-trick and adds 3 assists for 6 points in a 9-7 win at Washington; Kings' first road win after 8 straight losses
1983Pete Maravich named NY Yankee manager for 3rd time
1984 Denver Nuggets 163, San Antonio Spurs 155-highest-scoring NBA game
1987 AFC Championship, Cleveland Stadium: Denver Broncos beat Cleveland Browns 23-20 (OT)
1990 Bobby Knight becomes basketball's Big 10 winningest coach (229)
2000 Robert Granville "Bob" Lemon, American baseball player (Cleveland Indians), dies at 79
2001 New York Knicks hold an opponent under 100 points for NBA-record 29th straight game in a 76-75 loss to the Houston Rockets; streak snaps 46-year-old NBA record of 28 straight set by the Fort Wayne Pistons in 1954-55
2016 College Football National Championship, University of Phoenix Stadium: #2 Alabama beats #1 Clemson, 45-40
What's New:
Matthews, Pastrnak set up thrilling Maurice Richard race (READ) James O'Brien | NBC Sports
Storm headed toward Green Bay could dump 8-10 inches Saturday ahead of Packers playoff game (READ) Benita Mathew | Green Bay Press-Gazette
Deshaun Watson flattered by Warren Moon's recent comments (READ) Christian Alamodin | Clutch Points
Tom Brady's next stop? Five NFL teams stand out as landing spots if QB splits with Patriots (READ) Nate Davis | USA Today
Jose Martinez part of Cardinals' package for Rays lefty prospect Matt Liberatore (READ) Jeff Passan | ESPN
Pete Rose Poo Poos MLB's Sign Stealing Scandal, It's No Big Deal! (READ) TMZ
Mississippi State aiming high in coaching search with Mike Leach interview (READ) Brad Berreman | FanSided
Lawyer warns Brandel Chamblee: Stop calling Patrick Reed cheater (READ) Bob Harig | ESPN
Michael Phelps interview — How Olympic athletes can take advantage of tech (READ) Dean Takahashi | Venture Beat
A new Women's Tennis Association (WTA) tournament will be held in the Turkish city of Istanbul in April thanks to a new partnership between the Turkish Tennis Federation (TTF) and sports marketing agency Octagon (READ) Michael Long | Sports Pro Media
Georges St-Pierre Explains How Donald Cerrone Can Beat Donald Cerrone at UFC 246 (READ) Sam Dunn | 12 Up
Trump, Bloomberg spend $10 million each on Super Bowl commercials (READ) Michael David Smith | NBC Sports