January 9, 2020
One Big Thing:
Giants to Hire Patriots Assistant Joe Judge as Head Coach, Carolina Panthers Hire Baylor HC Matt Rhule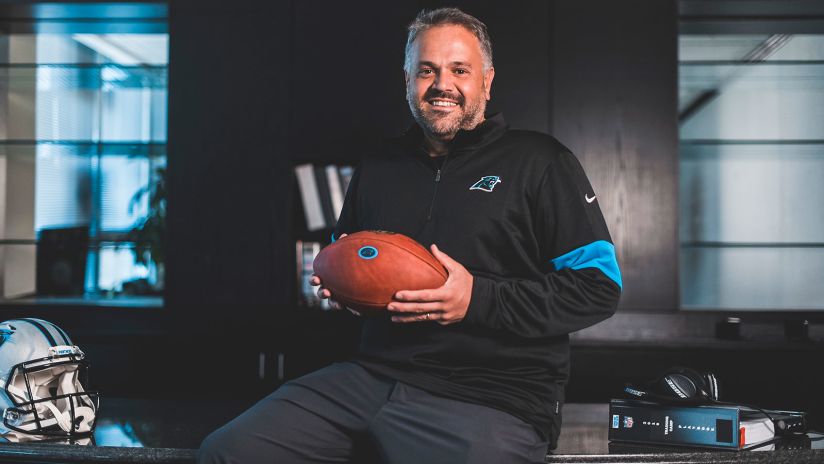 The Carolina Panthers have hired former Baylor Bears head coach, 44-year-old Matt Rhule a seven-year, $62 million contract as their new head coach.
Rhule who was at Temple who went 2-10 in Rhule's first season in charge in 2013. He left four years later following back-to-back 10 win seasons.
Baylor went 1-11 in Rhule's first season in charge in 2017. He left three years later following an 11-win season and a Sugar Bowl appearance.
Panthers owner David Tepper liked that about him. Both Tepper and Rhule are self-made successes who, believe it or not, started out as short-order cooks.
"I was the fry cook and the grill guy at Chili's," Rhule said. "My wife – she was a waitress there. It was one of my summer jobs – one of the best jobs I ever had."
The New York Giants are finalizing a deal to hire New England Patriots special teams coordinator and wide receiver coach Joe Judge to be their new head coach.
Judge, 38, has been a part of five championship teams with the Patriots and the Alabama Crimson Tide. He has been on New England's staff the last eight seasons, where he was the special teams coordinator for four years.
He'll have his work cut out for him in New York, where the Giants are an NFL-worst 12-36 since the start of the 2017 season. But they do have a young starting quarterback in Daniel Jones who was an attractive piece for candidates. Judge's form boss Bill Belichick was also high on Jones coming out of Duke last year.
On This Day:
1903 Frank Farrell and Bill Devery purchase the American League's Baltimore baseball franchise for $18,000 and move it to NYC (later the NY Yankees)
1934 Happy Birthday Bart Starr, American Pro Football Hall of Fame quarterback, coach (Green Bay Packers), born in Montgomery, Alabama (d. 2019)
1935 Happy Birthday Richard "Dick" Enberg, American sportscaster (NBC, CBS, ESPN), born in Mt Clemens, Michigan (d. 2017)
1942 In his 20th title defence, Joe Louis KOs Buddy Baer in the 1st round of their rematch to retain his world heavyweight boxing title at New York's Madison Square Garden
1947 Providence Steamrollers guard Dino Martin becomes the first NBA player to ever score 40 points in a game, in a 91-68 win over Cleveland Rebels at Rhode Island Auditorium
1952 Marines give notice that they will recall Ted Williams to active duty
1953 Bevo Francis, Rio Grande College, scores 116 pts in basketball game
1958 In basketball Oscar Robertson (Cin) scores 56, Seton Hall team 54
1962 NFL prohibits grabbing of face masks
1967 NFL New Orleans' franchise takes name "Saints"
1972 Led by future Lakers star Kareem Abdul-Jabbar, Milwaukee Bucks beat LA Lakers, 120-104, ending LA's consecutive win streak at 33, the longest winning streak in major league sports history
1977 Super Bowl XI, Rose Bowl, Pasadena, CA: Oakland Raiders beat Minnesota Vikings, 32-14; MVP: Fred Biletnikoff, Oakland, WR
1978 Happy Birthday Chad Johnson, American football player, born in Miami, Florida
1979 Bobby Orr's #4 jersey is retired by the Boston Bruins
1989 Johnny Bench & Carl Yastrzemski elected to Baseball Hall of Fame
1990 Jim Palmer & Joe Morgan elected to Baseball Hall of Fame
1991 Baseball officially bans Pete Rose from being elected to Hall of Fame for betting on baseball
1991 Chicago's Michael Jordan scores a game-high 40 points to lead the Bulls to a 107-99 win over Philadelphia at the Spectrum; reaches the 15,000 point mark of his career
2000 Dan Marino wins his last career NFL game (20-17 vs Seattle)
2012 College Football, 14th BCS National Championship, Louisiana Superdome, New Orleans: #2 Alabama beats #1 LSU, 21-0
2017 College Football National Championship, Raymond James Stadium, Tampa: #2 Clemson beats #1 Alabama, 35-31
What's New:
Coyotes see increase in attendance, TV ratings amid on-ice success, Taylor Hall trade (READ) Richard Morin  | Arizona Republic
Raiders set to have 'most connected' venue with Allegiant Stadium (READ) Mick Akers | Las Vegas Review-Journal
Rocket Mortgage Partners With NFL For $1 Million-Plus Super Bowl Squares Pool (READ) Kurt Badenhausen | Forbes Money
2020 NFL Mock Draft: Tua declares, then heads to South Beach (READ) Brad Weiss | FanSided
Report: Rockies could look to trade Nolan Arenado to Cubs or Cardinals (READ) Greg Papke | Larry Brown Sports
Esports outlook 2020: What brands need to become winning players (READ) Shane Schick | Marketing Drive
DraftKings investigating $1 million win by 'Bachelor' star Jade Roper, husband Tanner Tolbert (READ) Steve Gardner | USA Today
Nuns on the run: Vatican launches athletics team and targets Olympics (READ) The Guardian