January 6, 2019
One Big Thing:
Add Clutch Kirk Cousins to the List of Unlikely Things to Doom the Saints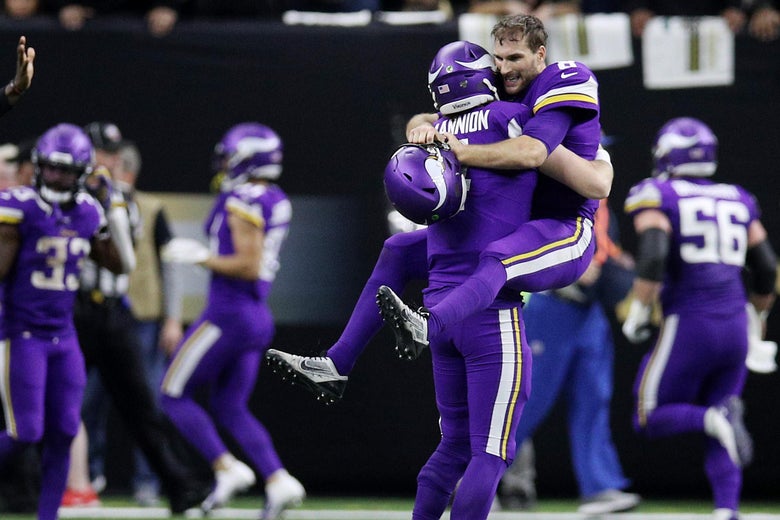 The New Orleans saints lost 26-20 in OT at home to sixth-seeded Minnesota Vikings. 
Kirk Cousins regular season numbers (3603 yards, 26 touchdowns, 6 interceptions) are better than most QB's in the NFL. Cousins had never beaten a team that finished the season with a winning percentage above .700. His career record in primetime was 7–15, and he's never won on Monday Night Football. The monkey is off his back for now by getting a big game win against the heavily favored Saints.
Cousins' 43-yard bomb to Adam Thielen in overtime gave Cousins a chance to earn his first playoff win when he found Kyle Rudolph in the end zone on a fade route.
Cousins completed 19 of 31 passes for 242 yards and a touchdown for the game.
Dalvin Cook was huge for the Vikings all afternoon, and he rushed for 94 yards and two touchdowns on 28 carries.
Drew Brees had a forgettable day overall, as he completed 26 of 33 passes for 208 yards, one touchdown and one interception.
Saints third-string QB Taysom Hill completed a 50-yard pass to undrafted rookie receiver/kick returner Deonte Harris at the Vikings' 4-yard line. New Orleans running back Alvin Kamara followed up with a 4-yard touchdown run on the next play and was his lead blocker on the TD.
Hill commented on the game, "I think they made a few more plays than us during the game. We struggled on third down early (in the game today). I felt like they were running the ball well and controlling the time of possession. We certainly put ourselves in position to win at the end of the game. We needed to make some bigger plays throughout the course of the game."
Another Big Thing:
The Seattle Seahawks hang on for 17-9 win over Philadelphia Eagles in the AFC Wild Card game.
Seattle never trailed but also never took a commanding lead. Now heads to Lambeau Field to play the Green Bay Packers (13-3) on Sunday, January 12th at 3:40 PM PT on FOX.
Carson Wentz, the Eagles' starting quarterback, didn't make it through the first quarter after he suffered a potential concussion, most likely coming from a tackle by Seahawks defensive end Jadeveon Clowney where Clowney's helmet made contact with Wentz's on the way down to the ground. That left Philadelphia's offense in the hands of 40-year-old backup Josh McCown, who had never appeared in a playoff game entering Sunday.
Josh McCowan end the game 18/24 for 178 yards. Seattle ended the game with seven total sacks, nine QB hits, and 11 tackles for loss. They held the Eagles to 3 of 11 on third down, 0 of 2 on fourth, and 0 of 3 on their red zone trips. 
DK Metcalf caught a 53-yard touchdown pass from Russell Wilson and Marshawn Lynch had a tough 5-yard TD run for Seattle. Metcalf added a 36-yard catch near midfield late in the fourth quarter to seal the Seahawks win and give him 160 yards on seven receptions on the day.
Russell Wilson was far better than his numbers might dictate finishing the game 18/30 325 1 TD, 1 INT., he also had 9 carries for 45 yards.
Marshawn Lynch played in his second game of the season and got five yards that really mattered on his TD and also had a 20-yard reception.
On This Day:
1681 1st recorded boxing match (Duke of Albemarle's butler vs his butcher)
1937 Happy Birthday Lou Holtz, American football coach (NJ Jets), born in Follansbee, West Virginia
1951 Indianapolis Olympians beat Rochester Royals, 75-73 in NBA-record 6 overtimes; also the longest game in NBA history
1957 Happy Birthday Nancy Lopez, American golfer (3 major titles, 48 LPGA Tour wins), born in Torrance, California
1961 Howie Long, American NFL tackle/actor/broadcaster (Broken Arrow), born in Somerville, Massachusetts
1964 Happy Birthday Charles Haley, NFL defensive end (Dallas Cowboys), born in Gladys, Virginia
1976 Ted Turner purchases Atlanta Braves for reported $12 million
1980 Philadelphia Flyers set NHL record of 35 straight games without a defeat
1980 AFC Championship, Three Rivers Stadium, Pittsburgh: Pittsburgh Steelers beat Houston Oilers, 27-13
1980 NFC Championship, Tampa Stadium: Los Angeles Rams beat Tampa Bay Buccaneers, 9-0
1991 Portland Trail Blazers beat the Seattle SuperSonics, 114-111 before a sellout crowd at the Portland Memorial Coliseum; marks the Blazers' 600th consecutive sellout at home
1995 Atlanta Hawks' coach Lenny Wilkens passes the legendary Red Auerbach to become the NBA's all-time winningest coach, with 939 career victories; Hawks beat Washington, 112-90 at the Omni
1999 An agreement is reached by the NBA and the players union to end a 204-day lockout which shortened the season by 50 games
2002 Fred Taylor, American Basketball Hall of Fame coach and broadcaster (Ohio State University 1959-76; MLB Washington Senators 1950-52), dies at 77
2013 The NHL reaches an agreement to end a 113 day lockout
2015 Randy Johnson, Pedro Martínez, John Smoltz and Craig Biggio are inducted into the Baseball Hall of Fame
2018 Tennessee Titans quarterback Marcus Mariota scores a touchdown off own pass in 22-21 victory over Kansas City Chiefs, second NFL quarterback to do so
What's New:
Cavs coach John Beilein speaks out on Kevin Love's recent show of frustration (READ) Marty Fenn | Clutch Points
Eric Pincus on latest NBA trade buzz, his cap expertise and more (READ) Alex Kennedy | Hoops Hype
How to stop James Harden? Teams have no answer yet (READ) Jonathan Feigen | Houston Chronicle
Kyle Kuzma reacts to constant trade rumors surrounding him, Lakers (READ) Joseph Cervantes | Clutch Points
Mike Vrabel beat Bill Belichick at his own game in Titans playoff victory (READ) David Salituro | FanSided
End of an era: Jason Garrett fired as Cowboys coach (READ) Grant Gordon | NFL.com
3 Horrible Decisions Sean Payton Made That Doomed the Saints in Loss to Vikings (READ) Braulio Perez | 12 Up
The Saints' Playoff Run Ended in Heartbreak—Again (READ) Riley McAtee | The Ringer
Looking for infield depth, Nationals reportedly agree to one-year deal with Asdrubal Cabrera (READ) Anthony Franco | MLB Trade Rumors
In Washington, Continuing To Make A Monumental Jump In Gaming (READ) Jerry Milani | Sports Media Reports