January 5, 2020
One Big Thing:
Bills at Texans Wild Card Game
Houston Texans vs. Buffalo Bills Ended In Epic Overtime Fashion
The Houston Texans held on and beat the Buffalo Bills 22-19 in OT in the first AFC wild-card game of the weekend.
Ka'imi Fairbairn's 28-yard field goal to help Houston advance to the divisional round. The winner came at the end of a 73-yard game-winning drive by the Houston.
Buffalo started with an opening aggressive drive. Josh Allen ran 42 yards on a QB sweep, and two plays later Buffalo pulled a trick play. John Brown took a handoff, then threw back to Allen for a touchdown.
After Houston fell behind 16-0, Watson carried Houston on his back in a brilliant third- and fourth-quarter comeback. He completed his eight final pass attempts in regulation for 111 yards, with a brilliant rushing TD, a two-point conversion and a TD pass that put Houston up, 19-16, with 4:37 remaining.
Allen made some incredibly risky, near-disaster plays but did just enough to give kicker Stephen Hauschka a chance to tie the game in regulation. Hauschka made the game-tying 47-yard field goal with a few seconds remaining in regulation.
Deshaun Watson proved the be the late-game hero once again. With just over four minutes left in overtime, the elusive Watson spun out of two Bills' defenders in the backfield. Then rolling out to his right, the Houston QB checked the ball down to RB Taiwan Jones who proceeded to outrun defenders all the way down to the Bills' 10-yard line that lead to the Fairbairn game winner.
The Bills' playoff record drops to 14–17 and they've lost six straight playoff games since beating Miami in the 1995 Wild-Card Game. Jim Kelly and Co. fell to the Steelers the following week in the divisional round. Buffalo's playoff drought is the third-longest in the NFL.
Another Big Thing:
Titans at Patriots Wild Card Game
Derrick Henry, Titans Stun Tom Brady, Patriots at Home in 2020 AFC Wild Card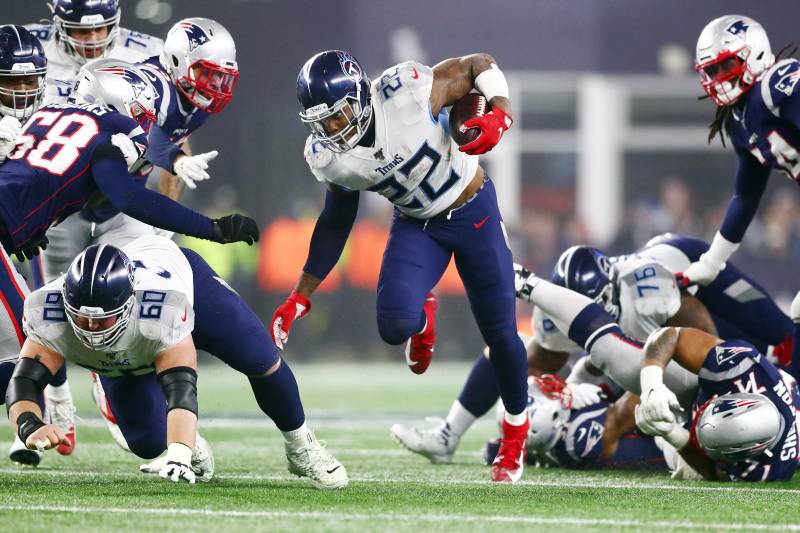 The Tennessee Titans pulled off a stunning 20-13 upset at Gillette Stadium that could spell the end of the Tom Brady-Bill Belichick era in New England.
Titans RB Derrick Henry: 34 carries, 182 yards, 1 TD; 1 catch, 22 yards. Henry led the NFL with 1,540 rushing yards. His 16 rushing touchdowns also led the NFL.
Tennessee's QB Ryan Tannehill threw just 15 times and completed eight passes for 72 yards, one touchdown and one interception.
In what could be Patriots QB Tom Brady's last game he finished 20 of 37 for 209 yards and a 59.4 passer rating and a pick six with 9 seconds left in the game.
New England's loss sparked speculation on whether 42-year-old Brady will return next season or retire. When asked about his future after the game, Brady said he will probably be back.
Patriots RB James White: 5 catches, 62 yards. WR Julian Edelman: 3 catches, 30 yards; 2 carries, 12 yards, 1 TD
The New England after an 8-0 start finished the season 4-5 for a 12-5 record and it's worse finish in ten years.
Tennessee, which had a 10-7 record in the regular season, will advance to play the Baltimore Ravens, the AFC's No. 1 seed, in the next round.
On This Day:
1931 1st woman to purchase a baseball team Lucille Thomas purchases Topeka franchise in the Western League
1932 Happy Birthday Chuck Noll, American NFL coach (Pittsburgh Steelers), born in Cleveland, Ohio (d. 2014)
1934 National & American baseball leagues select a uniform ball
1938 Happy Birthday Jim Otto, NFL center (Oakland Raiders), born in Wausau, Wisconsin
1957 Dodgers' Jackie Robinson announces his retirement rather than be traded to the NY Giants
1971 Body of US heavyweight Charles "Sonny" Liston (36) found; he had been dead for an estimated 6 days
1971 Globetrotters lose 100-99 to NJ Reds, ending 2,495-game winning streak
1982 Star center Darryl Sittler leaves the Toronto Maple Leafs on medical advice because of mental depression; trade request was taking too long
1985 Baseball player Darryl Strawberry (22) weds Lisa Andrews
1988 "Pistol Pete" Mavarich, NBAer (Atlanta), dies of a heart attack at 40
1989 Baseball signs $400M with ESPN, showing 175 games in 1990
1993 Reggie Jackson elected to Hall of Fame
1995 Bill Fitch becomes the 5th coach in NBA history to register 850 career victories with the LA Clippers' 95-93 home win over Philadelphia 76'ers at the LA Memorial Sports Arena
1996 Miami Dolphins coach Don Shula announces his retirement
2004 Tug McGraw, American baseball player and father of Tim McGraw, dies at 59
2007 Bill Cowher resigns as head coach of the Pittsburgh Steelers
2010 Mike Shanahan is formally introduced as head coach of the Washington Redskins
2019 Golden State and Sacramento combine for 41 3-pointers in Warriors' 127-123 win; set new NBA record for 3s in a game; Stephen Curry hits 10 triples while Buddy Hield leads Kings with 8, Justin Jackson adds 5
What's New:
Chase Young officially declares for NFL Draft (READ) Steve DelVecchio | Larry Brown Sports
Tom Brady says retirement 'pretty unlikely' as Patriots exit playoffs (READ) Mike Reiss | ESPN
Ron Rivera takes first major move as Redskins HC, removes pingpong tables (READ) Matt Johnson | Sportsnaut
No. 25 Arizona Routs Rival Arizona State 75-47 (READ)  JOHN MARSHALL  | Kansas City Star
Wisconsin upsets Ohio State by showing that the Buckeyes will need to find some help for Kaleb Wesson (READ) Jerry Palm | CBS Sports
Rockets' James Harden makes more history with triple-double vs. Sixers (READ) Vincent Frank | Sportsnaut
Bill Self: 'Zero truth' to rumors about being Gregg Popovich's successor (READ) Jason Rowan |  Sportress of Blogitude
Nationals, Starlin Castro reportedly agree to two-year, $12M deal (READ) Jeff Todd | MLB Trade Rumors
Report: Yankees make major changes to training staff after injury-filled season (READ) Vincent Frank | Yardbarker
Fired Stars coach Jim Montgomery enters rehab for alcohol abuse (READ) Zach Leach  | NHL Trade Rumors
1991 'Seinfeld' episode 'predicted' final score of Spurs-Cavs game (READ) Jason Rowan | Sportress Of Blogitude
Death by a Thousand J.J. Cuts: Why the Studios Will Always Win (READ) Michael Baumann | The Ringer