Powered By INTERTOPS
Sign-Up | Make a Deposit | Get Bonuses
January 1, 2020
No. 13 Alabama vs. No. 14 Michigan
The Alabama Crimson Tide overcame a sluggish defensive first half to earn a 35-16 win over the Michigan Wolverines in the Citrus Bowl.
Alabama is 41-26-3 all time in bowl games, which places Alabama in first place among all schools for both bowl appearances and victories.
The last time the two teams met, Alabama won a Kickoff game in 2012 by the score of 41-14. This will be only the second time Nick Saban has faced Michigan as head coach of Alabama. Jim Harbaugh has never had the opportunity to coach against the Alabama. This will be the first meeting between Saban and Harbaugh.
Alabama scored 35 points on just 55 plays, with an explosive mix of calls that helped it rack up 480 yards.
Alabama's 21-year-old sophomore quarterback Mac Jones was 16-25, 327 yards, 3 TDs. Najee Harris Alabama's running back had 24 carries for 136 yards and 2 TDs. One of three potential NFL first-round wide receivers on Alabama's roster Jerry Jeudy had 6 catches for 204 yards, 1 TD. DeVonta Smith caught 3 passes for 56 yards and 1 TD.
After scoring 16 points in the first half, Michigan's offense was shutout for the final 30 minutes. Michigan coach Jim Harbaugh has now lost four straight bowl games since a 41-7 win over Florida in the 2016 Citrus Bowl.
Michigan's quarterback Shea Patterson was 17-37, 233 yards, 1 TD, 2 INTs on the day. Running backs Zach Charbonnet a true freshman had 13 carries for a game high of 84 yards and Hassan Haskins had 18 carries for 61 yards.
No. 12 Auburn vs. No. 18 Minnesota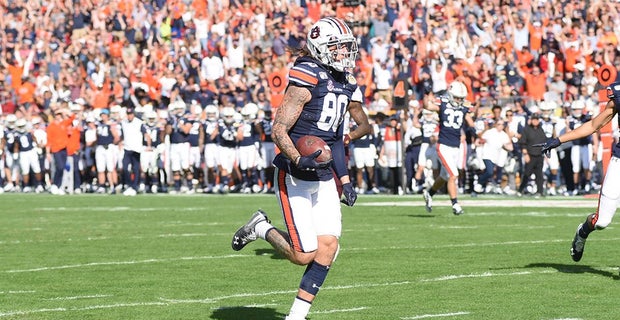 The 18th-ranked Minnesota Gophers win 31-24 over the No. 12 Auburn Tigers in the Outback Bowl in front of 45,652 in attendance at Raymond James Stadium.
The 11-2 Gophers team is the first in school history since going 13-0 in 1904 as a member of the Western Conference to win both 10 regular season games and the bowl game.
Tyler Johnson in his final game of a four-year career, became the Gophers all-time leading receiver and scorer. Johnson for the game caught 12 passes for 204 yards and two touchdowns including the game-winning, 73-yarder from Golfer quarterback Tanner Morgan with 10:26 to play in the fourth quarter.
Morgan finished the day 19-of-29 passing for 278 yards, 2TD's and 1INT.
Auburn was denied a rare 10-win season at 9-3 with another disappointing finish for Gus Malzahn and the Tigers.
Tigers quarterback Bo Nix was 17/26 for 176 yards, and 1TD.
Wideout Anthony Schwartz had 6 catches for 49 yards while Sal Cannella had 1 TD catch for 37 yards.
No. 6 Oregon vs. No. 8 Wisconsin
The Wisconsin Badgers committed four turnovers, three fumbles and one interception and the No. 6 Oregon Ducks turned those miscues into 21 points en route to a 28-27 victory in the 2020 Rose Bowl in front of a crowd of 90,462.
The Oregon offense scored on a 75-yard drive with the game's first possession. The defense carried the UO offense the rest of the way.
Two forced turnovers set up short, UO scoring drives, including a fourth-quarter fumble forced by safety Brady Breeze and recovered by Bryson Young at the Wisconsin 30 that set up the go-ahead touchdown.
Breeze was the game's defensive MVP, who scored himself with a one-handed scoop and score of a fumble by Wisconsin punter Anthony Lotti.
Justin Herbert burst through Wisconsin's defense for a 30-yard touchdown with 7:41 to play, giving Oregon a 28-27 lead it would never relinquish. Herbert also completed a pair of passes for first downs to run out the clock in the final two minutes.
Herbert was 14/20 for 138 yards and an interception.
Wisconsin's quarterback Jack Coan went 23/35 for 186 yards, with 1 INT and 1 TD.
No. 5 Georgia vs. No. 7 Baylor
The Georgia Bulldogs took care of Baylor Bears 26-14 in the Sugar Bowl. The 2019 Bulldogs became the fifth UGA team to win 12 games in a season and the seniors tied the 2005 team for most wins over a four-year span with 44.
With 13 players out for various reasons, Georgia was able to pull the win together.
Jake Fromm finished 19-of-29 for 247 yards, two touchdowns and no INTs.
George Pickens the Georgia freshman wideout set career highs in receptions and yards against Baylor. He finished with 12 catches for 175 yards and one touchdown. Pickens wins the Sugar Bowl MVP becoming the fifth player to win a major bowl game with 12+ receptions, 175+ yards and 1+ touchdown, this decade.
The Georgia defense held 10 of 14 opponents under 100 total rushing yards the season. They held 6 opponents under 50 yards rushing. Baylor rushed for only 61 yards.
Baylor quarterback Charlie Brewer got the Bears going in the second half, leading a pair of touchdown drives to pull within 26-14 with 4:10 left in the third quarter.