Powered By INTERTOPS
Sign-Up | Make a Deposit | Get Bonuses
December 31, 2019
One Big Thing: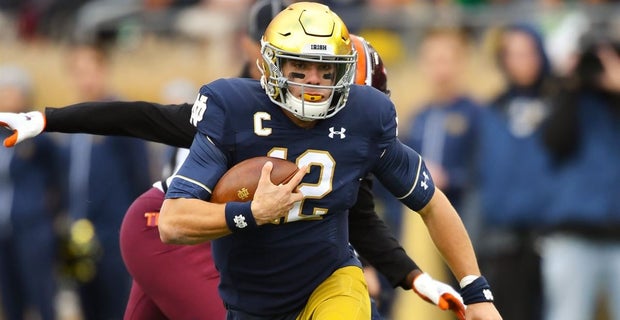 Notre Dame's starting quarterback Ian Book signaled he would return to the Irish for a fifth year.
Book, a senior, could have entered the NFL draft. He also could have pursued a graduate transfer if he didn't want to spend another season at Notre Dame.
Book staying at Norte Dame makes him just the fourth quarterback since the end of the Lou Holtz era to start his Notre Dame career as a quarterback, use of all his eligibility with the Irish and not change positions. Only three others have done so since 1998: Brady Quinn, Evan Sharpley and current Notre Dame quarterbacks coach Tommy Rees.
The Irish will have six offensive linemen with starting experience, wide receivers Braden Lenzy, Lawrence Keys III, Kevin Austin and Joe Wilkins, and at least four running backs returning on the offensive side of the football next year. Wildcards include tight end Cole Kmet, running back Tony Jones Jr., and wide receiver Javon McKinley.
Book raised his record to 20-3 as a starter by directing Notre Dame to a 33-9 Camping World Bowl victory over Iowa State Saturday in Orlando. Book finished the 2019 season with a passing efficiency rating of 149.1, currently ranked No. 28 in the FBS. The three losses coming at the hands of Clemson, Georgia and Michigan.
The 6-foot, 212-pound Book finished the 2019 season with 3,034 yards, 34 touchdowns and six interceptions on 240-of-399 passing (60.2 percent). Book also rushed 112 times for 546 yards and four touchdowns.
On This Day:
1950 Jockeys Bill Shoemaker & Joe Culmone set record of 388 wins in a year
1958 Bill Shoemaker 1st jockey to win national riding championship 4X
1961 National Football League Championship, City Stadium, Green Bay: Green Bay Packers shutout NY Giants 37-0; first of 5 NFL titles won in 7-season span by Packers and head coach, Vince Lombardi
1962 American Basketball League announces suspension of operation
1967 1st NBA game at Great Western Forum, LA Lakers beat Houston 147-118
1967 AFL Championship, Alameda County Coliseum, Oakland: Oakland Raiders beat Houston Oilers 40-7; George Blanda 4 field goals for Raiders in club's 1st AFL Championship
1967 NFL Championship, Lambeau Field, Green Bay: Green Bay Packers beat Dallas Cowboys, 21-17; "The Ice Bowl", -13°F
1972 39th Sugar Bowl: #2 Oklahoma beats #5 Penn State, 14-0
1972 Roberto Clemente, slugger (Pittsburgh Pirates), dies in a plane crash at 38
1973 40th Sugar Bowl: #3 Notre Dame beats #1 Alabama, 24-23
1973 MLB executive Tony La Russa (29) weds Elaine Coker
1974 NY Yankees sign Jim "Catfish" Hunter for 5 yrs for a record $3.75 million
1988 Pittsburgh NHL center Mario Lemieux accounts for all his team's goals in Penguins 8-6 win over the NJ Devils; famously scores 5 goals, each in a different way: even strength, power play, shorthanded, penalty shot and empty net; also 3 assists
1991 J Donald Crump resigned as CFL Commissioner
1992 MLB Outfielder David Justice (26) weds actress Halle Berry (26) in Atlanta, Georgia
1995 Gabby Douglas, American gymnast (2012 Olympic champion), born in Newport News, Virginia
1997 72 year-old Marv Levy retires as coach of the NFL Buffalo Bills after 12 seasons, including 4 consecutive losing Super Bowl appearances
2013 "The Big Bang Theory" actress Kaley Cuoco (28) weds professional tennis player Ryan Sweeting (26) at Hummingbird Nest Ranch in Santa Susana, California
2014 Olympic gold medalist soccer player Alex Morgan (25) weds Houston Dynamo midfielder Servando Carrasco (26) in Santa Barbara, California
2017 Cleveland Browns crash to a 28-24 loss to Pittsburgh Steelers at Heinz Field to become only the 2nd team in NFL history to finish season with 0-16 record
What's New:
Derek Jeter's Players' Tribune Acquired by Minute Media as Digital Media Consolidation Continues (READ) Todd Spangler | Variety
Beast Mode Apparel sales spike with Marshawn Lynch's return (READ) Brady Henderson | ESPN
ESPN plucks House of Highlights founder Omar Raja from Bleacher Report (READ) Andrew Marchand | NY Post
Live Nation, DOJ reach deal over ticketing practices, stock jumps 9% (READ)
Julia Boorstin, Elly Cosgrove | CNBC
How to Watch the College Bowl Games For Free—and Without Cable (READ) Chris Morris | Fortune
Michigan heads into 2020 with 10-3 record after lopsided win over UMass Lowell (READ) Anthony Broome | Maize n Blue
What will Miami Heat home arena be called at start of 2020 with no new sponsor in place? (READ) ANTHONY CHIANG | Miami Herald
LiAngelo Ball joins OKC Thunder G-League affiliate as practice player (READ)  Darryn Albert | Larry Brown Sports
Insights: 'Fortnite' Is The New Social-Media Platform – Here's What It Means (READ) David Bloom | Tube Filter
DraftKings to go public in 2020 at $3.3 billion valuation (READ) Reuters