Powered By INTERTOPS
Sign-Up | Make a Deposit | Get Bonuses
December 30, 2019
One Big Thing
Co-owners John Mara and Steve Tisch informed Pat Shurmur he was fired, less than a day after the Giants with a 4-12 record failed to play the spoiler role and saw the Philadelphia Eagles beat them 34-17 to win the NFC East.
Shurmur wasn't the only coach fired. The Cleveland Browns fired Freddie Kitchens five hours after the Browns lost to the 2-14 Cincinnati Bengals. Kitchens was let go after a season that didn't come close to meeting expectations.
Some of the names to replace Kitchens and Shurmur are former Packers coach Mike McCarthy is expected to be a candidate, along Baylor coach Matt Ruhle, a former Giants assistant, and Patriots offensive coordinator Josh McDaniels. Dallas coach Jason Garrett, a former Giant, might also draw interest if the Cowboys release him.
On This Day
1926 Chicago Tribune reports the Tigers threw a 4-game series to the White Sox in 1917 to help Chicago win the pennant (never substantiated)
1934 New York Rangers and Boston Bruins battle out a 0-0 tie; first of a 37-game overtime undefeated streak for the Bruins, the longest in NHL history; streak spans over 4 years and includes 27 ties
1956 National Football League Championship, Yankee Stadium, NYC: New York Giants beat Chicago Bears, 47-7; Giants' 4th NFL title
1962 National Football League Championship, Yankee Stadium, NYC: Green Bay Packers beat NY Giants, 16-7; MVP: Ray Nitschke, Green Bay, LB
1970 Sonny Liston, World heavyweight boxing champion (1962-64), dies at 38
1971 Long Island NHL franchise purchased (NY Islanders)
1973 AFC Championship, Miami Orange Bowl: Miami Dolphins beat Oakland Raiders, 27-10
1973 NFC Championship, Texas Stadium, Irving: Minnesota Vikings beat Dallas Cowboys, 27-10
1975 Tiger Woods, American golfer (15 major titles; 81 PGA Tour titles; 41 European Tour titles), born in Cypress, California
1981 Wayne Gretzky scores 5 goals and an assist in Edmonton's 7-5 win over Philadelphia; gives Gretzky 50 goals in 39 games, the fastest 50 in 50 in NHL history; also sets NHL record with 15-game assist streak
1984 LeBron James, American basketball forward (3-time NBA champion, Olympic gold 2008, 12), born in Akron, Ohio
1984 Professional wrestling manager Miss Elizabeth (Hulette) & wrestler Macho Man Randy Savage (Poffo) wed
1992 Happy Birthday Carson Wentz, American NFL quarterback (Philadelphia Eagles), born in Raleigh, North Carolina
2013 NFL head coach Mike Shanahan is fired by the Washington Redskins
2017 84th Orange Bowl: #6 Wisconsin beats #11 Miami (Florida), 34-24
2018 Patrick Mahomes becomes only the 2nd quarterback in NFL history to throw for 5,000 yards and 50 touchdowns during KC Chiefs' 35-3 win over Oakland Raiders; achieves both marks with 3rd quarter 89-yard TD pass to Demarcus Robinson
What's New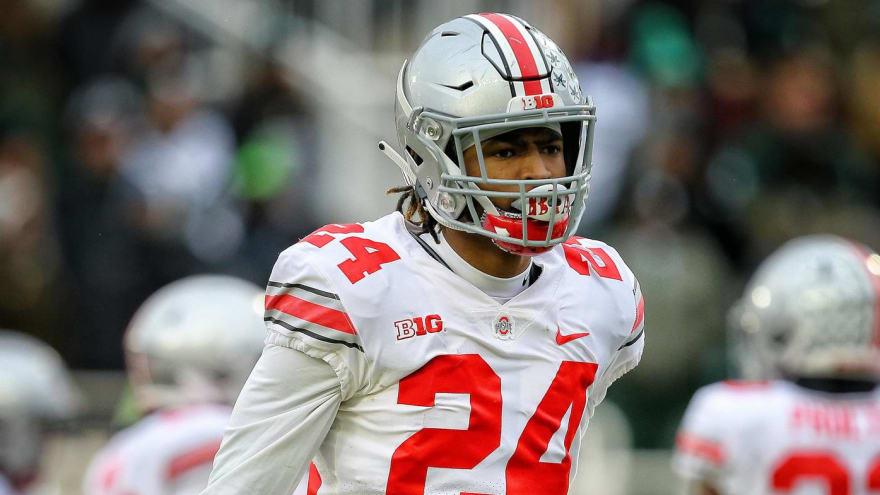 The Ohio State Buckeyes were dominating the Clemson Tigers, the entire game might have just flipped on a controversial targeting call that resulted in Buckeyes cornerback Shaun Wade's ejection.
Clemson quarterback Trevor Lawrence had a ridiculous 67-yard touchdown run. Lawrence has an incredibly strong arm, who new he had open field speed/moves as he put one defender on skates in open space.
The LSU Tigers will face the Clemson Tigers for the 2019 National Championship. Here are three quick takeaways from their national semifinal victories.
Tampa Bay Buccaneers quarterback Jameis Winston was pick-sixed by Atlanta Falcons linebacker Deion Jones on the first play of overtime, making him the first player in NFL history to throw for at least 30 touchdowns and 30 interceptions in a season.
On a Gus Edwards' 9-yard run early in the second quarter, the Ravens surpassed the 1978 New England Patriots for most rushing yards in a single season. The Patriots ran for 3,165 yards that season, a record that stood for 41 years. The Ravens finish the 2019 season with 3,296 rushing yards.
Less than five minutes into the first quarter, Matt Ryan faked a handoff to Devonta Freeman and found offensive tackle and eligible receiver Ty Sambrailo wide open. The 311-pounder galloped into the end zone, outrunning the confused Buccaneers to give the Falcons a 7-0 lead.
Robert Kraft was originally charged with two misdemeanor counts of soliciting prostitution stemming from the Patriots owner allegedly receiving sexual favors at a day spa. A third-degree felony would be punishable by up to five years in prison.
Detroit Lions wide receiver Marvin Jones Jr. has opened up about a devastating personal tragedy, announcing on social media that his infant son Marlo died suddenly on Friday (Dec. 27).
Nike's new "True to 7" shoe with former NFL quarterback Colin Kaepernick sold out on the first day of its North American release, according to Nike's website. Kaepernick has been a controversial figure since he took a knee during the national anthem in 2016 to protest systemic racial inequality in the U.S.
After receiving some pushback to a controversial plan that would eliminate its affiliation with 42 minor league teams, Major League Baseball issued a statement on Saturday (Dec. 28) saying it is committed to protecting those minor league organizations.
Fox's coverage of the Washington Nationals' game seven victory over the Houston Astros to claim Major League Baseball's (MLB) 2019 World Series title drew an average 24 million viewers across all the broadcaster's TV and digital platforms.
US viewership for the 2019 Major League Soccer (MLS) Cup final was significantly down compared to 2018, as ABC's coverage of this year's fixture drew an average audience of more than 700,000 fewer than Fox's production last season.