Sports That Matters
Powered By 
INTERTOPS
Sign-Up | Make a Deposit | Get Bonuses
December 16, 2019
One Big Thing:
Seattle Seahawks wide receiver Josh Gordon has been suspended indefinitely for violating the NFL's policies on performance-enhancing substances and substances of abuse.
The league announced the suspension Monday, one day after Gordon appeared in his fifth game this season with the Seahawks.
This marks Gordon's sixth suspension since the 2013 season and the fifth for some form of substance abuse.
On This Day:
1926 Kenesaw Mountain Landis renewed 7-years as baseball commissioner
1938 Happy Birthday Frank Deford, American sportswriter
1940 Joe Louis KOs Al McCoy in 6 for heavyweight boxing title in Chicago
1962 NY Giant Y. A. Tittle sets NFL season touchdown pass record at 33 with 6 touchdowns vs Dallas (41-31)
1962 Happy Birthday William "The Refrigerator" Perry, NFL defensive back (Chicago Bears)
1967 Wilt Chamberlain of NBA Philadelphia 76ers scores 68 points vs Chicago
1972 Miami Dolphins become 1st undefeated NFL team (14-0-0)
1973 O.J. Simpson becomes 1st NFL running back to rush for 2,000 yards in a season
1983 Yogi Berra named Yankee manager for 2nd time
1991 Florida Marlins sign their 1st player, 16 year old pitcher Clemente Nunez
2013 79th Heisman Trophy Award: Jameis Winston, Florida State (QB)
What's New: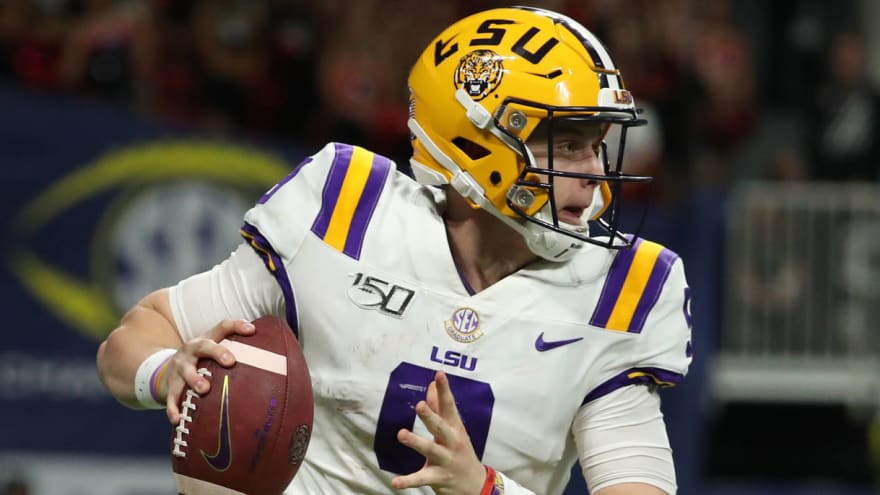 LSU quarterback Joe Burrow won the 2019 Heisman Trophy in a landslide that saw him receive a new record 95 percent of the first-place votes. Burrow received 841 of the 885 potential first-place votes for the Heisman Trophy.
The MLB Winter Meetings apparently didn't do much to solve the issues between Major League Baseball and Minor League Baseball. At the root of the problem is MLB's proposal to strip 42 MiLB teams of affiliations, which was announced in November That would be more than a quarter of MiLB's 160 teams across the U.S.
The National Basketball Association's (NBA) G League secondary competition has announced the addition of Mexican professional men's basketball team Capitanes next season, its first franchise based outside the US and Canada.
Bill Belichick is up to his old tricks again and Max Kellerman is done. The New England Patriots were again kind of probably caught cheating as a film crew was recording the Bengals' sideline a week before the Patriots beat Cincinnati, 34-13. As if the results didn't say enough, the video evidence obtained by FOX was damning. So now is the time for the NFL to finally punish the Patriots by suspending Bill Belichick.
The use of influencers to drive brand and brand awareness continues to be a key marketing focus across nearly all aspects of business. Teams have just recently started to dabble in the space, and no team has done it more uniquely than the New York Jets.
The New England Patriots were unable to continue their torrid start on the defensive side of the ball once the schedule picked up and they played teams that were not from New York or Washington. No one will deny that the unit is talented enough to be considered one of the best in the NFL, but all that talk about its place in history next to the truly great defenses of the past has rightfully been put to bed.
New Jersey has officially collected more than $5 billion in bets since making sports gambling legal in June 2018, according to researcher PlayNJ. The state's online and retail sportsbooks collected $562 million in bets in November, and continue to benefit from New York's reluctance to allow the practice.
A year ago, Uefa set the tone for 2019 by signing the governing body's first exclusive sponsorship for women's soccer in Europe. Fast forward 12 months and the commercial opportunity around the women's game remains a hot topic of conversation.
While much of sports media is in turmoil, with the implosion of both legacy (Sports Illustrated) and digital brands (Deadspin), one sports-media startup has quietly been amassing hundreds of millions of viewers in less than two years, via the social-media platforms TikTok, Instagram, Snapchat, and Facebook.
Facebook, Microsoft, Twitter and others are spending millions on video game streaming to compete with Amazon's Twitch in a fight to court millennials.