Sports That Matters
Powered By 
INTERTOPS
Sign-Up | Make a Deposit | Get Bonuses
December 13, 2019
One Big Thing: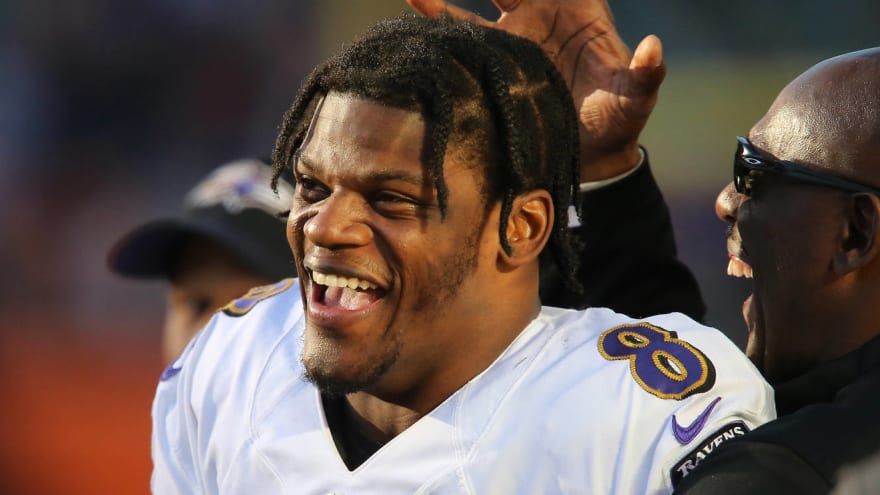 Lamar Jackson broke Michael Vick's single season quarterback rushing record Thursday night
Jackson had put up incredible stats both on the ground and through the air this season.
As a thrower, Jackson has completed 66.3 percent of his passes for 2,677 yards. He also led the league with 28 touchdown passes and just six interceptions.
As a runner, Jackson has put up stats most running backs would love to post. Coming into Week 15, he had 1,017 yards (now up to 1,044 yards, and counting) and seven touchdowns on the ground.
On This Day:
1936 National Football League Championship, Polo Grounds, NYC: Green Bay Packers beat Boston Redskins, 21-6; Packers 4th title
1956 Dodgers trade Jackie Robinson to Giants for pitcher Dick Littlefield & $35,000. Robinson will retire rather than be traded
1969 MLB manager Billy Martin fired by the Minnesota Twins
1977 14 University of Evansville basketball players die in plane crash
1983 9,655 see highest-scoring NBA game: Detroit 186, Denver 184 (3 OT)
1996 Free agent Roger Clemens signs with Toronto Blue Jays
1997 63rd Heisman Trophy Award: Charles Woodson, Michigan (CB)
2006 Lamar Hunt, American sports executive and NFL owner (KC Chiefs), dies at 74
2007 The Mitchell Report is publicly released listing the names of 89 Major League Baseball players that have presumably used anabolic steroids and human growth hormones. Notable players named include Roger Clemens and Miguel Tejada
2010 76th Heisman Trophy Award: Cam Newton, Auburn (QB)
2014 80th Heisman Trophy Award: Marcus Mariota, Oregon (QB)
2015 Irishman Conor McGregor knocks out Brazilian Jose Aldo in 13 seconds to win his 1st featherweight title in Las Vegas
2015 81st Heisman Trophy Award: Derrick Henry, Alabama (RB)
What's New:
Joe Burrow was named The Associated Press college football player of the year presented by Regions Bank on Thursday in a landslide vote, making him the first LSU player to win the the 21-year-old award.
Former NBA Commissioner David Stern suffered a sudden brain hemorrhage Thursday and had emergency surgery. The league made the announcement about Stern's condition in a statement, saying its thoughts and prayers were with the 77-year-old Stern's family.
Amid the league's games in Mexico City this week, NBA commissioner Adam Silver announced that a new G League team would be based there beginning in the 2020-21 season.
The Miami Heat suspended Dion Waiters without pay for the third time this season, citing "continued insubordination." He will be eligible to return after the Heat face the Utah Jazz on December 23.
On Sunday, the Oakland Raiders will play their final home game at the Oakland-Alameda County Coliseum, ending a 47-season run for one of the NFL's iconic franchises as it prepares to relocate to Las Vegas for the 2020 season.
The U.S. Department of Justice charged 10 former NFL players with allegedly defrauding a health care program for retired players of nearly $4 million. The ex-players are: Clinton Portis; Carlos Rogers; Robert McCune, John Eubanks, Tamarick Vanover, Ceandris Brown, James Butler, Frederick Bennett, Correll Buckhalter, and Etric Pruitt. The feds also intend to charge Joe Horn and Reche Caldwell with conspiracy to commit health care fraud.
ESPN and the American Athletic Conference are in the process of renegotiating the terms of their recently minted 12-year, $1 billion media rights deal to account for the University of Connecticut's impending departure for the Big East Conference.
Cincinnati will no longer host the National Collegiate Athletic Association's (NCAA) men's basketball tournament in 2022, with March Madness instead heading to Indianapolis' Bankers Life Fieldhouse.
Athletics can be a massive drain to a college's bottom line – and more football programs are being slashed as a result. In the past two months alone at least five schools across the country have dropped football, including four less than seven hours apart in North Dakota and Minnesota: St. Cloud State University, Minnesota Crookston, Northland Community & Technical College and Dakota College at Bottineau.
Todd Boehly, a minority owner of Major League Baseball's (MLB) Los Angeles Dodgers, has had a takeover bid for English soccer giants Chelsea rejected.