Sports That Matters
Powered By 
INTERTOPS
Sign-Up | Make a Deposit | Get Bonuses
October 28, 2019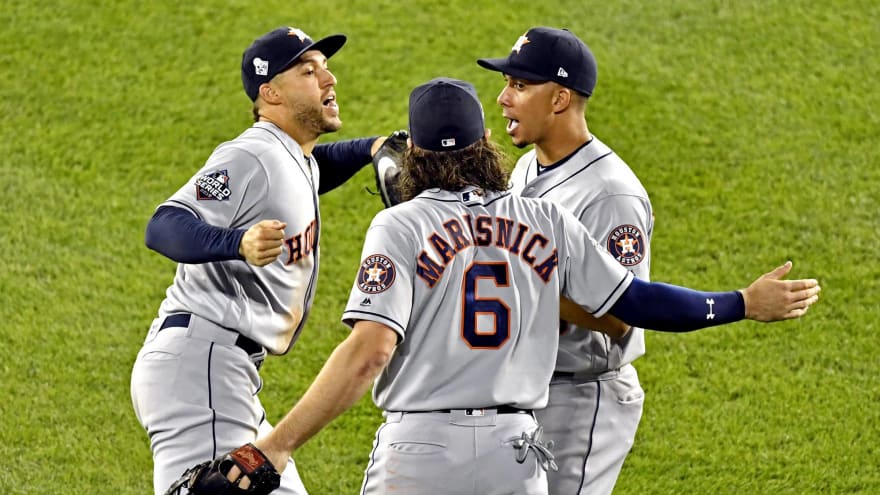 The road team was victorious once again. The Houston Astros cruised to a 7-1 victory over the Washington Nationals in Game 5 of the World Series on Sunday night.
Washington suffered its first blow hours before the game started when Max Scherzer was scratched with neck spasms. Down its ace, the Nationals immediately found themselves further disadvantaged against Houston's All-Star pitcher Gerrit Cole.
The Astros tapped into their immense power supply with a pair of two-run home runs early in Game 5. On a night when Cole rediscovered his best stuff, four runs was all he needed. (READ MORE) by Matt Johnson | Sportnaut
Just a few days ago, the Houston Astros were in big trouble when it came to their matchup in the 2019 World Series against the Washington Nationals. They were headed to DC down 2-0 despite having their two best pitchers — Gerrit Cole and Justin Verlander — toeing the slab on consecutive nights.
But here we are three games later, and the Astros are headed back to Houston just one win away for their second title in three seasons. The American League champs have found a way to break through and take control of this series, but something that hasn't changed is the method in which they score. (READ MORE) by Matt Musico | The Sports Daily
The Washington Nationals were robbed of a potential rally in the bottom of the seventh inning during Game 5 of the World Series by a bad call from home plate umpire Lance Barksdale.
Victor Robles was batting with a full count and a runner on first with two outs and his Nats down 4-1 to the Houston Astros. The 3-2 pitch from Gerrit Cole was on the upper edge of the strike zone and outside. Robles took the pitch and started to head to first, but was called out on strikes by Barksdale. (READ MORE) by Larry Brown | Larry Brown Sports