Sports That Matters
Powered By 
INTERTOPS
Sign-Up | Make a Deposit | Get Bonuses
October 26, 2019
Shea Patterson slipped into the background, content to be the supporting actor on this night. He was upstaged by the five large men crouched before him. They go by the names Mayfield, Onwenu, Ruiz, Bredeson and Runyan.
For more than three hours Saturday, they were the star attractions, keeping a soggy but boisterous crowd at Michigan Stadium in their seats and cheering until the final whistle.
Throughout No. 20 Michigan's 45-14 rout of No. 7 Notre Dame, they supplied the horsepower for the Wolverines' offense. (READ MORE) by Rainer Sabin | Detroit Free Press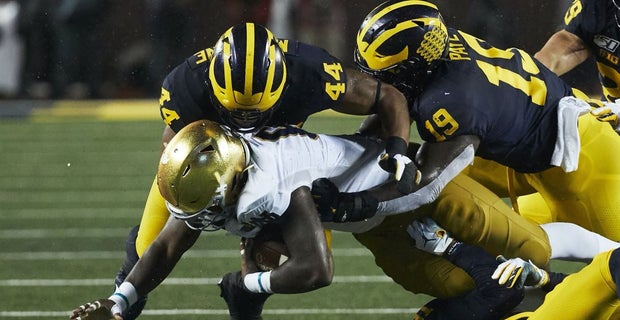 When it rains, it pours, and Saturday night in Ann Arbor, Michigan unleashed a monsoon on Brian Kelly's apparently unprepared Irish inside The Big House, humiliating their guests 45-14.
It started poorly for Notre Dame, its error-filled first quarter including the hat trick of nonsensical special teams errors, poor run fits defensively, and an impotent offensive attack that managed to gain more than two yards on just eight of its 28 first half snaps.
The Wolverines took a 17-0 lead into the break, out-gaining their guests 189 yards (including a whopping 167 rushing) vs. 52 in the process. (READ MORE) by Tim OMalley | 247 Sports