Sports That Matters
Powered By 
INTERTOPS
Sign-Up | Make a Deposit | Get Bonuses
October 23, 2019
The 2019 World Series is underway and the Washington Nationals opened things up with a surprising 5-4 win over the Houston Astros.
Everyone expected this game to be dominated by Max Scherzer and Gerrit Cole. Instead, the two aces allowed seven total runs and each allowed eight base runners in the first five innings.
Both teams brought the firepower thanks to MVP-caliber performances by star outfielders. While the Astros rallied for a late surge, the Nationals did just enough to hold on and steal the World Series opener in Houston.
Here are the winners and losers from Washington's win over Houston in Game 1 of the World series. (READ MORE) by Matt Johnson  |  Sportsnaut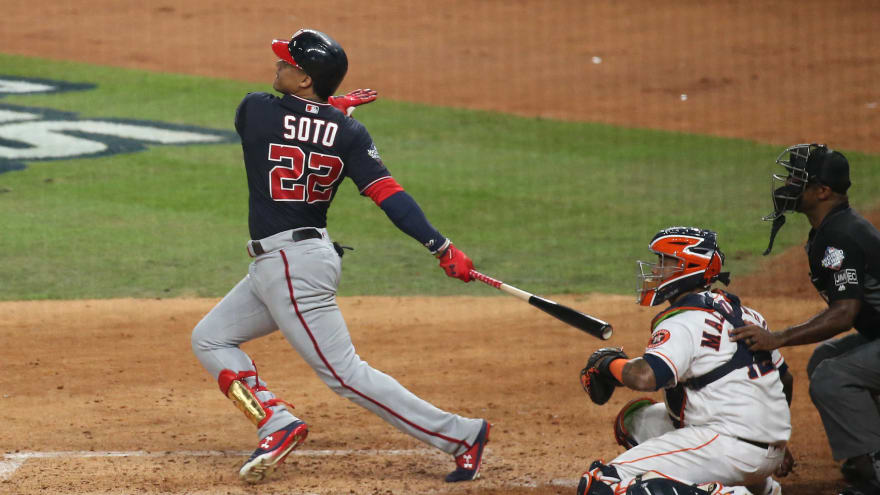 Down 2-1 in the top of the fourth inning in Game 1 of the World Series, Washington Nationals phenom Juan Soto blasted a home run to left field.
Hitting every bit of this pitch off Gerrit Cole, Soto hammered this home run to the opposite field, blasting it onto the train tracks at Minute Maid Park. (READ MORE) by Jesse Reed  | Sportsnaut
The Washington Nationals and Houston Astros tee it up for Game 2 of the 2019 World Series Wednesday at 8:07 p.m. ET. The Nationals took Game 1, 5-4, Tuesday night and are now 9-2 this October. Below is a breakdown of the Nationals vs. Astros sports gambling odds and lines, with MLB World Series betting tips on the moneyline, spread and Over/Under, along with suggested bets. (READ MORE) by Skip Snow | Sportsbook Wire