Sports That Matters
Powered By 
INTERTOPS
Sign-Up | Make a Deposit | Get Bonuses
October 12, 2019
Every Oklahoma and Texas football player was issued an unsportsmanlike conduct penalty Saturday following an ugly skirmish that broke out before kickoff.
It's unclear what set off the kerfuffle, which featured players from the two rivals pushing and yelling on the Texas field.
As a result, any player penalized for unsportsmanlike conduct during the game between the No. 6 Sooners and No. 11 Longhorns would immediately be ejected.
The Red River rivalry between Oklahoma and Texas is a bitter one, so a pregame skirmish at midfield – really, more like a heated conversation – wasn't unexpected. It would have been a surprise if there weren't any tempers flaring before the game.
So no big deal, right? It seemed the kind of situation that could have been let go. But referee Mike Defee's decision to issue every player on both teams an unsportsmanlike conduct foul seemed a bit much.
Defee put every player on the knife's edge half an hour before the game even started, since a second unsportsmanlike foul results in ejection.
At the coin toss, Defee told the team captains that "unfortunately" the unsportsmanlike fouls had been issued, and said: (READ MORE) by George Schroeder | USA TODAY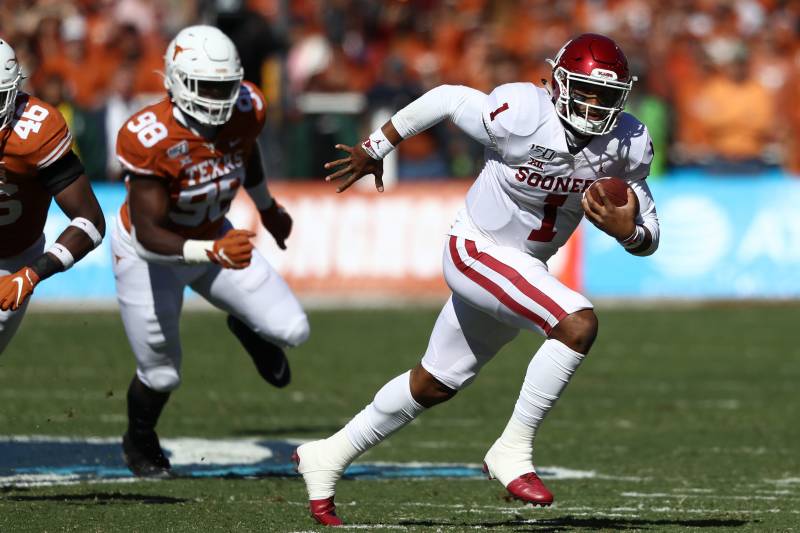 Heisman Trophy contender Jalen Hurts accounted for four touchdowns Saturday to help lead the No. 6 Oklahoma Sooners to a 34-27 Red River Rivalry victory over fellow Heisman hopeful Sam Ehlinger and the No. 11 Texas Longhorns at the Cotton Bowl in Dallas.
Oklahoma improved to 6-0 in mostly dominant fashion. The Sooners had outscored opponents 267-95 with at least 45 points in every game before Saturday. It's moved them firmly into the College Football Playoff conversation with a favorable second-half schedule. (READ MORE) by Tim Daniels | B/R