Sports That Matters
Powered By 
INTERTOPS
Sign-Up | Make a Deposit | Get Bonuses
September 17, 2019
Ben Roethlisberger suffered a season-ending arm injury last week against the Seahawks. Big Ben is on his way down the hill after reach his peak performance days at QB. However, at age 37 and injured it is time to look to the future. 
The future is Mason Rudolph and JuJu Smith-Schuster believes in his new quarterback. 
The second-year quarterback's second pass was a well-timed deep comeback that glanced off Donte Moncrief's hands and was intercepted. On his second possession, the Steelers called a flea-flicker for Rudolph, and he threw the long ball just about 50 yards down the field with good accuracy. JuJu Smith-Schuster came down with the leaping grab. Had the pass been closer to 55 yards, it could've been a touchdown. 
Rudolph later completed a 17-yard comeback to rookie Diontae Johnson in which the receiver slipped but still made the grab. On a play with tight coverage, Rudolph couldn't connect with Smith-Schuster downfield in the end zone but later scrambled past Bobby Wagner to pick up a big third down. On his first touchdown, Rudolph demonstrated fantastic patience on a middle screen to tight end Vance McDonald. On the two-point conversion, he failed to see an underneath defender and was intercepted. Easy play action roll outs and screens were sprinkled in for Rudolph. 
Before being gifted the ball inside the 10 thanks to a fumble, Rudolph threw the ball away as he was being dragged down on one play. After that, he was pressured and launched a jump ball to Johnson that fell incomplete and had a miscommunication with Smith-Schuster on third down. His second touchdown of the day was a relatively easy slant to McDonald in the end zone.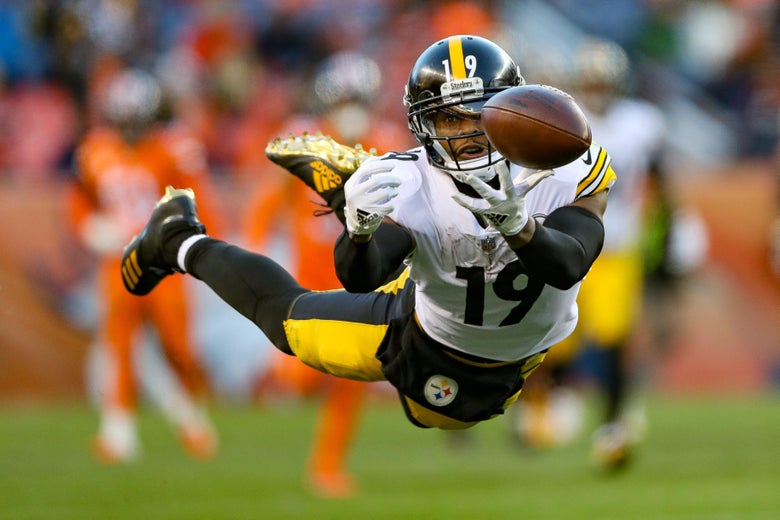 "We've got to stay positive and have to work with the guys on our field (and) in our locker room," Smith-Schuster said. "It was unfortunate for our best player to go down … but he'll be around helping and supporting us. Mason Rudolph is going to help us win a lot of games moving forward."
Smith-Schuster, 22, has caught 11 passes for 162 yards so far this season. But, the Steelers have started 0-2.