Sports That Matters
Powered By 
INTERTOPS
Sign-Up | Make a Deposit | Get Bonuses
September 17, 2019
Eli Manning's long and distinguished reign as the New York Giants' starting quarterback is seemingly over. Let the Daniel Jones era begin.
Coach Pat Shurmur announced Tuesday that the No. 6 overall pick in the NFL draft is replacing two-time Super Bowl MVP as the Giants' quarterback, beginning Sunday at Tampa Bay.
The move comes less than 24 hours after Shurmur refused to say Manning would remain the starter following two straight losses, the sixth time in seven years New York has gotten off to a 0-2 start. (READ MORE) by Tom Canavan | AP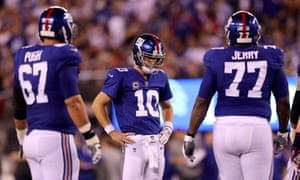 New York Giants head coach Pat Shurmur named Daniel Jones as the team's starting quarterback for Week 3, sending Eli Manning to the backup role after an 0-2 start to the 2019 season.
"Eli and I spoke this morning," Shurmur said Tuesday. "I told him that we are making a change and going with Daniel as the starter. I also talked to Daniel. Eli was obviously disappointed, as you would expect, but he said he would be what he has always been, a good teammate, and continue to prepare to help this team win games. Daniel understands the challenge at hand, and he will be ready to play on Sunday." (READ MORE) by Reuters
The Daniel Jones era will begin on Sunday.
Giants head coach Pat Shurmur opened the door to making a change at quarterback on Monday when he declined to say Eli Manning would start against the Buccaneers. It would have been surprising to make such a public show of doubt in Manning's ability to do the job before going back to him again this week and the Giants won't do that. (READ MORE) by Josh Alper | NBC Sports