Sports That Matters
Powered By 
INTERTOPS
Sign-Up | Make a Deposit | Get Bonuses
September 16, 2019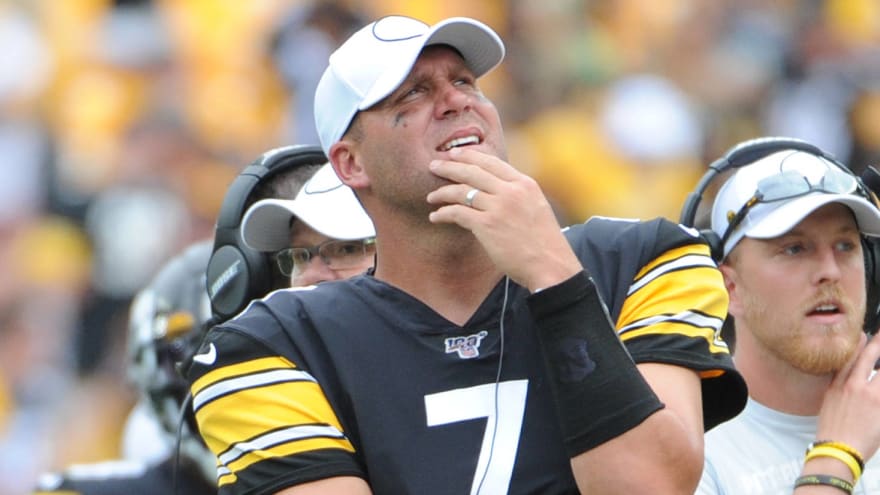 Ben Roethlisberger's elbow injury was an issue apparently during practice this past week. Roethlisberger went down in the first half of Sunday's game against the Seattle Seahawks with an injury to his throwing elbow. The Steelers QB did not return for the second half of the 28-26 loss, and there was little word on his status going forward. Roethlisberger had spent the week battling elbow inflammation.
Doug Marrone's decision to go for two at the end of his Jacksonville Jaguars' 13-12 loss to the Houston Texans on Sunday will be criticized for  the weeks ahead. Jacksonville drove for a touchdown to make it a one-point game with 30 seconds left. Rather than go for the extra point and play for overtime, Marrone opted to go for two. The Jags handed the ball off to Leonard Fournette, who got stopped.
The Saints and head coach Sean Payton  have agreed to a five-year contract extension. Payton was already under contract through 2020, and it sounds as though his extension will replace the final year of that deal.
Although salaries for coaches are generally not disclosed, Payton was already believed to be one of the highest-paid coaches in the NFL, with multiple sources suggesting he was pulling down an annual income of about $9M. It could be that his new contract will also increase his compensation.
Adrian Peterson will take on a bigger role with the Washington Redskins now that Derrius Guice has been placed on injured reserve, but head coach Jay Gruden may still be reluctant to feed the 34-year-old the ball.
Peterson was heavily involved early against the Cowboys on Sunday. He carried the ball eight times for 23 yards and a touchdown and caught two passes for seven yards. Even if he's not Gruden's favorite player, we should see plenty of him as long as Guice is on the shelf.
Adam Vinatieri has long been one of the more remarkable stories in the NFL, kicking successfully well into his 40s. May look to retire. Vinatieri, a three-time Pro Bowler and four-time Super Bowl champion, missed two more extra points on Sunday, on the heels of a bad Week 1. The second miss, in the fourth quarter, kept the Colts from opening up a three-point advantage over the Tennessee Titans.
The Kansas City Chiefs had a slow go of it in the first quarter against the Raiders in Oakland on Sunday. In fact, Kansas City was down 10-0 after the first 15 minutes. Kansas City dropped 28 unanswered points in the second quarter, all four touchdowns coming through the air. The reigning NFL MVP Patrick Mahomes threw for nearly 300 yards and four touchdowns in the second quarter alone.
Seattle Seahawks fans have grown used to quarterback Russell Wilson doing whatever it takes to help the team win. After handing it off to running back Rashaad Penny, who then cut back to the outside, Wilson did his best impression of a fullback by running ahead of Penny and taking out two defenders in their path to bring down Penny.
It's been rough sledding for the Pittsburgh Steelers on Sunday against the Seattle Seahawks. But in the third quarter, JuJu Smith-Schuster finally broke through with a huge play. On a flea-flicker, with QB Mason Rudolph in for the injured Ben Roethlisberger, Smith-Schuster got behind Seattle's defense and came down with a tough catch. The play went 45 yards and set Pittsburgh up in enemy territory. Unfortunately, the Steelers were unable to convert a touchdown and had to settle for a field goal.
David Quessenberry was unable to play in an NFL game from 2014-2016 while battling cancer. He won the battle, returned to football and today he scores a TD.
Dak Prescott has repeatedly played well and made it clear he can perform at a high level despite not having his contract situation sorted out. He also might not be as greedy as some may think he is.
According to a report from FOX's Pam Oliver, the Dallas Cowboys quarterback has said that he's not playing to be the highest-paid quarterback in the league. Moreover, Oliver says Prescott doesn't feel he can ask for that type of money until he's won a Super Bowl.
The Philadelphia Eagles not only lost 24-20 to the Atlanta Falcons on Sunday night, but they were also hit hard by injuries.
Wide receivers DeSean Jackson and Alshon Jeffery, as well as tight end Dallas Goedert, all suffered injuries during the game. Jackson had a groin injury and Jeffery a calf issue. Neither player recorded a catch in the game. After the game, Jackson was limping leaving the locker room.
The San Francisco 49ers improved to 2-0 with a convincing win over the Cincinnati Bengals on Sunday, but an injury to starting left tackle Joe Staley put a damper on the victory. Niners coach Kyle Shanahan told reporters after his team's 41-17 win that Staley suffered a broken fibula and is expected to miss at least eight weeks. The hope is that the injury will not be season-ending.
The Jets may not be without Sam Darnold for as long as initially expected. Darnold, who was diagnosed with mono, said that he hopes the doctor allows him to re-join the team sometime this week. Darnold's been told it should take him 21 days to completely recover and with that timeline, the former No. 3 overall pick expects to return to Jets' starting lineup after the team's Week 4 bye.