Sports That Matters
Powered By 
INTERTOPS
Sign-Up | Make a Deposit | Get Bonuses
September 13, 2019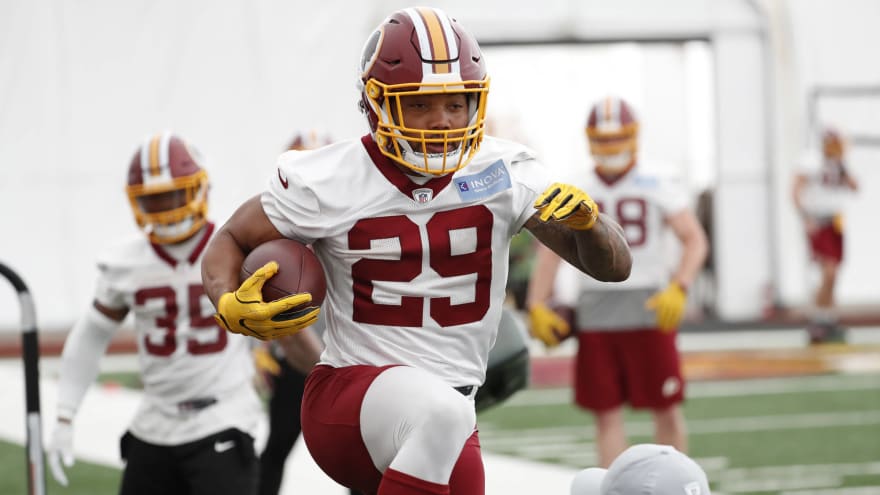 Derrius Guice underwent knee surgery on Thursday to repair a torn meniscus, and it is unclear when the Washington Redskins running back will be able to return.
Guice visited with Dr. James Andrews for a second opinion and ended up having his meniscus trimmed. Ian Rapoport of NFL Media reports that he will be out indefinitely.
Derrius Guice's knee injury means Adrian Peterson is getting a new lease on life for the Washington Redskins.
Coach Jay Gruden announced Wednesday that Peterson will be the starter Sunday against the Dallas Cowboys, a week after being left inactive during the regular season opener.
Peterson played in all 16 games last season, running for 1,042 yards. The 34-year-old can still play, but he got a high volume of carries to put up those numbers.
Adrian Peterson was not on the active roster for the Washington Redskins on Sunday after Jay Gruden made him a healthy scratch, and the decision did not sit well with Peterson or some of his veteran teammates. One of them, offensive tackle Morgan Moses, pulled no punches when discussing the situation on Monday morning.
In an interview with "The Sports Junkies" on 106.7 The Fan, Moses said it was a "slap in the face" that Peterson was inactive.
"Any time you've got a Hall of Fame guy that doesn't dress, man, it's a slap in the face. And obviously, we've gotta figure out what the reason is," Moses said. "And it's my job as one of the older guys on the offensive line to speak up and say, 'Hey, we need him.' Obviously, you don't put a Hall of Fame guy like that on the sideline — when he's healthy, as well."
Reports are now surfacing that Redskins players are at odds with their embattled head coach. "Players on Sunday became frustrated with the decision," Ben Standig of The Athletic reported.
Meanwhile, sources close to the situation told Standig that most players believe Peterson is a better back than Guice. "Everyone in the building besides Gruden thinks AP is the better back," the unnamed source said.
Reports surfaced prior to the game indicating that Gruden wanted to release Peterson, but was overruled by the powers that be in D.C. That likely included team president Bruce Allen and owner Daniel Snyder.