Sports That Matters
Powered By 
INTERTOPS
Sign-Up | Make a Deposit | Get Bonuses
September 5, 2019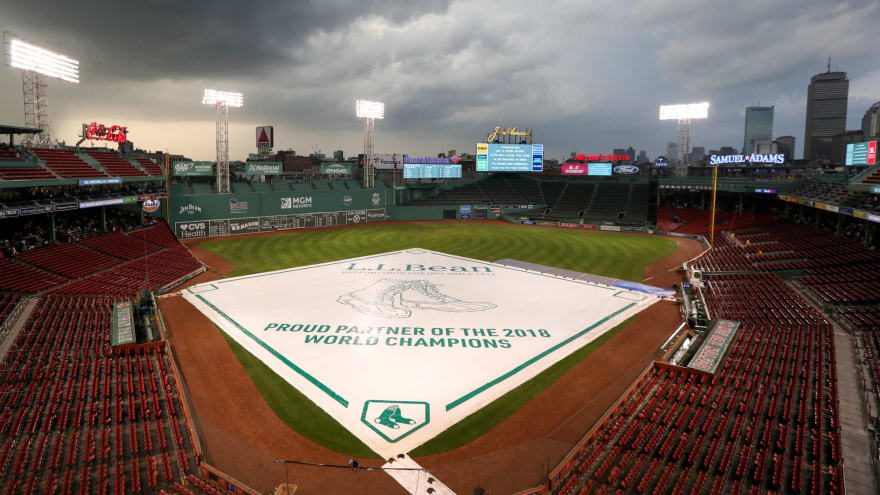 It's post-Labor Day in the New England area. We know what that means, right? Some absolutely amazing and scenic skies.
Those on hand to catch Boston Red Sox and Minnesota Twins game Wednesday night found this out firsthand.
The game was delayed for a while due to some rain. While it ultimately started about an hour after the scheduled first pitch, what we saw at Fenway Park during the delay was prettier than anything we'll see during the game.
The prospects of the Boston Red Sox qualifying for the postseason continue to ebb and flow, and Alex Cora riffed on a comedy classic to explain the perceptively diminishing prospects.
Ahead of Tuesday's 6-5 loss to the Minnesota Twins, the Red Sox skipper utilized a classic — not to mention oft-used — bit from the iconic "Dumb and Dumber" when addressing the odds of the Red Sox getting into the playoffs.
"Well, we have an 8% chance, so I mean, like 'Dumb and Dumber,' there's still a chance, I guess. At least in my eyes," Cora said, via NBC Sports Boston. "You control two things: the way you play and the Rays because we play four games (against them). You don't control the Indians, you don't control the A's. That's out of the equation. Although we started controlling the Indians when we beat them two out of three."
Two middle infielders in MLB history have hit at least 34 HR in their age-22 season or younger: Alex Rodriguez 42 in 1998, 36 in 1996, Gleyber Torres 34 in 2019.
Michael Lorenzen is the first pitcher to a win a game during which he also homered and played center field since Babe Ruth on June 13, 1921.
Houston Astros star George Springer exited Tuesday's game against the Milwaukee Brewers in the fourth inning after slamming his head into the wall following a brilliant catch.
Springer exited the game on a cart after the scary outfield collision. Astros manager A.J. Hinch noted after the game that the MVP candidate was day-to-day.
Zack Greinke didn't exactly have his finest moment on the baseball diamond Tuesday, and he knows it.
The Houston Astros righty, who got a chance to play offense in an interleague game against the Milwaukee Brewers, reached first base on a single in the fifth inning, only to promptly get picked off by Milwaukee pitcher Jordan Lyles. After the game, Greinke discussed the play in tongue-in-cheek fashion.
"I was trying to steal," said the former Cy Young winner, "Got nine career steals, trying to get 10. Don't know if I'll ever get there now. That was probably my last chance.
The Luke Voit trade (as it's now known) barely drew headlines when it was struck last July between the Cardinals and Yankees. Reliever Chasen Shreve was the best-known player in a deal viewed largely as two clubs dealing from positions of organizational depth.
Voit got a quick look with the Yankees at first base before being optioned to Triple-A Scranton/Wilkes-Barre, then returned in late August when the Yankees needed an extra bat after Didi Gregorius landed on the shelf. Voit's first two appearances in his second Yankees stint were of the pinch-hit variety, but he drew a start at first base on Aug. 24 and, in belting a pair of home runs that day, began a rapid ascension.
Those two long ball were the first of seven in a 12-game span. By the end of the year, Voit had exploded with a .333/.405/.689 batting line and 14 home runs in just 148 plate appearances as a Yankee.
Texas Rangers starting pitcher Lance Lynn was upset with home plate umpire Will Little for constantly changing out balls during Wednesday's game against the New York Yankees.
Lynn lasted just five innings, allowing three runs on five hits including two home runs. He got a flyout in the bottom of the fifth and was perturbed by Little asking to change balls. The two went on to have an exchange that involved Rangers manager Chris Woodward.
Being a New York Mets fan is living a daily roller coaster ride that includes many highs and lows. Tuesday's game against the Washington Nationals completely embodied that reality.
The Mets somehow blew a 10-4 lead in the ninth inning and lost on a 3-run walk-off home run by Kurt Suzuki.
New York scored four runs in the fourth inning against the Nats in DC and led for most of the game. They were up 5-4 entering the ninth and added five runs to go up 10-4. At that point, they had a 99.7 percent likelihood to win, according to Fangraphs.