Sports That Matters
Powered By 
INTERTOPS
Sign-Up | Make a Deposit | Get Bonuses
August 28, 2019
The Heisman Trophy comes down to two QB's Clemson's Trevor Lawrence and Alabama's Tua Tagovailoa. They probably will face each other again in the National Championship Game. So what does the Heisman Trophy really mean?
The best pure passer in the college game wasn't in the race a year ago, in part because he didn't take over the starting job until Week 5. From there, however, the freshman Trevor Lawrence played like a seasoned senior in leading the Tigers to 11 consecutive wins and a national championship win over Alabama in the College Football Playoff.
As last year's Heisman runner-up, Tagovailoa garnered 299 first-place votes and in the wake of finishing second, he outplayed the winner (Kyler Murray) in a College Football Playoff semifinal. If that isn't enough to staple the junior's name to preseason front-runner status, throw in college football's most talented corps of wide receivers. Tagovailoa's top four targets from a record-setting 2018 are all back, including Biletnikoff Award winner Jerry Jeudy.
The most prestigious award in collegiate athletics is and will always be the Heisman trophy. It is rewarded yearly to the best player in college football and provides a long-lasting legacy for every single winner. No matter what becomes of a player's career post-college, they'll always be addressed as Heisman trophy winner.
Little known fact, last season saw the Oklahoma Sooners go back-to-back with Kyler Murray winning the 2018 award and the year before Baker Mayfield in 2017. A feat that had not been accomplished since the 1940s when Army's Doc Blanchard and Glenn Davis won in consecutive seasons.
The top seven favorites to win the Heisman are quarterbacks with running back Jonathan Taylor being the first non-quarterback.
Justin Fields has yet to start a single down in college football. But when you're a talented QB and play for the Ohio State Buckeyes, you'll get favorable Heisman odds.
Jalen Hurts transferred from Alabama this offseason to Oklahoma and enters an offense that has been elite under head coach Lincoln Riley. If Oklahoma and Hurts have a memorable season he could put himself in the mix and give the Sooners three Heisman winners in a row.
Nebraska head coach Scott Frost worked magic in his second year at UCF, so many experts see similar success on the horizon in Lincoln. If Nebraska can make a massive turnaround in 2019, sophomore quarterback Adrian Martinez will have to have a monster season. Martinez showed big-time flashes in his freshman year both as a passer and runner totaling over 3,200 yards and 25 touchdowns.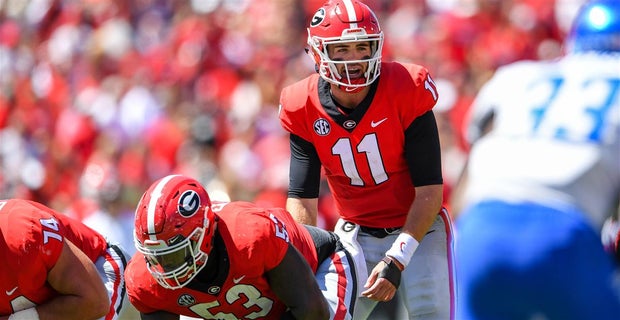 The Georgia Bulldogs' quarterback Jake Fromm carries a calm-but-commanding presence in any circumstance against the toughest of defenses, home or away, and with high stakes on the line. He's deadly accurate and has thrown just 13 interceptions in nearly 600 attempts over two seasons. Georgia's offense, as always, will rely heavily on a running game that features star rusher D'Andre Swift, who might garner some Heisman votes of his own. An undefeated season which means beating Alabama in the SEC Championship and winning the National Championship game would lock down the award.
The ever-productive Wisconsin RB Jonathan Taylor has finished in the top 10 in the Heisman voting in each of his first two college seasons, although with the award trending toward quarterbacks, three top-10 finishes might be the best he can hope for. After all, what more could he have done last season than rush for 2,194 yards?
Clemson's Travis Etienne's explosiveness makes him a threat to score from anywhere, and with 24 rushing touchdowns a year ago, his nose for the end zone is proven. He averaged a whopping 8.1 yards per carry for the Tigers, and as the lead horse in the backfield of the defending national champions. That's how good Clemson will be with two legit Heisman hopefuls.
Justin Herbert enters his final college season as the Pac-12's flag-holder at the quarterback position. In his first year as Oregon coach last fall, Mario Cristobal unleashed Herbert with 404 pass attempts, just 57 fewer than the total from the QB's previous two years combined. A starter since his freshman season in 2016, Herbert sees the field with ease at 6-foot-6 and has as much arm strength as any passer in the college game.
If the Texas Longhorns have an undefeated season then Sam Ehlinger would be a top candidate. He made big strides last season mainly by drastically cutting his interception rate, committing just five in 425 attempts. He also showed an impressive nose for paydirt by punching in 12 rushing TDs from inside the opponents' 5-yard line. If his game hits yet another level in 2019, he could put himself in position for serious Heisman consideration.
Purdue WR Rondale Moore established himself as one of the most exciting players in college football as a true freshman last year. That included the kind of marquee performance 12 catches for 170 yards and two touchdowns in a stunning upset of Ohio State.