Sports That Matters
POWERED BY Intertops
Sign Up, Make a Deposit, Redeem your Bonus
August 18, 2019
New York Mets first baseman Pete Alonso hit his 40th home run of the season on Sunday to set the National League rookie record for home runs in a season.
Alonso homered to left field in the ninth inning. The 418-foot blast off the Kansas City Royals' Jacob Barnes broke a tie with the Los Angeles Dodgers' Cody Bellinger for most home runs by a NL rookie in a season. Bellinger hit 39 home runs in 2017.
Griffin Canning had never been caught by fellow rookie Anthony Bemboom. Maybe Sunday was the start of a productive partnership.
Canning had perhaps the best start of his career, going seven innings and allowing just one run, and Bemboom hit his first homer in the majors to lead the Los Angeles Angels to a 9-2 victory over the Chicago White Sox.
After earning his 200th win, Zack Greinke hopes he's on his way to even bigger achievements with the Houston Astros this season.
Greinke reached the milestone with seven smooth innings Sunday, pitching the first-place Astros past the Oakland Athletics 4-1 to avoid a four-game sweep.
Alex Bregman had a three-run homer among his four hits to back Greinke, who won his third straight start since joining Houston from the Arizona Diamondbacks at the July 31 trade deadline to make the Astros a World Series favorite.
Garrett Hampson didn't think about being a hero. He only wanted to hit a ball deep enough to score Yonathan Daza from third.
His approach paid off and kept Colorado's faint playoff hopes alive.
Hampson hit a bases-loaded single in the bottom of the 10th inning, and the Rockies rallied to beat the Miami Marlins 7-6 on Sunday, completing a three-game sweep.
The Arizona Diamondbacks desperately needed a win to avoid falling further behind in the race for a National League wild-card berth, and a pitcher who hadn't won at home in 2 1/2 months delivered.
Merrill Kelly held the San Francisco Giants to one run in 5 2/3 innings, and the Diamondbacks avoided a four-game series sweep with a 6-1 victory Sunday.
The Minnesota Twins started a six-game road trip outside the lead in the AL Central for the first in almost four months. They're back on top of Cleveland, with a little room to spare after a fruitful stop in Texas.
Jorge Polanco cleared the bases with a tiebreaking triple in the eighth inning, lifting the Twins to their first-ever four-game sweep of the Rangers with a 6-3 victory Sunday.
By finishing its first four-game sweep since the end of last season, Minnesota maintained a 2 1/2-game lead over the Indians in the AL Central. The Twins went 5-1 on a trip that started with them a half-game behind after Cleveland beat Boston while they had a day off.
Mike Freeman found out Saturday night he was going to pick up a rare start in place of Cleveland Indians star infielder Jose Ramirez.
A couple of hours before Sunday's game, the 32-year-old career minor leaguer took a walk out to an empty Monument Park in Yankee Stadium to check out the plaques of past Yankees greats.
Freeman looked like a star, too, on Sunday when he hit a three-run homer and two doubles as the Indians tamed the New York Yankees 8-4 for a four-game split between AL pennant contenders.
Standing in the middle of Boston's clubhouse answering questions, a baby-faced Rafael Devers found himself immersed in Red Sox history.
Devers went 4 for 5 with a homer, two doubles and four RBI to reach 101 this season, and Boston rallied from an early six-run deficit for a 13-7 victory Sunday that completed a three-game sweep of the Baltimore Orioles.
Washington manager Dave Martinez wanted his team to shake off any ill effects from Saturday's marathon loss to Milwaukee by getting out to a fast start in the series finale. The Nationals carried out that order to perfection.
The Nationals matched a team record with eight home runs — including two by Juan Soto — in a 16-8 rout of the Brewers on Sunday as Washington took two of three from a fellow contender in the NL playoff race.
Washington Nationals closer Sean Doolittle was placed on the 10-day injured list Sunday with right knee tendinitis, a day after he blew his sixth save chance of the season.
Doolittle, 32, allowed three home runs and four runs in the ninth inning Saturday night against the Milwaukee Brewers to blow a three-run lead for the Nationals. Washington eventually lost the game 15-14 in 14 innings.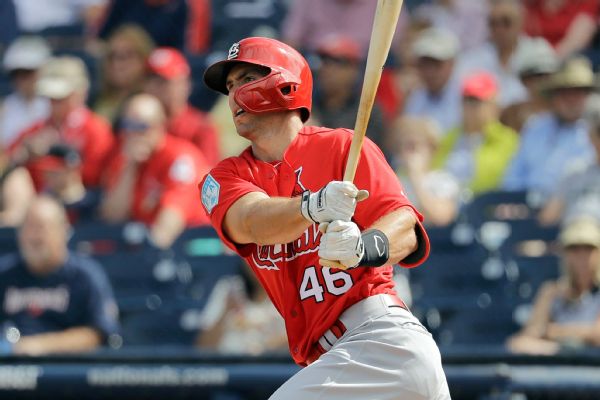 An inconsistent St. Louis Cardinals lineup cranked out just enough offense Sunday to stay in first place.
Paul Goldschmidt hit a two-run homer, Tommy Edman added a solo shot among his three hits and the Cardinals held off the Cincinnati Reds 5-4 to split a strange four-game series in which they totaled two runs in their two losses and 23 in a pair of wins.
The Reds have placed first baseman Joey Votto on the 10-day injured list with lower back tightness that has kept him out of Cincinnati's last three games.
The move is retroactive to Thursday. In a corresponding move, the Reds recalled utility player Brian O'Grady from Triple-A Louisville on Sunday.
Votto was on a six-game hitting streak before his back tightened up. The six-time All Star is hitting .262 with 12 home runs and 39 RBI in 113 games this season.
This is O'Grady's second stint with the Reds this season. Earlier this month, he went 1 for 5 in five appearances.
Austin Hedges celebrated his birthday in style.
Hedges had four hits, including a tiebreaking homer in the seventh, on his 27th birthday, and Joey Lucchesi pitched six strong innings to lead the San Diego Padres to a 3-2 victory over the Philadelphia Phillies on Sunday.
Phillies outfielder Bryce Harper left the game against the San Diego Padres after the fifth inning because of dehydration on a muggy Sunday.
"I feel better now," Harper said after the 3-2 loss. "It's weird. An hour ago, I couldn't see in front of me, kind of."
Manager Gabe Kapler said Harper had blurred vision and received an IV for hydration.
Ronald Acuna Jr. says he had never before failed to hustle out of the batter's box.
Braves manager Brian Snitker made a bold move to make sure it never happens again with the 21-year-old All-Star outfielder.
With Acuna banished for styling instead of sprinting, Rafael Ortega stepped up with a sixth-inning grand slam that lifted Atlanta to a 5-3 win over the Los Angeles Dodgers on Sunday.
Ji-Man Choi raised his arms into the air as he saw his game-winning hit clear the infield.
There was good reason to celebrate after the Tampa Bay Rays kept themselves in the AL's second wild-card spot and avoided a series loss to the woeful Detroit Tigers.
Choi's two-run single in the bottom of the ninth completed a rally from a late three-run deficit and gave the Rays a 5-4 victory on Sunday.
After watching his team use seven pitchers Saturday, Seattle's Yusei Kikuchi wanted to give the bullpen a break.
His first big league shutout fit the bill perfectly.
Kikuchi needed just 96 pitches to complete a two-hitter Sunday that led the Mariners over the Toronto Blue Jays 7-0, Seattle's third shutout of the season.
Kikuchi (5-8) struck out eight, walked one and retired the final 14 batters in his first win since beating Baltimore on June 23. The rookie left-hander went 0-3 with a 6.53 ERA in eight starts covering 40 innings between victories.