Sports That Matters
POWERED BY Intertops
Sign Up, Make a Deposit, Redeem your Bonus
August 14, 2019
MAJOR LEAGUE BASEBALL NEWS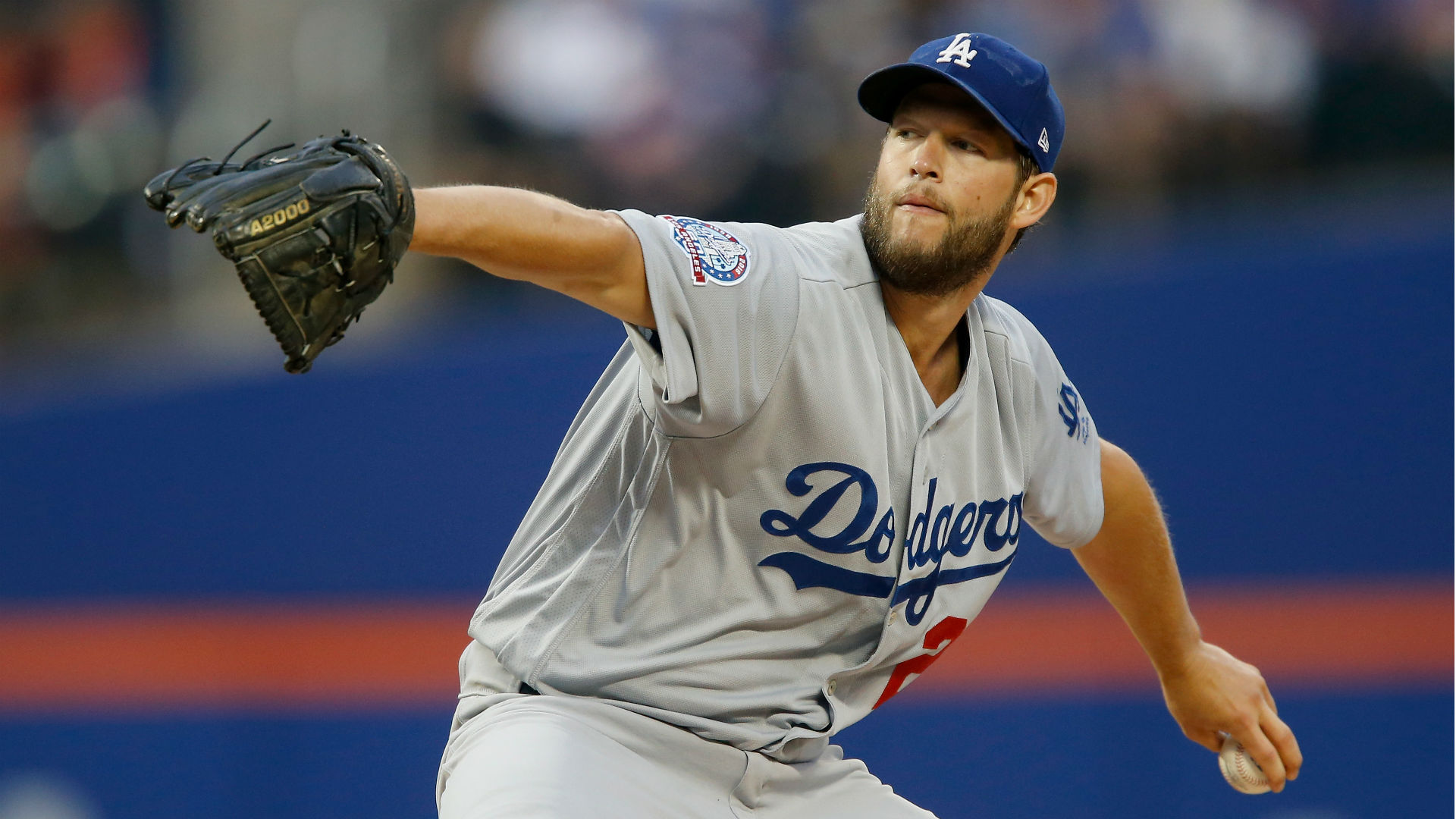 Clayton Kershaw struck out the first seven batters he faced and matched a season high with 10 strikeouts in seven shutout innings as the Los Angeles Dodgers beat the Miami Marlins 9-1 on Wednesday night.
Kershaw (12-2) allowed two hits and retired the first 14 Miami batters before Harold Ramirez's two-out single to right in the fifth. The three-time Cy Young Award winner left after 90 pitches.
Nolan Arenado lingered near the batter's box a little longer than usual as he stared at his liner. It wasn't to admire. It was simply to make sure.
In a season that's been so foul for Colorado, he wanted to double-check that his deep drive indeed stayed fair before celebrating.
Arenado hit a two-run homer in the ninth inning to give the Rockies a 7-6 victory over the Arizona Diamondbacks on Wednesday.
A rare bright spot in what's been a trying stretch for a club that's all but assured it won't be making a third straight postseason appearance. The Rockies are 14-33 since June 21, which is one of the worst marks by winning percentage in the majors over the time frame.
Arizona Diamondbacks left-hander Robbie Ray left in the third inning of Wednesday's 7-6 loss to the Colorado Rockies because of spasms in his lower back.
Ray took the mound in the bottom of the third and made one warm-up pitch before he was visited by manager Torey Lovullo. After a brief meeting, Ray walked toward the dugout with the team trainer.
Brewers manager Craig Counsell has plenty of confidence in Trent Grisham, which he showed by batting the rookie leadoff for the fifth time in his first 11 major league games.
Grisham made his manager proud on Wednesday, hitting a go-ahead three-run homer in the eighth inning as Milwaukee rallied to beat the Minnesota Twins 6-5.
Victor Reyes hit a two-run single in the second inning and the Detroit Tigers held on to beat the Seattle Mariners 3-2 on Wednesday night.
Harold Castro had three hits for Detroit while catcher Jake Rogers threw out two baserunners to end innings.
The Tigers improved to 4-6 with one game left in an 11-game homestand. Seattle has lost nine of 11.
Cardinals rookie Dakota Hudson tossed six innings of five-hit ball, Royals counterpart Brad Keller allowed a no-hit bid to crumble in spectacular fashion, and St. Louis went on to beat Kansas City 6-0 on Wednesday night for a two-game sweep.
Hudson (11-6) allowed runners to reach every inning but the third, but the 24-year-old right-hander kept getting timely double-plays, groundballs and fly outs. Hudson struck out five and walked two as the Cardinals won for the 13th time in his last 16 starts.
Albert Pujols had two hits and three RBIs Wednesday and set the major league record for career hits by a foreign-born player, leading the Los Angeles Angels to a 7-4 victory over the Pittsburgh Pirates.
Pujols had an RBI single in the 4th inning. His 3,167th hit moved him past fellow Dominican Republic native Adrian Beltre (3,166) and into sole possession of 15th place for career hits.
J.T. Realmuto hit a grand slam, Bryce Harper went deep twice and the Phillies beat the Chicago Cubs 11-1 in Charlie Manuel's first game as hitting coach, ruining Cole Hamels' return Wednesday night.
Manuel was back in red pinstripes in his old dugout exactly six years to the day the franchise icon managed his last game for the Phillies. The man who coined the phrase "hittin' season" heard "Charlie! Charlie! Charlie!" chants after Realmuto connected to make it 10-0 in the third.
Phillies right-hander Jake Arrieta likely will have season-ending surgery soon because of a bone spur in his pitching elbow.
Arrieta, who was placed on the 10-day injured list Wednesday, has been pitching through pain for several starts, but his inability to go more than five innings led him to shut it down. He was scheduled for an MRI on Thursday, and he will determine his course of action afterward.
"I wanted to try and make it work for as long as possible
It all started with Stephen Strasburg flicking his bat to reach for an outside cutter and loop a flare into right field for a tiebreaking RBI single.
With that, the Washington Nationals were on their way Wednesday — to a 10-run fifth inning that also featured homers by Anthony Rendon, Kurt Suzuki and Adam Eaton, followed by a six-run sixth.
Added up to a 17-7 victory for Washington over the Cincinnati Reds that completed a three-game sweep and put the Nationals 10 games over .500 for the first time since June 2018.
The Tampa Bay Rays finally fell in San Diego, though they didn't dwell too much on their loss.
It's hard to be down when the rest of their road trip was perfect.
"If you go 5-1 on the road you have to be happy with that," the Rays' Tommy Pham said. "Now we have to take that same effort home and play some great baseball."
Cal Quantrill contributed with his arm and bat as the Padres beat Tampa Bay for the first time in over nine years, topping the Rays 7-2 on Wednesday.
The Tampa Bay Rays placed starting outfielder Avisail Garcia on the 10-day injured list Wednesday, a day after he suffered an oblique strain in the game against the San Diego Padres.
"It was a tough decision because he's meant so much to us," Rays manager Kevin Cash said. "He tweaked it, but I'm confident we're making the best decision for him and for our club."
Garcia has started 101 games this season, posting a .278 batting average, 17 home runs and 57 RBIs.
Matt Chapman's first home run set up what looked like a lopsided win. His second provided the Athletics with some breathing room that they unexpectedly needed.
Chapman's drive in the ninth inning followed a late collapse by Oakland's bullpen, and the A's held on to beat the San Francisco Giants 9-5 on Wednesday.
James McCann ended a home run drought in grand style to help the Chicago White Sox make a statement against one of baseball's top teams.
McCann hit a tiebreaking grand slam in the eighth inning and Chicago outlasted the Houston Astros 13-9 Wednesday to win the season series from the runaway AL West leaders.
It seems that any alarm bells ringing after Houston Astros starter Gerrit Cole was a last-minute scratch from Game 2 of a doubleheader on Tuesday in Chicago can be silenced — that is, if encouraging tests results after an examination of his hamstring prove to be accurate.
The New York Yankees' season-long dominance of the Baltimore Orioles ended with Gary Sanchez and Gleyber Torres being linked to Lou Gehrig and Babe Ruth.
And while Sanchez was modest in his thoughts about the achievement, other Yankees did not hesitate to express their amazement.
Sanchez's three-run homer gave him 10 against Baltimore and New York beat the Orioles for the 16th straight time this season, winning 6-5 Wednesday in their final meeting this year.
Rafael Devers homered and singled, extending his robust hit streak to eight straight at-bats, and Xander Bogaerts went deep twice to lead Boston to a 5-1 victory over the Cleveland Indians on Wednesday.
The Red Sox, playing their 34th game in a 34-day span, started the day 8 1/2 games behind Tampa Bay for the second AL wild-card spot. The defending World Series champions went 15-18 with a suspended game against Kansas City to be completed on August 22.
Texas Rangers manager Chris Woodward gathered his struggling hitters before Wednesday's game and told them to pull together and keep plugging.
Kolby Allard pitched 5 2/3 innings to win for the first time with Texas, Elvis Andrus had four hits and two RBI and the Rangers beat the Toronto Blue Jays 7-3 to avoid a three-game sweep.
The New York Mets placed All-Star Jeff McNeil on the 10-day injured list on Wednesday and recalled infielder Ruben Tejada from Triple-A Syracuse.
Mets manager Mickey Callaway said McNeil suffered a "fairly mild" left hamstring strain when trying to beat out an infield grounder in the ninth inning of Tuesday night's 5-3 loss to the Atlanta Braves.
Fresh off his first full season in the majors, Jameson Taillon seemed to be on the brink of big things for the Pittsburgh Pirates.
Instead, a forearm injury sidetracked him in May and again in July. Now his future is even more uncertain.
Taillon will miss the 2020 season after undergoing Tommy John surgery on his right elbow for a second time.