Sports That Matters
POWERED BY INTERTOPS
Signup
Make a Deposit
Redeem your bonus 
August 8, 2019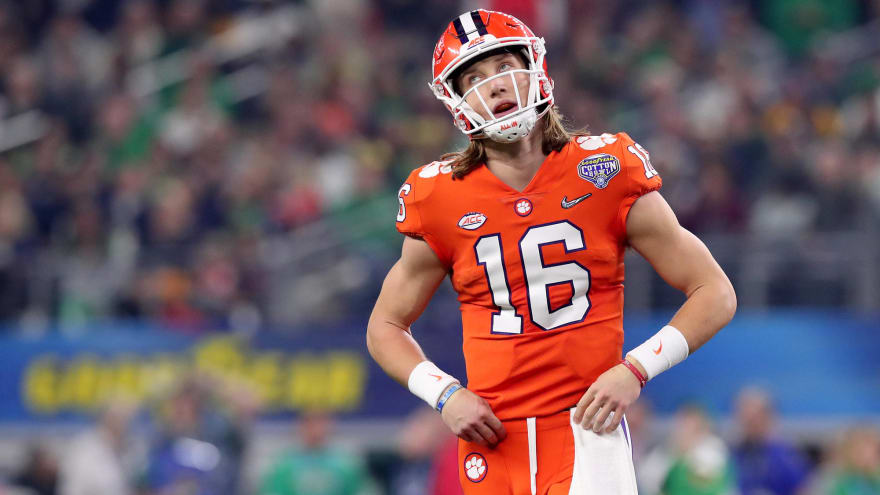 Clemson coach Dabo Swinney said Wednesday that the decision not to send former quarterback Kelly Bryant a national championship ring was simple and shouldn't be construed as anything other than Bryant was no longer a part of the team.
Coach Dabo Swinney isn't buying that Alabama was worn out from the grind of a more rigorous schedule and wasn't as well-rested as Clemson a year ago in the College Football Playoff National Championship Game.
Clemson routed Alabama 44-16, with Swinney's Tigers scoring the last 30 points of the game to win their second national title in the last three years, both coming over Alabama.
Clemson's national championship football program was flagged for eight secondary NCAA violations during a yearlong period from July 2018 through this past June.
The school's athletic department released a summary of the infractions Wednesday.
None of the violations was considered major, and all issues about the penalties have been resolved, according to the school. In all, Clemson self-reported 14 violations in the year ending on June 30.
Standardized injury reports will not be implemented across college football this season after the NCAA explored the possibility in response to the rise of legalized sports betting.
The NCAA Board of Governors announced Wednesday that it still supports the association's rules prohibiting athletes and school administrators from wagering on sports or providing information to people associated with gambling. But the board concluded an injury or availability report across college football is not viable. An ad hoc committee on sports wagering studied the possibility of teams publicly disclosing whether players would be available for games.
"The ad hoc committee gathered thorough feedback from conference commissioners, athletics administrators, athletic trainers and student-athletes across all three divisions about potential player availability reporting," said Ohio State President Michael Drake, who is chairman of the Board of Governors. "The membership has significant concerns about the purpose, parameters, enforcement and effectiveness of a player availability reporting model."
Tennessee defensive lineman Emmit Gooden will miss the 2019 season after suffering a torn ACL during Tuesday's practice.
Vols coach Jeremy Pruitt on Wednesday confirmed the injury to Gooden, a candidate to start at nose tackle this season.
Gooden started one game in 2018, his first season at Tennessee, and finished third on the team with seven tackles for loss to go with 33 total tackles. The 6-foot-3, 290-pound Gooden transferred to Tennessee from Independence Community College in Kansas, where he was featured on the third season of the Netflix series "Last Chance U."
Former Wisconsin Badgers wide receiver Quintez Cephus has filed a petition to be readmitted to the University of Wisconsin-Madison after he was found not guilty of sexually assaulting two female students.
The Wisconsin State Journal reported that Cephus directed his attorneys to file the petition Tuesday and they are asking for a response by Thursday.
Oklahoma defensive back Tre Norwood suffered a knee injury in the No. 4 Sooners' practice on Monday and it's unclear whether he'll be able to return to the field this coming season, sources told ESPN.
SoonerScoop.com reported that Norwood didn't practice Tuesday night and left the team's facility on crutches with a compression wrap on his left knee.
The NCAA has ruled that freshman cornerback Chris Steele, who transferred from Florida in early June, will be eligible to play for the USC Trojans this coming season.
USC coach Clay Helton confirmed the NCAA's decision to reporters after Tuesday's practice.
Steele, from St. John Bosco High School in Bellflower, California, committed to the Trojans in July 2018. But then he changed his mind as the Trojans limped to a 5-7 finish; he signed with Florida in January.
Oregon senior wide receiver Brenden Schooler is expected to miss six to eight weeks after undergoing surgery Monday on his foot, according to coach Mario Cristobal.
Cristobal told reporters that the team was optimistic to get Schooler back in six weeks but that an eight-week timeline was more realistic.
A former University of Memphis football player is suing the school over its handling of a rape allegation.
The federal lawsuit filed Monday by Ernest Suttles says the school branded him as a rapist and cost him a possible NFL career. Court records say the state dismissed the charge last month after finding it couldn't "carry its burden of proofs."
Maryland wide receiver Jeshaun Jones will miss the 2019 season after tearing the ACL in his left knee during practice Monday, the team announced.
Jones stood out as a freshman in 2018, recording seven touchdowns and starting two games for the Terrapins. He had 22 receptions and 18 rushes, and his five receiving touchdowns marked the most by a Maryland freshman since Stephon Diggs in 2018.
Florida Gators reserve defensive back C.J. McWilliams will miss the 2019 season with a ruptured Achilles tendon, the latest blow to a secondary that has lost several players in recent months.
The Texas Longhorns have been on quite the hot streak on the recruiting trail over the past month, racking up 11 commitments, including three ESPN 300s and five ESPN Junior 300s.
On Tuesday, Ethan Pouncey, ranked No. 103 overall in the ESPN 300 rankings, added to that impressive run, picking Texas over Auburn and Florida.
Auburn coach Gus Malzahn isn't ruling out Anthony Schwartz playing in the opener against Oregon after the wide receiver underwent hand surgery.
Malzahn says Schwartz had the procedure on Monday. He didn't have a timetable for his return but says he's "not going to say yes or no" on whether the sophomore will miss a game.