Sports That Matters
POWERED BY Intertops
Sign Up, Make a Deposit, Redeem your Bonus
August 8, 2019
NATIONAL FOOTBALL LEAGUE NEWS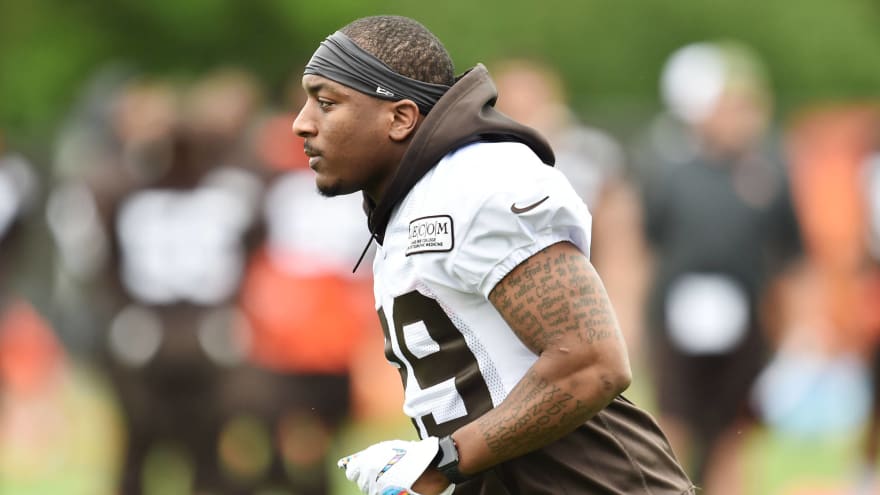 New England Patriots and Tom Brady reached a new deal, with Brady's two-year extension it keeps him under contract through the 2021 season. He will make $23 million this season, an $8 million bump from last year. A well deserved pay bump especially for a 42-year-old QB. Houston Texans have acquired running back Duke Johnson from the Cleveland Browns. Houston will send a conditional 2020 fourth-round pick to Cleveland. Indianapolis Colts managed to reclaim their throne atop the AFC South in 2018 with a healthy Andrew Luck. Luck and second year head coach Frank Reich should be even better in year two if the Colts stay away from major personnel losses. Oakland Raiders WR Antonio Brown suffered a foot injury while in France last month by not wearing the proper footwear during a cryogenic chamber mishap. Jerry Jones as Cowboys executive vice president, CEO and director of player personnel, said during an appearance on the "The Rich Eisen Show" that the team is "rarely" in communication with Ezekiel Elliott's representatives. San Francisco 49ers rookie No. 2 pick Nick Bosa left Wednesday's training camp practice after limping off the field with what appeared to be a lower-body injury. Immediately afterwards, it was noted that Bosa would undergo an MRI. Arizona Cardinals released its first training camp depth chart and no real surprise, Murray Kyler Murray No. 1 overall in April's draft, has been listed as the Cardinals' starter. Green Bay Packers have a rookie head coach Matt LaFleur calling the shots, and Aaron Rodgers as usual has an issue with something he's doing. LaFleur has the Packers running live special team drills, which Rodgers said isn't "very smart." Rodgers got Mike McCarthy fired so LaFleur is not off to a good start. Buffalo Bills traded two second-round selections to the Tampa Bay Buccaneers to move up from the 12th selection to the seventh, where they selected Wyoming quarterback Josh Allen in the 2018 NFL Draft. Allen was thrust into the starting role in Week 2, he impressed with his athleticism, leading all quarterbacks with eight rushing touchdowns and an average of 52.6 rushing yards per game. Allen became the first rookie quarterback in league history to lead the league in those categories. There are other second year QB's that have plenty of eyes on them this season. Baker Mayfield had a spectacular rookie season, setting a rookie record with 27 passing touchdowns (surpassing Peyton Manning and Russell Wilson) and throwing for 266.1 yards per game, a number bested by only Andrew Luck among rookies (minimum 10 starts). Mayfield must improve not only for his future legacy to jump into the elite tier of NFL quarterbacks and help the Browns go deep into the playoffs. Sam Darnold had a volatile but ultimately promising rookie year. He threw 17 touchdown passes, falling one shy of Joe Namath's franchise record for a rookie. Darnold also set the team's rookie record for passing yards per game, with a mark of 220.4. No Jets rookie had ever hit 200 yards per game. Jacksonville Jaguars QB Nick Foles is like a fine wine, he gets better with age. The Jaguars will need him to play like his Super Bowl year with the Philadelphia Eagles, for the Jags to get back to an elite team in the NFL.
MAJOR LEAGUE BASEBALL NEWS
The New York Yankees and Chicago White Sox will play a game at the famed Field of Dreams in Dyersville, Iowa, on Aug. 13, 2020, the teams announced Thursday. A temporary, 8,000-seat ballpark will be built at the site where the 1989 movie was filmed to accommodate the first major league game played in Iowa. Chris Sale finally boiled over with frustration his last time out. The left-hander imploded as part of a seven-run fourth inning for the New York Yankees that ended Sale's day when he was ejected by the home plate umpire for arguing balls and strikes. The struggling southpaw will once again seek redemption as his Boston Red Sox host the Los Angeles Angels in the start of a four-game series Thursday. Sale (5-11, 4.68 ERA) has given up at least five runs in five of his last seven outings, the lowest point in what has by far been the worst year of his career. The Minnesota Twins had an 11 1/2 game led on June 3, the three-time defending American League Central-champion Cleveland Indians open a four-game series in Minneapolis on Thursday night just two games out of first place. The Indians, who have gone 39-16 in their last 55 games and come in off a doubleheader sweep of the Texas Rangers on Wednesday, will start right-hander Mike Clevinger (6-2, 3.07 ERA). Minnesota — which has dropped two in a row, including an 11-7 loss to National League East-leading Atlanta on Wednesday afternoon — will counter with right-hander Kyle Gibson (11-4, 4.02). The Atlanta Braves placed outfielder Austin Riley on the injured list Thursday with a right knee sprain. Riley was injured while working out in the weight room before Tuesday's 11-7 win over the Minnesota Twins, manager Brian Snitker said. The Houston Astros will become the latest team to extend the safety netting at their ballpark, announcing Thursday that they will make changes before an Aug. 19 homestand. An incident at Minute Maid Park on May 29 had spotlighted the issue of expanding safety netting at ballparks. A 2-year-old girl was struck by a foul ball during a game, suffering a skull fracture and remaining in the hospital for several days. Texas Rangers are nearly finished with Shin-Soo Choo's seven-year, $130 million contract. He'll make $21 million in 2020, and that'll be that, assume the Rangers will try to trade the 37-year-old this winter. Wil Myers signed a six-year, $83 million extension with the San Diego Padres in January 2017, after playing for cheap between 2017 and 2019. Myers is due to make $22.5 million in each of the next three seasons, which makes him someone who could be traded in the off-season. Washington Nationals could possibly trading Max Scherzer over the summer. Depending how the Nats finish this season could make the decision easier. Scherzers' contract with seven-year left at $210 million could come off the books with a trade.