Sports That Matters
August 5, 2019
Welcome back have a great week!
MAJOR LEAGUE BASEBALL NEWS
Aaron Judge and Gio Urshela homered early as a makeshift Yankees lineup pounded David Price in a 7-4 victory Sunday night that sent the defending World Series champion Boston Red Sox to their eighth consecutive defeat.
But no pleasure comes without pain for the AL East leaders these days. All-Star second baseman Gleyber Torres was lifted in the late innings because of a core issue and sent to the hospital for tests. Urshela was replaced at third base in the ninth, a few innings after fouling a ball hard off each leg in a span of three pitches.
The New York Mets were closer in the standings to the Miami Marlins when they took the field in Miami for the first game after the All-Star break on July 12.
A little more than three weeks later, the math is entirely different for the Mets, who will arrive home Monday afternoon as one of the hottest teams in baseball and with a chance to move over .500 during a doubleheader against the Marlins.
The Mets are expected to start ace right-hander Jacob deGrom (6-7, 2.78 ERA) in the opener and rookie right-hander Walter Lockett (1-1,7.82 ERA) in the nightcap, which is scheduled to start 30 minutes after the first game is completed.
Just when Robinson Cano is starting to hit, the New York Mets star appears headed back to the injured list.
Cano limped off with a strained left hamstring, an injury that overshadowed Noah Syndergaard's sparkling outing in a 13-2 rout of the Pittsburgh Pirates on Sunday that pulled New York within one game of .500 for the first time since mid-June.
Although Max Muncy's 18th-inning homer in last year's World Series was one of the most memorable walk-off hits in Dodgers history, he had somehow never come through to end a regular season game for Los Angeles.
After grinding through an eight-pitch at-bat against the San Diego Padres' All-Star closer, Muncy added himself to the list of late-game stars in the Dodgers' season-long series of dramatic finishes.
Muncy's fourth hit was a two-run, walk-off double, and the Dodgers rallied from a late three-run deficit for a wild 11-10 victory over San Diego on Sunday.
The highlight of Tanner Roark's Oakland debut happened when the right-hander struck out Marcell Ozuna with the bases loaded to end a 35-pitch third inning.
It came immediately after Roark labored through a long at-bat against Paul Goldschmidt, and set the tone for what the right-hander described as a "grinder" of an afternoon.
"Just how we drew it up," Roark said with a grin. Roark pitched five innings of one-run ball, and the Athletics beat Adam Wainwright and the St. Louis Cardinals 4-2 on Sunday.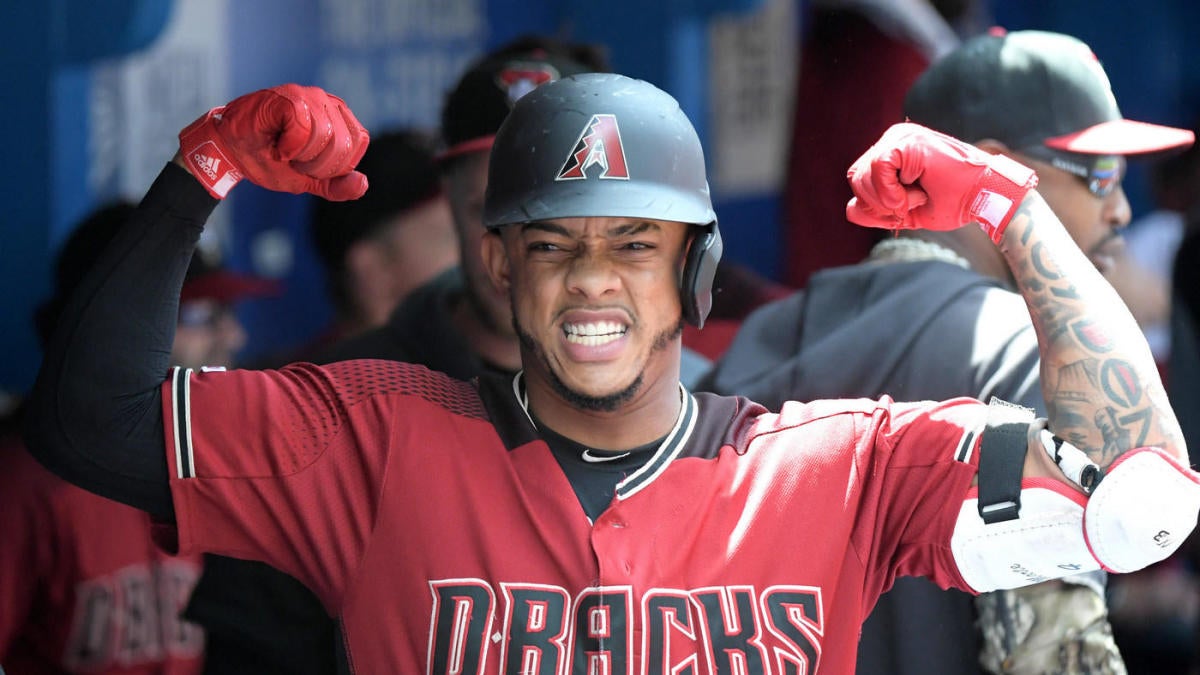 Ketel Marte, an All-Star for the first time in his career, continues to put on a show for Diamondbacks fans.
His inside-the-park home run was part of a three-hit Sunday afternoon as Arizona beat the Washington Nationals 7-5.
Adam Jones had a season-high four RBI, including a tiebreaking single in the seventh inning with two outs, and Archie Bradley pitched two scoreless innings for his second save as Arizona moved to 2 1/2 games out of the second National League wild-card spot.
Rangers manager Chris Woodward stayed with Nomar Mazara and Willie Calhoun, and they delivered.
Calhoun hit a tiebreaking three-run triple in the seventh inning, and Texas beat the Detroit Tigers 9-4 on Sunday to finish a three-game sweep.
After a frustrating start with the Chicago Cubs, Yu Darvish is starting to live up to his big free-agent contract.
Darvish pitched five effective innings, Jason Heyward drove in three runs and the Cubs beat the slumping Milwaukee Brewers 7-2 on Sunday to sweep their weekend series.
Heyward and Kyle Schwarber homered as the NL Central leaders won for the 11th time in 13 games at Wrigley Field. Anthony Rizzo collected four hits.
The work Kyle Freeland and Nolan Arenado put in off the field helped the Colorado Rockies win a series for just the second time in six weeks.
Freeland earned his first win in nearly four months and Arenado homered twice to lead the Rockies past San Francisco 6-2 Sunday in the final game at Coors Field for Giants manager Bruce Bochy.
Trevor Story homered for the fifth straight game against San Francisco. It's tied for the longest home run streak against an opponent in Rockies history.
Devin Smeltzer's meditation routine kept him calm on the way to his first major league win.
Smeltzer pitched two-hit ball into the seventh inning, and the Minnesota Twins completed a three-game sweep by blanking the Kansas City Royals 3-0 on Sunday.
Jason Castro homered and Eddie Rosario drove in two runs for the Twins, who maintained their three-game lead over Cleveland in the AL Central. Luis Arraez had two hits and scored twice.
Shane Greene was acquired to provide long-awaited stability to the back end of the Atlanta Braves' bullpen. Instead, the new closer has only provided more late-innings struggles.
Tucker Barnhart hit a tiebreaking three-run homer in the 10th inning off Greene and the Cincinnati Reds beat the Braves 6-4 on Sunday after wasting a two-run lead in the ninth.
A day after blowing a save chance in his Braves debut, Greene (0-1) gave up three runs and four hits in one inning. Greene was acquired from Detroit on Wednesday by the Braves, who have a comfortable NL East lead.
Another day, another dominant pitching performance by the Houston Astros. Justin Verlander struck out 10 on Sunday and the Astros beat the Seattle Mariners 3-1 Sunday for a three-game sweep.
A day after Astros newcomer Aaron Sanchez and three relievers combined on a no-hitter, Verlander (15-4) took over the major league wins lead and left with an AL-best 2.68 ERA.
Houston's starters are 14-1 in the last 17 games, and Verlander has won his last five starts for the AL West leaders, striking out a combined 53 in that span.
Shane Bieber knows he will never be as famous as the singer with his surname. He doesn't even mind that his latest Topps baseball card refers to him as Justin.
Bieber was content becoming the first pitcher this season to throw three complete games, leading the Cleveland Indians over the Los Angeles Angels 6-2 on Sunday with a five-hitter that finished a three-game sweep.
Bryce Harper was about the last Phillie in the clubhouse still in uniform packing for a seven-game road trip that could decide if the team is really going to be a player in the NL wild-card race. His hat flipped backward and his cleats off, Harper's Phanatic socks peeked out of his pants legs as he shuffled items around his locker, his back pockets as inside out as the offense.
Harper had few solutions for the team's recent malaise. "Just keep playing Philly baseball," Harper said. "Keep being the same team."
That hasn't been good enough for the Phillies since the All-Star break, where a 6-15 record has knocked them from NL East contenders to a team fading from contention for a playoff berth.
Leury Garcia hit a grand slam, Eloy Jimenez added a three-run shot and Tim Anderson also went deep to lead the Chicago White Sox to a 10-5 win over the Phillies on Sunday.
After getting a strong performance from Yonny Chirinos, the Tampa Bay Rays hope the right-hander can avoid the injured list.
Chirinos allowed one run in five innings before leaving with a hand injury, and the Rays beat the Miami Marlins 7-2 on Sunday to match their longest winning streak this season at six games.
Sometimes the inexperience of the Baltimore Orioles is glaring. Nonetheless, first-year manager Brandon Hyde continues to see improvement with the rebuilding club.
Trey Mancini drove in two runs and the Orioles took advantage of a wild major league debut by Toronto reliever Yennsy Diaz to beat the Blue Jays 6-5 on Sunday.