Sports That Matters
August 4, 2019
Welcome back!
MAJOR LEAGUE BASEBALL NEWS
Aaron Sanchez looked like a reinvented pitcher in his Houston debut, throwing six stellar innings to start the Astros on a combined no-hitter Saturday night in a 9-0 victory over the Seattle Mariners.
Sanchez was an All-Star in 2016 and led the American League in ERA, but he's struggled this season and had lost 13 straight decisions to lead the majors with 14 losses. But three days after he was acquired from Toronto at the trade deadline, the 27-year-old right-hander teamed with Will Harris, Joe Biagini and Chris Devenski to shut down the Mariners.
Chris Sale threw an 0-2 fastball at the letters past Gio Urshela in the fourth inning and didn't get the call. He raised both arms as if to say, "What's wrong?" and muttered at plate umpire Mike Estabrook. Sale's outing spun out of control from there, just like Boston's season.
Sale nearly hit Urshela with the next pitch and wound up giving up hits to six of his next seven batters, including DJ LeMahieu second home run of the game.
Sale and manager Alex Cora were ejected during the seven-run inning as the Yankees routed the Red Sox 9-2 in Saturday's doubleheader opener, extending Boston's longest losing streak since 2015 to six games.
New York Yankees slugger Edwin Encarnacion is heading to the 10-day injured list with a broken right wrist, the team announced before the second game of Saturday's doubleheader against the Red Sox.
Mike Tauchman had a tiebreaking, two-run single against Matt Barnes in the seventh inning of the nightcap and the New York Yankees swept a doubleheader from the reeling Boston Red Sox 9-2 and 6-4 on Saturday.
Boston's losing streak reached seven, its longest since 2015, as the Red Sox fell 13 1/2 games behind the AL East-leading Yankees and 5 1/2 games back of second-place Tampa Bay. Boston is 59-54, with as many losses as its World Series champions last year (108-54).
Yankees pitcher CC Sabathia, on the injured list for the third time this season, says the pain in his surgically repaired right knee has been constant for five years.
"It's always the same. If I had to scale it on a scale of one to 10, it's always an eight and when it's bad it's 10," he said Saturday.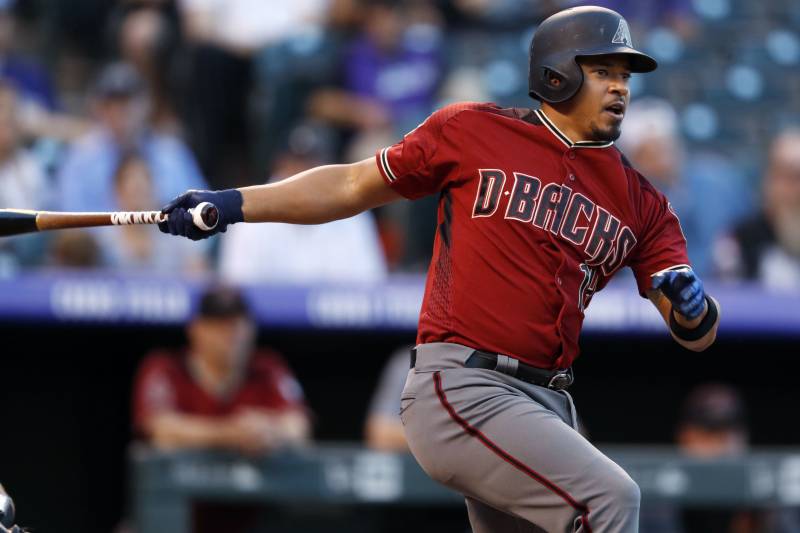 Eduardo Escobar had two of Arizona's five home runs and drove in a career-high seven runs to help the Diamondbacks beat Stephen Strasburg and the Washington Nationals 18-7 Saturday night.
Nick Ahmed, Jake Lamb and Alex Avila also homered as Arizona knocked Strasburg around for the second time this season.
Strasburg (14-5) entered with a seven-game winning streak, but gave up three homers and nine runs before leaving with two outs in the fifth inning. The Diamondbacks have roughed up the Nationals' right-hander for seven homers and 15 runs in his two starts against them, and were the last team to beat him with a 10-3 victory June 15.
Escobar had a two-run homer in the first inning and hit a three-run homer in a seven-run eighth inning, setting career season highs for homers (24) and RBI (88).
Aaron Nola pitched seven strong innings, Bryce Harper and Rhys Hoskins homered and the Philadelphia Phillies beat the Chicago White Sox 3-2 on Saturday night.
Nola (10-2) allowed one run and three hits with 10 strikeouts and two walks. He lowered his ERA to 1.91 over his last eight starts while reaching double-digits in strikeouts for the 12th time in his career, including the fourth this season.
Cesar Hernandez also had an RBI for the Phillies, who entered Saturday a game back in the NL wild-card race.
Ronald Acuna Jr. hit an RBI single off Robert Stephenson with two outs in the bottom of the 10th inning and the Atlanta Braves recovered from blowing two leads to beat the Cincinnati Reds 5-4 on Saturday night.
The Braves thought they had the game just about won in the eighth when Acuna drew a tiebreaking, bases-loaded walk from Michael Lorenzen . But then Shane Greene, the new closer making his Braves debut after being acquired in a trade with Detroit, blew a save opportunity in the ninth.
Walker Buehler struck out 15 in his second career complete game, and the Los Angeles Dodgers beat the San Diego Padres 4-1 on Saturday night.
Buehler (10-2) reached double digits in strikeouts for the fourth time this season, all since June 3. It was the fifth double-digit strikeout game of his career. It was also the first time he reached double digits in victories after winning eight games in 23 starts last season.
The 15 strikeouts were his most since he had 16 in a complete-game victory over Colorado on June 21. Buehler has not walked a batter on any of his double-digit strikeout games this season.
Justin Turner hit his 17th homer as Los Angeles finished off San Diego in a tidy 2 hours, 18 minutes. Turner finished with two hits and two RBI.
Pinch-hitter Buster Posey came through with a two-run double in the eighth inning to rally the San Francisco Giants past the Colorado Rockies 6-5 on Saturday night.
Scooter Gennett homered and Pablo Sandoval had three hits, including an RBI double, for San Francisco.
Posey batted with two on against reliever Carlos Estevez (1-2) and lined a ball to right field to score pinch-runner Kevin Pillar and Austin Slater. Will Smith got three outs for his 27th save.
Nelson Cruz hit three home runs in a game for the second time in 10 days, powering the AL Central-leading Minnesota Twins over the Kansas City Royals 11-3 on Saturday night.
A day after he homered, doubled twice and drove in five runs, Cruz again had five RBI.
Marcus Stroman's debut with the New York Mets didn't quite go as planned. Wilson Ramos made sure it didn't matter, hitting a go-ahead two-run home run in the eighth inning and adding a three-run double in the ninth to lift the Mets to a 7-5 win over the Pittsburgh Pirates on Saturday night.
Trey Mancini homered and drove in four runs, Jonathan Villar also went deep and the Baltimore Orioles beat Toronto 6-4 Saturday night to end the Blue Jays' five-game winning streak.
After Toronto pulled even with two runs in the top of the seventh, Baltimore restored its lead in the bottom half. The first two batters reached against Buddy Boshers (0-1) before Hanser Alberto hit an RBI single off Justin Shafer and Mancini added a run-scoring groundout.
Mychal Givens (2-5) worked 1 1/3 scoreless innings and Paul Fry got three outs for his third save.
The Orioles, who lost the first two games of the series by a combined 16-4 score, improved their home record to 16-38.
Eric Sogard homered twice and finished with a career-high five RBI, and the Tampa Bay Rays beat the Miami Marlins 8-6 on Saturday night.
Willy Adames and Austin Meadows also connected as Tampa Bay won for the seventh time in eight games. Nick Anderson (3-4), who was acquired in a trade with Miami on Wednesday, pitched a perfect eighth for the win, and Emilio Pagan finished for his ninth save.
Back from a five-week stay on the injured list, Cole Hamels looked as sharp as ever.
Hamels pitched five shutout innings, Albert Almora Jr. hit a tiebreaking home run and the Chicago Cubs beat the Milwaukee Brewers 4-1 on Saturday.
Out since June 28 because of a strained left oblique, the 35-year-old Hamels allowed four singles, walked none and struck out six. He left with 1-0 lead before the Brewers tied it on Ryan Braun's RBI single in the sixth.
Rougned Odor homered with two outs in the 10th inning to give the Texas Rangers a 5-4 victory over the Detroit Tigers on Saturday night.
Odor's opposite-field drive into the Detroit bullpen in left-center came with a full count against Nick Ramirez (5-4). That was a pitch after third base umpire Dave Rackley ruled Odor was able to check his swing on 2-2 pitch.
Jose Leclerc (2-3), a night after his first save since April 17, pitched a perfect 10th inning.
The Oakland Athletics have activated outfielder Stephen Piscotty from the injured list and claimed catcher Dustin Garneau off waivers from the Los Angeles Angels.
Piscotty had been out since June 30 with a sprained right knee. He played five games in the minors while rehabbing and batted .304 with one home run and three RBIs.
Mike Fiers (10-3) won his eighth decision in a row Saturday night as the A's beat the St. Louis Cardinals 8-3 before 24,851 at the Coliseum. The Oakland A's remain a half-game behind Tampa Bay in the race for the second American League wild-card spot.
Chicago White Sox right-hander Carson Fulmer has been placed on the 10-day injured list after he hurt himself during his first career at-bat.
Fulmer was called to bat during Friday night's 4-3, 15-inning win over the Philadelphia Phillies. He suffered a strained right hamstring while running to first base after hitting the ball down the third-base line. He was thrown out and replaced by winning pitcher Josh Osich.
The Minnesota Twins will be minus often-injured center fielder Byron Buxton and pitcher Michael Pineda for a while. The AL Central leaders put both of them on the 10-day injured list before Saturday's game against Kansas City.
Los Angeles Angels starting pitcher Felix Pena was carried off the field after spraining his right knee in the second inning against the Cleveland Indians on Saturday.
Pena was hurt as he stepped on first base to record an out on a ground ball hit by Jose Ramirez. First baseman Albert Pujols fielded the ball and made a high underhand toss to Pena, who was covering the bag.
Indians pitcher Corey Kluber took another step in his comeback from a broken right forearm by throwing a simulated game Saturday.
The two-time AL Cy Young Award winner could begin a minor league rehabilitation assignment Thursday as he continues to make progress in his recovery after being struck by a line drive hit by Miami's Brian Anderson on May 1.
Kluber began playing catch about six weeks ago. He's been throwing in the bullpen for a couple of weeks and will have another side session Tuesday.
All-Star catcher Willson Contreras hurt his right hamstring while running out a flyball Saturday and the Chicago Cubs are waiting to learn the extent of the injury. Contreras will undergo an MRI on Monday.
The Colorado Rockies placed outfielder David Dahl on the 10-day injured list with a high right ankle sprain, the team announced Saturday.
An MRI performed Saturday morning confirmed the injury, which occurred during the sixth inning of Friday night's win over the San Francisco Giants. Manager Bud Black did not have a timeline for Dahl's return but said it could be "several weeks."
Pittsburgh Pirates right-hander Jameson Taillon needs surgery to repair a strained flexor tendon in his right forearm and has been shut down for the season.
Taillon (2-3, 4.10 ERA) last pitched on May 1. The 27-year-old, who underwent Tommy John surgery in 2014, was on the injured list for several weeks and then experienced a setback while trying to rehab last month.
(Information from ESPN writers and news service)