Sports That Matters
August 2, 2019
Welcome back! Football was on TV, yes fall is almost here!
NATIONAL FOOTBALL LEAGUE NEWS
Hours after visiting a hospital because of a kidney stone, Vic Fangio won a football game.
Yes, it was an exhibition game the real first test comes Sept. 9 at Oakland. Still, Fangio served two decades as an NFL assistant before getting his chance to run a team. So this truly was a debut.
The first year head coach of the Denver Broncos saw a late interception set up rookie Juwann Winfree's 15-yard touchdown catch on Thursday Night Football, and his team edged the Atlanta Falcons 14-10 in the Hall of Fame game to open the NFL's preseason.
Theo Riddick, who was released by the Detroit Lions last week, is signing with the Denver Broncos, per ESPN's Rob Demovsky.
Riddick, 28, had visited the New Orleans Saints and Broncos after he was released.
He has been a valuable pass-catcher in his career with 285 receptions, including a career-high 80 in 2015. He also has 2,238 receiving yards and 14 touchdown receptions in his six NFL seasons. He also has rushed for 1,023 yards with five rushing scores.
Melvin Gordon is in his final year of his contract, a fifth-year option worth $5.6 million. Gordon has requested the trade after the team remained at its initial offer of approximately $10 million per season.
Dallas Cowboys owner and general manager Jerry Jones said he believes a contract extension will be reached with running back Ezekiel Elliott, but the organization will not bend in its desire to do a deal that will allow it to keep its talent "under the same roof."
"As far as doing something that would disrupt and shake the base of our plans for how to keep the talent we've got here, I'm not about to shake that loose," Jones said after Thursday's practice.
For the second time in the first week of training camp, Carolina Panthers quarterback Cam Newton did not participate in any drills a sign that he remains a "work in progress" in his return from offseason shoulder surgery.
Arizona Cardinals rookie quarterback Kyler Murray said Thursday that he doesn't feel pressure at all but he understands that if he doesn't perform, there'll be plenty of people not happy with him.
"I got to go out and play well," Murray said. "And if I don't, then people are gonna be mad, I'm gonna be mad, everybody's gonna be mad. So, my focus is play well."
He sees the chatter, whether it's through news on his phone or on TV while he's eating dinner, but the first overall pick in this year's draft isn't letting that affect him. "I don't feel pressure," Murray said.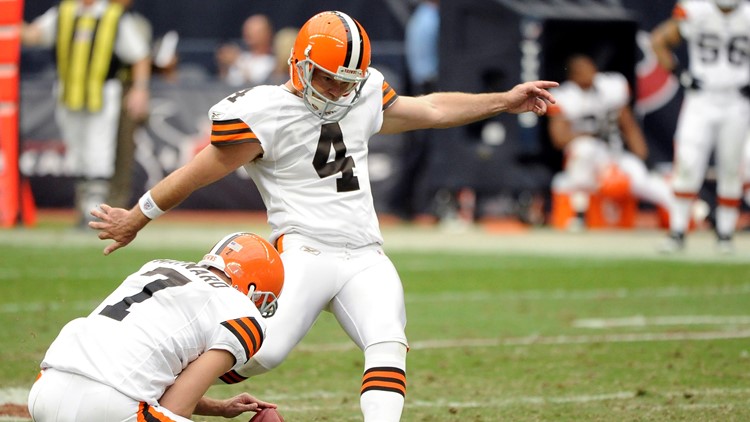 Kicker Phil Dawson announced Thursday that he will retire from the NFL, and will sign a contract with Cleveland so he can retire as a Brown.
Signed by the Browns when they returned to the league in 1999, Dawson played in 215 games, third most by a Cleveland player. He also became the team's first Pro Bowl kicker in 2012, as Lou Groza was selected as a tackle.
Dawson ranks eighth in NFL history with 441 made field goals (305 for Cleveland, a team record). After leaving the Browns, he played for San Francisco (2013-16) and Arizona (2017-18).
Jacksonville Jaguars rookie linebacker Quincy Williams will miss four to six weeks after suffering a meniscus tear in his right knee, the team announced Thursday.
Williams, the team's third-round draft pick, was the leading candidate to replace Telvin Smith as the starter at weakside linebacker. Smith previously announced he was taking the 2019 season off for personal reasons.
The New York Jets made a surprise addition by signing veteran center Ryan Kalil, who made five Pro Bowls in 12 seasons with the Carolina Panthers. He had announced his retirement before the end of last season.
Prosecutors on Thursday agreed to drop an extortion charge against a family member of Tyrann Mathieu, who had sought $5 million from the Kansas City Chiefs safety in an extortion attempt, as part of a plea deal.
The Pro Football Hall of Fame will induct its latest class at 7 p.m. ET Saturday in Canton, Ohio (ESPN).
As owner of the Denver Broncos, Pat Bowlen's teams were defined by winning. Those who played for him know how much winning the Super Bowl with QB John Elway meant.
Champ Bailey, who will be enshrined in the Pro Football Hall of Fame, has an elite body of work. But on Jan. 14, 2006, an interception against the Patriots became his career's defining moment.
Ed Reed a one-time fall-back option became a Hall of Famer, one of the greatest defensive players and one of the most unique characters in NFL history.
Ty Law's induction into the Pro Football Hall of Fame this year makes him the first Patriots defender from that championship era to earn entry.
Kevin Mawae was selected for eight Pro Bowls, was a six-time All-Pro and earned a place on the NFL's All-Decade team for the 2000s.
Gil Brandt played a vital role in bringing nine Hall of Famers to the Cowboys, as well as 15 of the 19 players currently in the Cowboys' Ring of Honor.
The Denver Broncos became the first team to try this out when head coach Vic Fangio threw the red flag over a call in the second quarter.
This could really turn into a problem this year. Because all we need is more stoppages in play where officials look at highlights and announcers try to predict what will happen to the call.