Sports That Matters
July 31, 2019
Welcome back!
Pirates-Reds afternoon bout, should be a good one. See what I did there with the "bout" thing instead of game. Enjoy !!!
MAJOR LEAGUE BASEBALL NEWS
In the midst of a heated playoff race, the Cleveland Indians have traded right-hander Trevor Bauer to the Cincinnati Reds and will get outfielders Yasiel Puig and Franmil Reyes as part of a three-team deal that includes the San Diego Padres,
As part of the trade, the Indians also will receive left-hander Logan Allen and minor league infielder Victor Nova from the Padres and minor league pitcher Scott Moss from the Reds, sources told Passan. Cincinnati outfield prospect Taylor Trammell, ranked No. 14 on Keith Law's top midseason prospects list, will head to San Diego.
Diamondbacks rookie Taylor Clarke was an impressive winner in his Yankee Stadium debut, five days after the birth of his daughter, and Arizona got home runs from Christian Walker and Carson Kelly to beat New York 4-2 on Tuesday night.
Nick Ahmed hit an RBI single and Adam Jones had an early sacrifice fly for the Diamondbacks (54-54), who have won all three meetings with the AL East-leading Yankees this year. Arizona, now 14-5 in interleague games after winning nine of its past 10, will go for a season sweep Wednesday afternoon in another rematch of the thrilling 2001 World Series won by the Diamondbacks in seven games.
J.A. Happ (8-6) allowed three runs in six innings for a struggling New York staff that gave up 79 runs over the previous eight games. General manager Brian Cashman is shopping for pitching help ahead of Wednesday's trade deadline — but time is running out.
Yankees first baseman Luke Voit left Tuesday night's game against the Arizona Diamondbacks because of a core muscle injury, the team said.
Voit was undergoing an MRI when manager Aaron Boone addressed reporters following the 4-2 Yankees loss. "We'll just have to wait and see," Boone said.
Justin Verlander struck out 13 to reach double figures for the third straight start and sixth time this season, leading the Houston Astros over the Cleveland Indians 2-0 on Tuesday night.
In a matchup of All-Stars, Verlander (14-4) outpitched Shane Bieber and won his fourth consecutive start, tying Washington's Stephen Strasburg for the major league lead in wins. Verlander allowed two hits in seven innings and walked none for the sixth time in 23 starts this year.
He allowed one runner to reach second. Cleveland's only hits were singles by Roberto Perez leading off the third and Greg Allen starting the sixth.
Cleveland, the AL wild card leader, struck out 15 times. Will Harris fanned two in a perfect eighth and Roberto Osuna followed with a 1-2-3 ninth for his 24th save in 28 chances.
On second thought, Kevin Cash wouldn't have lifted AL ERA leader Charlie Morton from a one-run game with two out in the fifth inning.
"He deserves that opportunity, and I wish I would have given that to him," the Rays manager said after Tampa Bay coughed up the lead, then rallied to beat Boston 6-5 on Tuesday night. "I'm fortunate the guys picked me up."
Yasiel Puig's short stay in Cincinnati ended with a bang Tuesday night.
Just as the Cleveland Indians and Cincinnati Reds agreed to a deal involving Puig, the fiery outfielder prolonged a benches-clearing brawl in Cincinnati's 11-4 loss to the visiting Pittsburgh Pirates at Great American Ball Park.
Puig was still in the game as reports of the three-team trade part of which sent Indians right-hander Trevor Bauer to the Reds surfaced.
Adam Duvall had two home runs and four hits, Josh Donaldson added a three-run homer and the Atlanta Braves beat Washington 11-8 on Tuesday night to reopen a 5 1/2-game lead over the second-place Nationals in the NL East.
Julio Teheran (6-7) allowed two runs and seven hits in 6 2/3 innings for Atlanta, which burst to an 11-1 lead and held on to split the first two games of the three-game series. Teheran had a 1.48 ERA in July as the Braves won four of his five starts but was just 1-1 those games.
Duvall was recalled from Triple-A Gwinnett on July 27 after Nick Markakis broke his left wrist. He is hitting .529 with three homers in four games.
Jake Odorizzi was far from superb against Miami, yet more than satisfied compared to his last outing.
Odorizzi followed his worst big league start by pitching one-run ball into the sixth inning as the Minnesota Twins beat the Marlins 2-1 Tuesday night.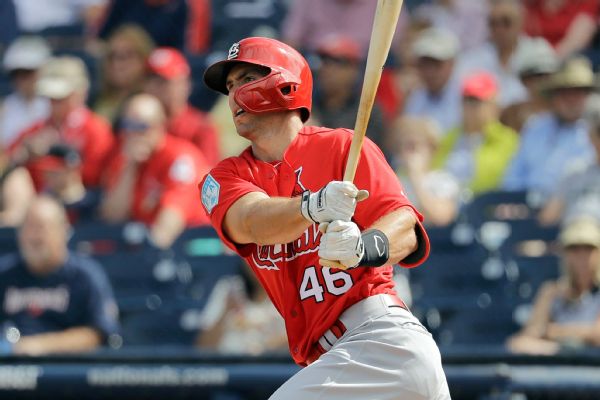 Paul Goldschmidt is so hot at the plate, not even Yu Darvish can slow him down.
Goldschmidt homered for the seventh time in eight games, a go-ahead drive off Darvish in the sixth inning that lifted the St. Louis Cardinals over the Chicago Cubs 2-1 Tuesday night and back into sole possession of the NL Central lead.
Goldschmidt was 1 for 14 against Darvish before hitting a single and the winning home run.
A six-time All-Star, Goldschmidt drove a fastball from Darvish (3-5) to center for his 25th home run this season.
"I haven't had too much success against Darvish," Goldschmdit said. "I was just trying to get on base. Fortunately, I got enough of it to get it out of here."
Goldschmidt is hitting .364 (12 for 33) in his last eight games with 14 RBI. He has 11 home runs in July, which ties his career high for a month.
The Chicago Cubs added bullpen depth by acquiring right-hander David Phelps from the Toronto Blue Jays for minor league righty Thomas Hatch.
Kristopher Negron homered in his first at-bat with Los Angeles, one of four connections by the Dodgers in a 9-4 win over the Colorado Rockies on Tuesday night.
A.J. Pollock, Russell Martin and Justin Turner also went deep for Los Angeles. The Dodgers became the first team in the majors to reach 70 wins and increased their lead in the NL West to 15 games over San Francisco.
Rockies starter Kyle Freeland struggled again. The left-hander, who was fourth in NL Cy Young Award voting last season after winning 17 games, is 2-9 with a 7.48 ERA. He set a club record with a 2.84 ERA in 2018.
Colorado fell to 6-18 in July and has lost 24 of 34 since late June to fall eight games below .500.
Shortstop Tim Anderson was activated from the 10-day injured list by the White Sox, who recalled right-hander Carson Fulmer from Triple-A Charlotte before a series opener against the New York Mets on Tuesday.
Noah Syndergaard's New York Mets most of his possible final outing.
The big righty they call "Thor" went 7 1/3 strong innings, holding the Chicago White Sox to an unearned run and leaving with the Mets holding a 2-1 lead on Tuesday, one day before baseball's annual trade deadline. Syndergaard held Chicago to five hits, struck out 11 and was left with a no-decision after the White Sox tied the game in the ninth.
After leaving, Syndergaard watched from the dugout as reliever Seth Lugo got Chicago's Jose Abreu to roll into an inning-ending double play, preserving Syndergaard's chance to pick up a win. He pumped his fist in celebration.
Vladimir Guerrero Jr. hit a grand slam in the ninth inning to give him a career-high five RBI, Sean Reid-Foley tossed five innings of four-hit ball, and the Toronto Blue Jays pounded the Kansas City Royals 9-2 on Tuesday night.
Freddy Galvis drove in a pair of runs with a broken-bat single, and Lourdes Gurriel Jr. also had an RBI for the Blue Jays, who clinched their first winning series at Kauffman Stadium since April 2013.
The National League East-leading Atlanta Braves have acquired reliever Chris Martin from the Texas Rangers for minor league pitcher Kolby Allard.
Drew Smyly tossed seven shutout innings and Rhys Hoskins homered to lead Philadelphia to a 4-2 win over the San Francisco Giants on Tuesday night.
The Giants had won 12 of 15 and 19 of 24 to jump back into the playoff picture, but couldn't solve Smyly (2-5) in his second start for the Phillies.
Already saddled with a silver sombrero — three strikeouts — that ran his slump to 0 for 18, Chris Davis seemed the unlikeliest of the Baltimore Orioles to hit a go-ahead home run.
The lefty did just that, though, driving a slider from left-handed reliever Matt Strahm to straightaway center field with one out in the eighth inning for the Orioles, who rallied from a four-run deficit to beat the San Diego Padres 8-5 on Tuesday.
.