Sports That Matters 
July 27, 2019
Welcome back, TGIF!
Oakland Raiders general manager Mike Mayock said as much publicly on Friday, though, calling Hard Knocks an "intrusion" he, coach Jon Gruden, and the team at large are dealing with as best they can.
In a move that seemed increasingly likely in recent days, the Seattle Seahawks and All-Pro linebacker Bobby Wagner have agreed to terms on a three-year extension worth $54 million with $40.2 million guaranteed.
Los Angeles Rams running back Todd Gurley and receiver Cooper Kupp are expected to participate in practice Saturday when the team opens training camp on the campus of UC Irvine. Gurley has not participated in football activities since the Rams fell to the New England Patriots 13-3 in Super Bowl LIII in February.
Jerry Jones wants Jason Garrett to be the head coach of the Dallas Cowboys beyond 2019, but the owner and general manager did not say what Garrett has to do to earn an extension.
Even though Ezekiel Elliott is not at training camp, the Dallas Cowboys' goal is to sign the two-time NFL rushing champion to a long-term deal along with quarterback Dak Prescott and wide receiver Amari Cooper.
The Detroit Lions have signed former Pro Bowl defensive tackle Mike Daniels, who was released by the Green Bay Packers earlier this week, to a one-year deal for $9.1 million.
Arizona Cardinals rookie coach Kliff Kingsbury didn't hold back when asked Friday about how former first-round pick Robert Nkemdiche showed up to training camp. "Not in shape, I guess," the usually reserved Kingsbury said. "And that's kind of where we'll leave it. I mean, he's on PUP and he's working through that. When he is cleared, we'll work with him."
Antonio Brown kicked off his first training camp as a member of the Oakland Raiders with a hot air balloon ride over wine country at dawn on Friday. Raiders coach Jon Gruden shrugged. "Is he OK? That's all I want to know," Gruden cracked at a news conference with first-year general manager Mike Mayock. "I expect a lot more drama from No. 84. I really do.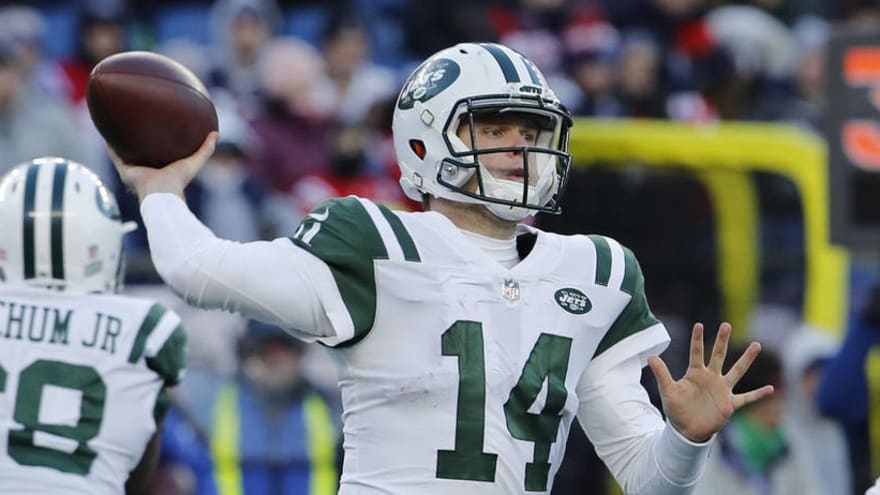 Sam Darnold threw for 2,865 yards and 17 touchdowns in his rookie season with the Jets. David Butler II-USA TODAY Sports
Sam Darnold of the New York Jets in his second year in the league and second as a starting quarterback, he faces intense pressure. His team has a new head coach and made a splash in the off-season by acquiring one of the league's elite offensive talents. Fans are thirsty for a major improvement this season, one that thrusts the quarterback and his team back into league's upper echelon.
The Los Angeles Rams have agreed to contract extensions with coach Sean McVay and general manager Les Snead through the 2023 season.
One day before the San Francisco 49ers' first training camp practice, quarterback Jimmy Garoppolo has been cleared to fully participate. Garoppolo returns after a lengthy rehab from the torn left anterior cruciate ligament he suffered in a Sept. 23 loss to the Kansas City Chiefs. He missed the final 13 games of last season and spent much of the offseason working his way back.
The eight-game suspension facing Minnesota Vikings cornerback Holton Hill puts a strain on a position group forced to address concerns with its depth. Minnesota coach Mike Zimmer was asked about his level of disappointment with Hill ahead of the team's first full training camp practice. "I really don't have much thoughts on it," Zimmer said. "Disappointed is not a good word for me."
Coming off a strong training camp practice Friday, Baltimore Ravens quarterback Lamar Jackson had a message for the doubters. "It motivates me a lot," Jackson said. "Make them eat their words, that's all."
After missing his team's first practice for a personal reason, Buffalo Bills defensive tackle Kyle Peko announced Thursday evening that his wife, Giuliana, was diagnosed with cancer back in June.
Free-agent wide receiver Allen Hurns is signing with the Miami Dolphins, coach Brian Flores told reporters Friday. A source told ESPN's Adam Schefter that Hurns will sign a one-year deal worth up to $3 million. Flores said he expected Hurns to be at practice Friday and that the wide receiver isn't guaranteed to make the 53-man roster at the end of training camp.
The Philadelphia Eagles have hired former CFL assistant general manager Catherine Raiche in the latest high-profile hire of a woman to an NFL front-office position.
While the two sides have exchanged proposals in recent days, running back Melvin Gordon's holdout now is expected to be prolonged and threatens to last into the season.  In Gordon's absence, the Los Angeles Chargers will rely on Austin Ekeler, Justin Jackson and Detrez Newsome.
The New York Giants' first full-team practice of the summer claimed its first casualty Thursday when wide receiver Sterling Shepard fractured his left thumb reaching towards the ground to catch a low pass.
Tiki Barber reviews which players have not reported to NFL training camp and discusses why it is crucial for the Dallas Cowboys to sign Ezekiel Elliott's new contract.
Max Kellerman expects Baker Mayfield and Odell Beckham Jr. to be the best tandem in the NFL and says OBJ will destroy defenses, especially when he faces single coverage with the Cleveland Browns.
The Colts are strong in all the right spots, which could lead to Andrew Luck's first Super Bowl.
Max Kellerman, Louis Riddick and Domonique Foxworth weigh in on Philadelphia Eagles QB Carson Wentz's chances of winning the 2019 NFL MVP honors.
College football offensive schemes have been taking hold in the NFL for several years now—and defenses are catching up. Patterson has some defensive insight for NFL coaches. Also, answering your questions on the NFC North, a breakout offensive player, Madden ratings and more.
New York Giants fan Max Kellerman is conflicted about Eli Manning's response to Odell Beckham Jr.'s public criticism of the New York Giants.
We followed around Cincinnati Bengals new head coach for an entire day during Bengals' OTAs, which meant everything from practice and plenty of meetings to naming the offense's new plays ("Shaggy" is one) and dealing with a cut internet cable at his family's new home (…the day after it was installed).
Max Kellerman says the Raiders will find out if Derek Carr is the team's franchise quarterback if he performs better with Antonio Brown and Domonique Foxworth has doubts that Jon Gruden can lead Oakland to success.
Leighton Vander Esch took the NFL by surprise when he stepped in for the injured Sean Lee and never let go of the starting spot. What was his rise like for his parents and the rest of his hometown of Riggins, Idaho?
Max Kellerman changes his mind about the pressure Aaron Rodgers faces this season, as the Green Bay QB will be criticized even more if the Packers do not make the playoffs with new head coach Matt LaFleur.
The Houston Texans have flaws, but that hasn't stopped them from posting a winning record in four of the last five years.