Sports That Matters
July 17th, 2019
Welcome back!
1. On this day in sports.
2. What's new.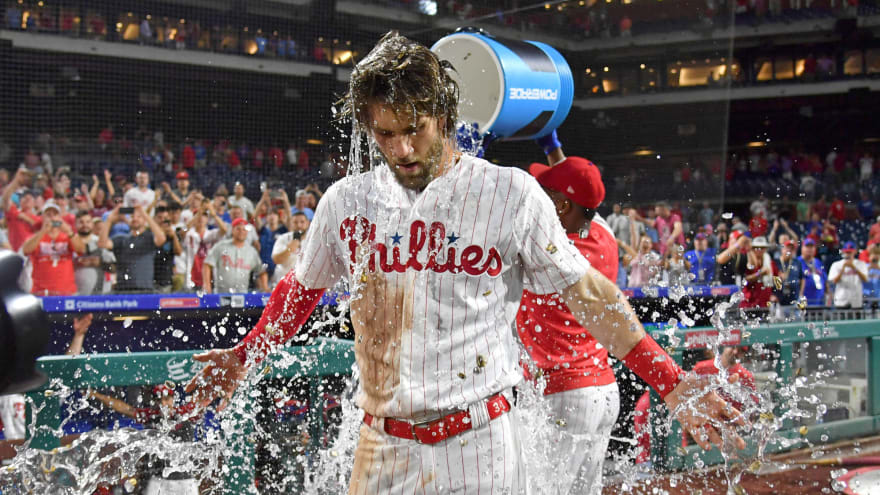 Photo: Sportsnaut
After Hector Neris blew the save for the Philadelphia Phillies the Los Angeles Dodgers looked like they would win again. Bryce Harper having  a sub-par season came through to give the Phillies a much needed win.
Tiger Woods recently shared how Brooks Koepka snubbed him after he requested the two participate in a practice round together ahead of The Open Championship at Royal Portrush in Northern Ireland this week.
Los Angeles Sparks guard Riquna Williams was suspended without pay by the WNBA on Tuesday for 10 games nearly a third of the season for a domestic violence incident.
The Arizona Cardinals have released offensive tackle Desmond Harrison after a warrant was issued for his arrest on felony charges of assault in North Carolina.
Seattle's NHL expansion team is close to an agreement with Hockey Hall of Famer Ron Francis to become its first general manager.
Hossein Ensan defeated Dario Sammartino heads-up to clinch the 2019 World Series of Poker main event title and the $10 million first-place prize.
Italian cyclist Lorenzo Gobbo was rushed to the hospital last Friday after his bike crashed at a Belgium race track and a sharp piece of wood pierced his body.  The 17-year-old cyclist required a three-hour surgery after the wood impaled his side, cutting through his thigh and puncturing his lung,
Former UFC fighter Abel Trujillo is facing some serious trouble. Trujillo, 36, was arrested by the Douglas County (Colo.) Sheriff's Office on charges of sexual exploitation of a child and obscenity, which are both felonies.
2. Is Eli Manning Hall of Fame worthy?
Photo: Mike Stobe
Whenever the day comes for Eli Manning to retire – and that day may not be all that far off – he will leave as one of the NFL's all-time leading passers. He's currently sixth overall with 53,344 yards – more than Hall of Famers John Elway, Fran Tarkenton, Dan Fouts and Joe Montana. (READ) by Bob Glauber
Responsible for two of the greatest quarterback runs in playoff history, Manning is near-certain to retire ranking in the top 10 in career touchdown passes and passing yards. (READ) by Sam Robinson
Manning's Hall of Fame fate ultimately will be decided by a group of media members five years after he retires. But with the 2018 class announced on Saturday and so many Hall of Famers in Minneapolis for the Super Bowl last week, I polled 13 members of the exclusive fraternity about Manning's prospects. (READ) by Dan Duggan
In ranking and providing an individual percentage for each team's potential Hall of Fame players, Iyer has Manning on the outside looking in with just a 40 percent chance. (READ) by Dan Benton
3. Have the Philadelphia 76ers bought their way into the NBA Finals? 
Photo: Larry Brown Sports
Charles Barkley began his Hall of Fame career with the Philadelphia 76ers, and he has never been afraid to criticize his former team just as much as — if not more than – any other team he provides analysis on. That goes for superstars Joel Embiid and Ben Simmons, too. (READ) by Steve DelVecchio
Many around the NBA community are in awe that Ben Simmons a player is among the worst shooters in the league landed a $170 million on a new deal this summer. (READ) by Jesse Reed
Kawhi Leonard is now out on the West Coast with the Los Angeles Clippers, which means the Eastern Conference is up for grabs. James Ennis III, who recently re-signed with the Philadelphia 76ers, is feeling confident his team will take advantage of the departure. (READ) by Jesse Reed
Ben Simmons' near $170 million extension may sound like an exorbitant amount for the 22-year-old, but Derek Bodner of The Athletic argue that the deal could turn into a bargain. (READ) by Chris Crouse
4. Space Jam 2 has issues with how the movie should move forward.
Photo: Yardbarker
Production on "Space Jam 2" was delivered a jolt over the announcement that Terence Nance will be departing as the film's director due to "different takes on the creative vision," (READ) by Jason Rowan
Malcolm D. Lee is taking over the directing reins on Warner Bros./SpringHill Entertainment's Space Jam 2 from Terence Nance. (READ) by Anthony D'Alessandro