Sports That Matters
July 15th, 2019
Welcome Back!
NEWS
Photo: MSN.com
The Los Angeles Angels announced that they've acquired catcher Anthony Bemboom from the Tampa Bay Rays for cash considerations. This is the second transaction of the day involving Bemboom, whom the Rays designated for assignment in the afternoon.
The Seattle Mariners have reinstated right-hander Sam Tuivailala from the 60-day injured list. Tuivailala will join the bullpen as righties Parker Markel and David McKay are optioned to Triple-A Tacoma.
Jonathan Lucroy will undergo a procedure to repair a nasal fracture. Lucroy last played June 7, when he was involved in a collision at home plate with Houston Astros outfielder Jake Marisnick, and will miss at least three more weeks.
Rays righty Tyler Glasnow will not be allowed to throw for at least two weeks after his latest MRI.
Los Angeles Dodgers utilityman Chris Taylor has been diagnosed with a fractured forearm, he'll be replaced on the active roster by Matt Beaty.
The Dodgers have designated lefty Zac Rosscup for assignment, per a club announcement. Taking his active roster spot is fellow reliever Casey Sadler.
The Arizona Diamondbacks organization will have to decide whether the time is right to cash in on the southpaw Robbie Ray, who's earning $6.05MM in 2019 and can be controlled via arbitration for one more season beyond the present.
NEWS
Photo: Clutch Points
The Los Angeles Lakers have agreed to hire former Toronto Raptors assistant Phil Handy as an assistant coach. Handy will be a front-of-the-bench assistant under new Lakers head coach Frank Vogel.
Handy has been an assistant coach with the Raptors (2018-19) and the Cleveland Cavaliers (2013-18) after working in player development for the Lakers (2011-13). The former Hawai'i star guard has coached as an assistant in the NBA Finals the past five seasons, winning two titles.
The NBA office fined Dallas Mavericks owner Mark Cuban $50,000 after he admitted to leaking information from last week's Board of Governors meeting to a reporter.
Houston Rockets owner Tilman Fertitta was fined $25,000 by the NBA for commenting on the Russell Westbrook trade before the deal was official.
Golden State Warriors general manager Bob Myers said Monday that his team did not acquire new guard D'Angelo Russell just to flip him in a different deal.
The Cleveland Cavaliers waived guard JR Smith on Monday before his contract for next season was guaranteed, allowing him to become a free agent once he clears waivers. A reunion with former teammate LeBron James does not seem to be on the horizon.
The Philadelphia 76ers and star Ben Simmons have agreed to a five-year, $170 million maximum extension, Simmons' agent Rich Paul confirmed.
About 20,000 Milwaukee Bucks fans packed the courtyard outside Fiserv Forum nicknamed the "Deer District" — to celebrate Giannis Antetokounmpo's MVP award. Some fans wore Antetokounmpo jerseys. Others showed up Sunday with homemade posters and intricate paintings of Antetokounmpo.
Opting to focus on next season with the Los Angeles Lakers, Anthony Davis has decided not to participate in the upcoming USA Basketball training camp and FIBA Basketball World Cup.
Free-agent forward Tyler Lydon has agreed to a two-year deal with the Sacramento Kings. Lydon, 23, was the No. 24 overall pick in the 2017 NBA draft but never was able to crack the rotation on a deep and talented Denver Nuggets roster.
NEWS
Beating the deadline for franchised players to sign long-term extensions, kicker Robbie Gould signed a four-year deal with the San Francisco 49ers.
Houston Texans linebacker Jadeveon Clowney did not agree to a long-term deal before the deadline to sign players who have been franchised.
Suspended former Pittsburgh Steelers and Oakland Raiders wide receiver Martavis Bryant has formally applied to the NFL for reinstatement.
The Atlanta Falcons and star defensive tackle Grady Jarrett agreed to a four-year extension on Monday. The contract is worth $68 million, Jarrett will have $38 million in guaranteed money.
The New York Giants suspended safety Kamrin Moore on Monday after he was arrested this past weekend on assault charges. NJ Advance Media, citing the criminal complaint and affidavit, reported that Moore was charged with third-degree aggravated assault after allegedly punching a woman, knocking her unconscious and stepping on her neck on Thursday at his home in Linden, New Jersey.
Cincinnati Bengals guard Clint Boling is retiring from the NFL at age 30 due to health issues.
Washington Redskins quarterback Alex Smith has finally shed the massive brace on his right leg eight months after breaking his tibia and fibula in gruesome fashion.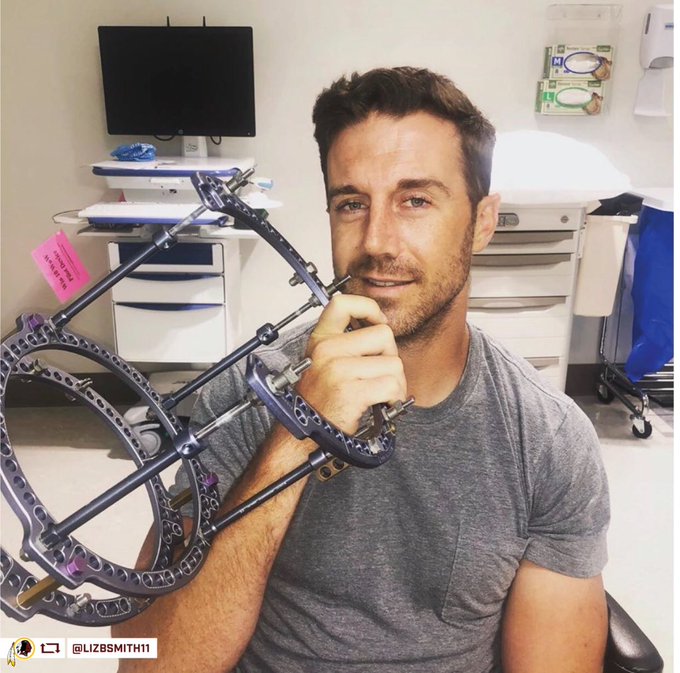 Smith's wife, Elizabeth, posted a photo Monday of him holding the ring external fixator in his hand. The team's Twitter account re-posted that picture with the message, "The brace is off! A great step for Alex in his recovery."
Former Tennessee Titans linebacker Derrick Morgan is retiring from the NFL at the age of 30, as he looks to turn his attention to making a more significant impact outside of football.
Ezekiel Elliott is the "target of extortion," attorneys for the Dallas Cowboys running back said Saturday, after a security guard filed a complaint claiming assault during a May altercation in Las Vegas.
Free agent running back Alex Collins suffered a broken leg and recently underwent surgery. Collins was waived by the Baltimore Ravens several months ago immediately following an arrest on drug and gun charges.
NEWS
The St. Louis Blues have reached a deal with goaltender Jordan Binnington on a two-year contract with an annual average value of $4.4 million, the Stanley Cup champions.
The Colorado Avalanche have signed forward Andre Burakovsky to a one-year contract, the deal is for $3.25 million.
With the New York Rangers needing to clear up some cap space following their acquisition of winger Artemi Panarin earlier this month, defensemen Kevin Shattenkirk and Brendan Smith have come up as speculative candidates to be bought out during the second buyout window.  However, they are looking at the trade market as well and have made wingers Vladislav Namestnikov and Pavel Buchnevich available.
Former Los Angeles Kings defenseman Slava Voynov has signed a one-year deal in the Kontinental Hockey League as he sits out the final months of his NHL suspension.
As expected, the Los Angeles Kings have announced new contracts for Michael Amadio, Daniel Brickley, Matt Roy and Sheldon Rempal. Amadio, Brickley and Roy have all signed two-year contracts that will carry $700K average annual values, while Rempal has signed his one-year two-way qualifying offer that carries an $874,125 salary in the NHL.
The Ottawa Senators have signed top draft pick Lassi Thomson to his three-year entry-level contract. Thomson was selected 19th overall in last month's draft, and is expected to return to Finland this year after one season with the Kelowna Rockets of the WHL.
Arizona Coyotes has locked up one of their remaining free agents, announcing the re-signing of defenseman Dysin Mayo to a one-year, two-way contract.
The Carolina Hurricanes have re-signed Clark Bishop to a one-year, two-way contract. The restricted free agent forward was not eligible for salary arbitration and will earn $700K
NEWS
Photo: NBC Sports
The NASCAR Cup and Xfinity Series will be in action this weekend at the 1-mile New Hampshire Motor Speedway in Loudon, N.H. The Gander Outdoors Truck Series is off until July 27 at Pocono Raceway. Click here are the entry lists for the Cup and Xfinity races at New Hampshire:
Kurt Busch finally beat his little brother in a head-to-head NASCAR finish and took his new team to victory lane a week after they coughed away their first win.
Four months after undergoing a third brain surgery in his battle with Parkinson's Disease, former NASCAR Cup star Sterling Marlin's return to racing was postponed last weekend due to mechanical issues with his car.
Hailie Deegan is one of the biggest rising stars in NASCAR, and she hasn't even made it to one of the national series yet. The teenage racer is just days away from her 18th birthday and drives the No. 19 Toyota in NASCAR's developmental K&N Pro Series West.