Sports That Matters
July 14th, 2019
Welcome back!
1.
news
Kelvin Kuo-USA TODAY Sports
The Los Angeles Angels' pitching staff combined to no-hit the Seattle Mariners in a 13-0 win on Friday night, the same night they paid respect to Tyler Skaggs in their first home game since his death. (READ) by Larry Brown
Locked in a desperate push to get back into the playoffs, the Boston Red Sox had no intention of waiting until the end of the month to upgrade their starting rotation. Getting a jump on the July 31 trade deadline, the Red Sox obtained burly right-hander Andrew Cashner from the Baltimore Orioles for two 17-year-old prospects. (READ) by David Ginsburg
Max Kepler has Trevor Bauer's number. Kepler connected for home runs his first two times up Saturday night against Cleveland's hard-throwing starter, giving the Minnesota outfielder five homers in his last five at-bats against the right-hander. (READ) by Tom Withers
The New York Mets are coming to terms with the fact that they won't be a playoff team in 2019, but that doesn't mean they're going to be blowing everything up. Mets GM Brodie Van Wagenen said Friday that the team would seek to move expiring contracts, but had no intention of putting pitchers Noah Syndergaard or Jacob deGrom on the market. (READ) by Grey Papke
Bryce Harper has had an up-and-down 2019 season, but every so often he reminds you of the MVP that he once was. Take for example Saturday when he hosed down former Washington Nationals teammate Victor Robles all the way from the warning track. (READ) by Johnny Flores Jr.
The Washington Nationals have put Max Scherzer on the 10-day injury list because the ace right-hander has a mid-back strain. An MRI on Scherzer's back came back negative, and the three-time Cy Young Award winner had his start pushed back from Sunday to Tuesday. But he was placed on the injury list retroactive to July 10 after throwing a bullpen session before Saturday's game. (READ) by Associated Press
2.
news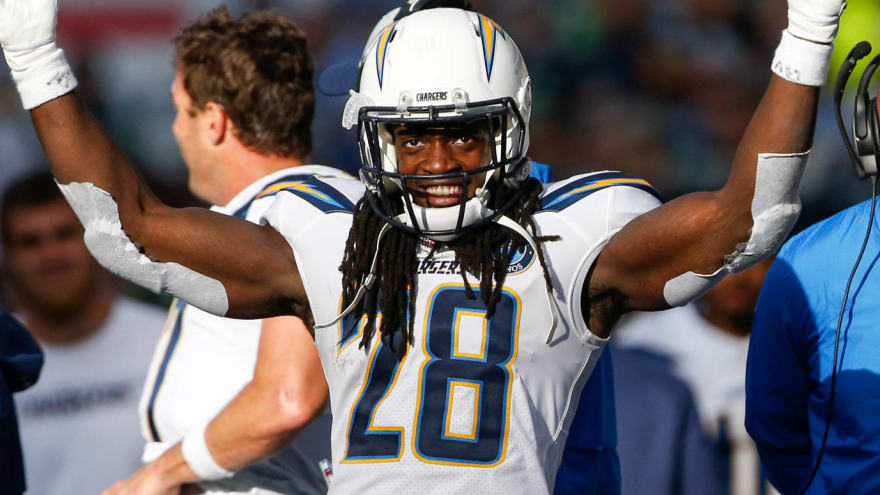 Joe Nicholson-USA TODAY Sports
Melvin Gordon stated through his agent, Damarius Bilbo, that he will demand a trade and will not report to training camp without a new contract extension. NFL Network's Tom Pelissero broke this story Thursday morning, and his colleague Ian Rapoport spoke with Gordon's agent about it afterward. (READ) by Jesse Reed
Los Angeles Chargers running back Melvin Gordon either wants an extension from the team before the season or has demanded a trade. The two-time Pro Bowler doubled down on that Saturday by indicating that he would like to remain a member of the Chargers. He also made it clear that it's all about getting that Brinks truck. (READ) by Vincent Frank
Patrick Mahomes is already famous throughout the NFL for his legendary arm, but the Chiefs quarterback showed off his cannon in a whole new way on Saturday. (READ) by Michael Shapiro
Jets tight end Chris Herndon has been suspended without pay for the first four games of the 2019 regular season for violating the NFL's policy and program on substances of abuse, the league announced Friday. (READ) by Emily Caron
What makes a good head coach? Is it just the coach that gets the best results? Is it about offensive or defensive scheme design? Is it being able to get the most out of every player on the roster? Is it game management? Realistically, it's some combination of all of those things, plus more. (READ) by Jared Dubin
3.
news
Photo: Getty
One of the most surprising developments this offseason has to be the fact Jake Gardiner, probably the top defender to hit the open market, remains unsigned nearly two weeks into the free agent signing period. Not only is he still unsigned as of publication on Saturday, but there has also been complete radio silence on any potential interest in signing the defender. (READ) by Adam Gretz
Most NHL free agent signings do not work out as planned. You get in bidding wards for players on the downside of their careers and usually end up overpaying for disappointing production. That is usually what happens. There are exceptions, though, and here we take a look back at those exceptions as we look at the best All-Time free agent signing for every NHL team. (READ) by Adam Gretz
It's been a busy offseason for the Carolina Hurricanes as the team has worked hard to improve its roster in hopes of keeping themselves relevant after an impressive playoff run last season. The team has already signed restricted free agent Sebastian Aho after matching the offer sheet he signed with the Montreal Canadiens. The team traded for Erik Haula and signed Ryan Dzingel to a reasonable deal as well. They also brought back goaltender Petr Mrazek to bolster their goaltending. (READ) by Holger Stolzenberg