Sports That Matters
Powered By
July 5th, 2019
Welcome back hope your 4th was a great one!
1. On this day in sports
2. Ten years ago, former Tennessee Titans quarterback Steve McNair was found dead in his condo alongside his girlfriend.
Friends of Steve McNair say everything seemed normal. What you saw was what you got.
Steve McNair was born on Valentine's Day, and he died on the Fourth of July.
Just 24 hours earlier, McNair had taken his sons fishing. It was a good day for two little boys who saw their dad as a superhero. He cleaned the fish when they got home that night, washed his truck and began to doze off on the couch.
Sahel "Jenni" Kazemi shot and killed McNair before turning the gun on herself on July 4, 2009, the Metro Nashville Police Department concluded. He was 36. She was 20.
"There are a bunch of tragic stories of famous players and entertainers. It happens," former Titans wide receiver Derrick Mason said. But for that to happen to the infallible McNair? "Shocking," Mason said. "You were just in disbelief."
McNair supposedly was shot execution-style by a 20-year-old woman who had never owned a gun until a few days earlier.
The shocking events sparked many lingering questions, the death officially remains a murder-suicide, even though it quite possibly was a double murder.
A complicated series of circumstances, relationships and police work from a variety of perspectives opened disturbing details regarding the condition in which his body was found.
McNair's career…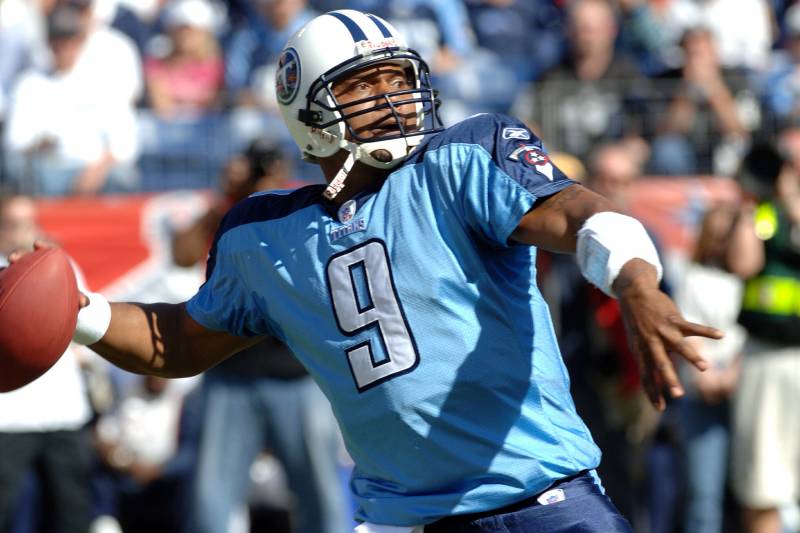 Photo: Bleacher Report
He was the third overall pick in the 1995 draft of the Houston Oilers.
McNair led the team now Tennessee Titans to Super Bowl XXXIV, a game that McNair's last-second pass nearly sent to overtime.
Four years later, he shared the NFL's MVP award with Peyton Manning.
In 2006, McNair landed via trade in Baltimore, and in his first season with the team he led the Ravens to the No. 2 seed in the AFC postseason.
He last played in 2007, finishing his 13-year career with 31,304 yards passing and 3,590 yards rushing.
He threw for 174 touchdown passes, and he added 37 on the ground.
off the field community work…
One of McNair's final community efforts was opening Gridiron9, a since-closed restaurant on Jefferson Street intended to give Tennessee State students an affordable place to eat.
"He established his business in the heart of the black community over at TSU to have a strong and powerful impact," former Titans running back Eddie George said. That was McNair.
He started the Steve McNair Foundation to benefit youth charities and hosted his first youth football camp in 1999 at Mississippi Gulf Coast Community College. He led them multiple times a year in both Nashville and Mississippi, until the summer of his death.
The camps estimates were 11,000 kids who attended those camps and all of them for free.
George remembers McNair making a speech before one of his camps. He had something written down a script. It seemed inauthentic, though, so McNair ripped up the paper before speaking from his heart.
the secret life…
Kazemi wasn't his only mistress at the time of his death.
McNair had a crash pad, a sort of bachelor pad where he'd whisk young women away for quiet affairs.
There was another women Leah Ignagni, a 25-year-old with whom McNair had a relationship with. Police believe that Kazemi finding out about Ignagni fueled her deadly intentions.
McNair's cellphone records contained text message correspondence with numerous women.
McNair spent the night with Ignagni on July 2, two nights before Kazemi killed him, according to police and court documents.
McNair was dancing with fire, said Gregg McCrary, a retired FBI agent who spent more than 25 years with the bureau.
"I'm pretty sure that (McNair) was dealing with some things that we don't know about," his teammate George said. "When you transition from the game – mentally and physically and emotionally transition – you go through so much change. Just imagine going from what you do every day and all of a sudden you're forced into doing something different.
McNair seemed to handle that well especially on the field, where George and Mason are quick to say: He's the toughest teammate they ever played with. McNair played severely injuries most of his career which he gained respect from his teammates.
Steve McNair was 36 when he died. He had four children.
ten years later…
Photo: ESPN
Nine years after Mechelle McNair's world caved in, her oldest son, Tyler, is going to NYU on an academic scholarship. He didn't just turn out all right. He's going to kick the world's ass.
Mechelle is 45 now, and she does not look old enough to be dropping a son off at college. She was slow to trust after her husband's death and never remarried. She already had two men in her in life: Tyler, 19, and Trent, who just turned 14.
Mechelle knew her husband struggled with the transition from football player to businessman. The last full conversation he had with Mechelle centered on the restaurant's nightly receipts constantly being off and her desire to help. A few months after his death, the restaurant was sold.
In 2013, she sold their 13,000-square-foot house and moved to a smaller home. The house actually had been on the market before McNair died, but then the housing crisis hit. Pat Boone, a singer from the 1950s, eventually bought the home.
The pressure to be Steve McNair's son weighs heavily. The boys are constantly chasing a ghost, a man who, in death, is still the biggest sports legend in Nashville.
3. John Sterling had worked 5,060 consecutive Yankees games before Thursday.
Love him or hate him there is one thing you can't take away from John Sterling New York Yankees long time announcer and that is he shows up for work everyday.
It's been 30 years straight, he is the man who broadcast every pitch thrown by Mariano Rivera and every inning played by Derek Jeter.
Until Thursday, his 81st birthday coincidentally, Sterling had worked 5,060 straight Yankees games since 1989.
During his first year as the radio voice of the Yankees in 1989, Sterling missed two games due to the death of his sister, Jane. Since then, he has had a Gehrig-like run.
The regular season lasts six months for a 162-game game schedule. Don't forget the two months for spring training games. That does not include the playoffs, which can add another month for a team that reaches the World Series.
The baseball season is an eight-month marathon.
For the first time since Don Mattingly was the team's first baseman and Dallas Green was the manager, the Yankees will play a game without Sterling behind a microphone.

Yankees

 manager Aaron Boone said sometimes he goes out of his way to hear how legendary radio play-by-player John Sterling of WFAN radio calls his team's highlights.
Sterling will miss the entire four-game series against the Tampa Bay Rays that will close out the first half of the season.
Suzyn Waldman, Sterling's longtime partner, will work with YES/ESPN's Ryan Ruocco on the broadcast.
Sterling told the New York Post's Andrew Marchand that he's "feeling a little under the weather" and will take a few days to rest.
With the time for the All-Star break he will get an eight day rest. Sterling noted that he feels fine but a little run down so the time off will get him ready for the second half.
Sterling's doctors haven't pinpointed exactly what has been troubling him, but his diminished energy, weakened voice and significant weight loss have been noticeable to his longtime colleagues and friends.
Some had noticed that Sterling was coming to work tired the Yankees' recent trip to London didn't help and he struggled to walk up stairs.
Sterling had already established himself as a durable voice before joining the Yankees broadcast 30 years ago. He called Atlanta Hawks basketball games (1981-89) and Atlanta Braves baseball games (1982-87). For five years, that meant 220 basketball and baseball games combined a year.
4. Top-five rising senior announced his commitment to Duke on 4th of July.
Senior Jalen Johnson announced he chose the Duke Blue Devils over Kentucky, Arizona and Wisconsin.
Johnson is a 6-foot-8 small forward from Nicolet High School Milwaukee, WI.
Johnson is ranked No. 4 in the 2020 class. He is the top small forward in the class.
He averaged 17.0 points and 9.2 rebounds on the Nike EYBL circuit this spring and summer for Phenom University.
Johnson is the second five-star commitment for Duke in the 2020 class, joining point guard Jeremy Roach.
The Blue Devils have landed the No. 1 class in two of the past three years and in four of the past six.