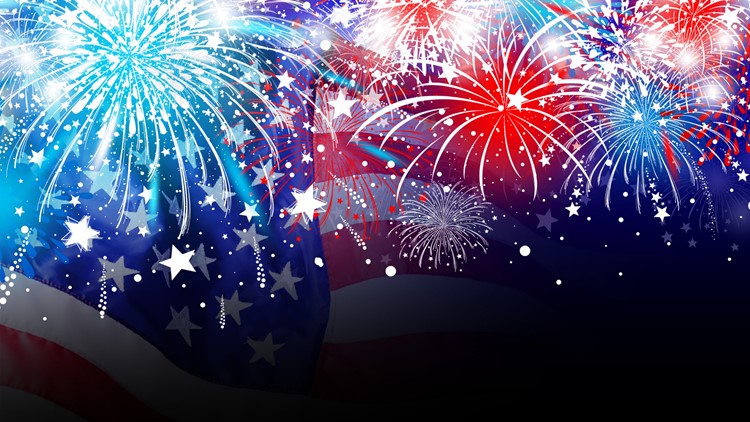 HAPPY 4th of JULY
Have a great holiday, thanks for stopping by enjoy!
1. What's New
AP Photo/Francisco Seco
It was 99 minutes into a grueling Women's World Cup semifinal, and neither the Netherlands nor Sweden was finding a clear path to the goal Wednesday night. 
A slick passing sequence ended with Jackie Groenen driving a shot past goalkeeper Hedvig Lindahl. A first shot on target in France produced her first goal of the tournament. It sent the Netherlands into its first Women's World Cup final, where the Dutch will face the United States on Sunday, back in the Stade de Lyon.
Former Kentucky and NFL quarterback Jared Lorenzen died Wednesday after a battle with cardiac and renal issues. He was 38.
The reigning National League MVP Christian Yelich received the No. 1 seed for the Home Run Derby power-hitting contest by virtue of leading the majors in home runs with 31. He will face Toronto Blue Jays rookie Vladimir Guerrero Jr., the No. 8 seed, in the opening round of the Derby, which will air at 8 p.m. ET on ESPN.
As part of a Memphis Grizzlies–Phoenix Suns trade that includes four players, guard Kyle Korver is on his way to the Suns who plan to waive Korver and allow him to become a free agent. 
Free-agent point guard T.J. McConnell has agreed to a two-year, $7 million deal to sign with the Indiana Pacers.
The Phoenix Mercury are one of only two teams in the WNBA who have averaged over 10,000 fans this season.
A day after Nike recalled a sneaker that featured an early American flag at Colin Kaepernick's urging, the Double-A Tennessee Smokies drew the 13-star symbol on their infield Wednesday and tweeted images of it.
2. Major League Baseball news, notes and results.
AP Photo/Patrick Semansky
The Miami Marlins brought out the best in Washington Nationals pitcher Stephen Strasburg. The right-hander struck out 14 in 7 1/3 shutout innings and extended his personal winning streak against Miami to 11 as the Nationals continued their midseason surge with a 3-1 victory. 
Mike Trout homered twice and Jaime Barria, filling the roster spot of the late Tyler Skaggs, struck out a career-high eight batters in five innings as the Los Angeles Angels beat the Texas Rangers 6-2 on Wednesday night.
Rookie Bryse Wilson allowed only two runs in six innings, Josh Donaldson and Austin Riley hit three-run homers off Nick Pivetta and the Braves solidified their NL East lead by beating the Philadelphia Phillies 9-2.
Dylan Cease threw five innings in a winning major league debut, and the Chicago White Sox beat the struggling Detroit Tigers 7-5 in the first game of a day-night doubleheader.
Danny Jansen and Brandon Drury each hit two-run homers, Lourdes Gurriel Jr. added a solo shot and the Toronto Blue Jays beat the Sale and the Red Sox 6-3 on Wednesday night.
Evan Longoria and Alex Dickerson hit consecutive home runs in the third inning and the San Francisco Giants scored four runs during an unusual rally in the sixth to beat the San Diego Padres 7-5 Wednesday night for their first three-game sweep of the season.
Renato Nunez hit a three-run homer to complete a six-run ninth, and Baltimore held on for a 9-6 victory over the Tampa Bay Rays on Wednesday night.
"I looked at tape, a lot of different things, but it was not changing what it was that got me here," Mike Clevinger said, shortly after tossing six dominant innings of four-hit ball in Cleveland's 4-0 win over the Kansas City Royals on Wednesday night.
Jung Ho Kang scored on Corey Dickerson's sacrifice fly to cap a frantic ninth-inning rally off Kimbrel and lift the Pittsburgh Pirates to a 6-5 victory over the struggling Cubs on Wednesday night.
Wade Miley walked the first two batters of the game but worked out of the jam to toss six strong innings in the Houston Astros 4-2 victory over the Colorado Rockies on Wednesday night.
Domingo German (10-2) pitched six sharp innings in his return from injury, Didi Gregorius and Gio Urshela hit consecutive homers, and the New York Yankees beat the New York Mets 5-1 Wednesday night.
Yankees play-by-play television announcer Michael Kay will have surgery to correct an issue with his vocal cord, keeping him out of the broadcast booth for at least a month.
missing the all star game…
New York Yankees infielder Gleyber Torres continues to be an American League All-Star Game snub, and his manager is extremely upset about it.
Los Angeles Angels second baseman Tommy La Stella will miss the All-Star game because of a broken bone after he fouled a 97 mph fastball off his lower right leg.
Texas Rangers outfielder Hunter Pence, who had been selected by fans to be the AL starting designated hitter, and Minnesota right-hander Jake Odorizzi will also miss the All-Star Game in Cleveland next Tuesday because of injuries.