Sports That Matters
July 2nd. 2019
Welcome back!
1. Tyler Skaggs death shocks the baseball world.
Los Angeles Angels pitcher Tyler Skaggs died Monday at the age of 27, stunning the baseball world and leading to the postponement of the team's game against the Texas Rangers.
Tyler Skaggs grew up rooting for the Los Angeles Angels, and got to pitch for his favorite team. The left-hander's next start for the Angels was supposed to be on the Fourth of July holiday, during a weeklong trip to Texas that began with Skaggs and his teammates proudly posing in cowboy hats and Western attire by their plane.
"I'm in utter shock and disbelief," general manager Billy Eppler said Monday evening. "It's just a very tragic day for the Angels, a tragic day for his wife, Carli, his mother Debbie [and for] Carli's mom. Just a tragic day for everybody because this young man touched a lot of peoples' lives, and you're going to start to see the impact he's had on people in the coming days."
The Tarrant County Medical Examinerwill conduct an autopsy on Skaggs Tuesday.
2. NFL and NFLPA start negotiations on new CBA.
Photo: From Sportsnaut
Talks between the NFL and the NFLPA aimed at reaching a new collective bargaining agreement are set to intensify in July in an effort to secure a new deal before the start of the 2019 regular season.
The league's current CBA is set to expire after the 2020 season, but the two sides have been working hard to avoid a strike.
There are many big issues to sort out as the two sides look to forge a new agreement. Among them is the ban on cannabis, which could potentially be lifted. Guaranteed contracts are also a huge talking point, as is the power that is currently being wielded by NFL commissioner Roger Goodell in disciplinary cases.
3. UConn men's basketball team placed on two year probation, Kevin Ollie three-year show cause order.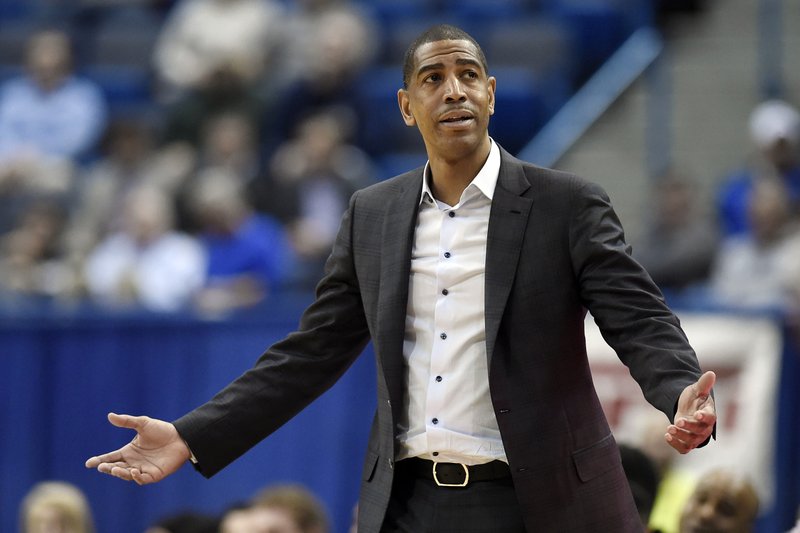 AP Photo/Jessica Hill
The NCAA Division I Committee on Infractions on Tuesday placed the UConn men's basketball program on probation for two years and gave former coach Kevin Ollie a three-year show-cause order for failing to monitor his staff, not promoting an atmosphere of compliance and allegedly providing false or misleading statements to NCAA investigators.
Concluding an investigation of nearly two years. Going forward, the NCAA largely accepted UConn's self-imposed sanctions, the most severe of which is the loss of one scholarship for 2019-20.
The NCAA sent the school a notice last September detailing allegations that included unethical conduct by Ollie, who it said provided false or misleading information about video calls to a recruit from two former UConn stars, Hall of Famer Ray Allen and San Antonio Spurs guard Rudy Gay.
The NCAA characterized the violations as "a severe breach of conduct," and slammed Ollie inits report , saying he failed to monitor his staff or otherwise stop and prevent violations.
Though Ollie's contract dispute with UConn over the more that $10 million remaining on his contract is not over, these findings bolster UConn's contention that Ollie committed infractions that rise to the level of "just cause" for termination.
University president Susan Herbst said the findings "validates UConn's actions and decision-making" but "this is a serious matter and nothing about it merits celebration. She added that it is "time to move on."
4. Major League Baseball Power Rankings
American League
New York Yankees
Texas Rangers
Oakland A's
Tampa Bay Rays
Minnesota Twins
National League
Los Angeles Dodgers
Atlanta Braves
Washington Nationals
Milwaukee Brewers
Pittsburgh Pirates
5. Ranking the top five QB's in the SEC going into the 2019-2020 season.
1. Tua Tagovailoa – ALABAMA
Tua Tagovailoa was arguably college football's top player before two interceptions in the SEC Championship Game and minor injury ailments coupled with Kyler Murray's red-hot finish at Oklahoma cost the Hawai'i native the Heisman Trophy. Tagovailoa could be the No. 1 overall selection in the 2020 NFL Draft and has unfinished business. He is the top of the class.
2. Jake Fromm – GEORGIA
Jake Fromm pushed two five-stars OB's out the door (Jacob Eason and Justin Fields). Fromm's game mirrors former Alabama great A.J. McCarron as an accurate game manager who can win games in crunch time when pressed, improved his completion percentage last season with razor sharp precision and is hoping to have his best season yet under new play-caller James Coley's tutelage. A hot start to Georgia's season could propel Fromm to the top of the class.
3. Joe Burrows – LSU
Joe Burrow's enters his second and final season in Baton Rouge with plenty to play for as a senior starter for the Tigers. a confident Burrow enters his second and final season in Baton Rouge with plenty to play for as a senior starter for the Tigers. His experience with Ohio State and one full year under his belt gives Burrows a chance to be a breakout star.
4. Kellen Bond _ TEXAS A&M
Kellen Bond With 32 touchdown passes and 4,482 yards passing over the first 23 games of his career, Mond is ready to go next level as a junior. Mond rushed for seven touchdowns and 474 yards, totals that will increase if the Aggies decide to utilize his talent more often in the run game. He is a confident player and signal caller anxious to prove he is one of the nation's most underrated at the position.
5. Feleipe Franks – FLORIDA
Dan Mullen's arrival QB Feleipe Franks showed much improvement through the air. Franks improved his completion percentage, nearly doubled his total yardage and threw 24 touchdown passes to only six interceptions. He seemed to be at his best last fall in key situations against many of the top teams on the schedule. Florida's staff is expecting his best season yet.