Sports That Matters
June 26th, 2019
Welcome back!
1. What's New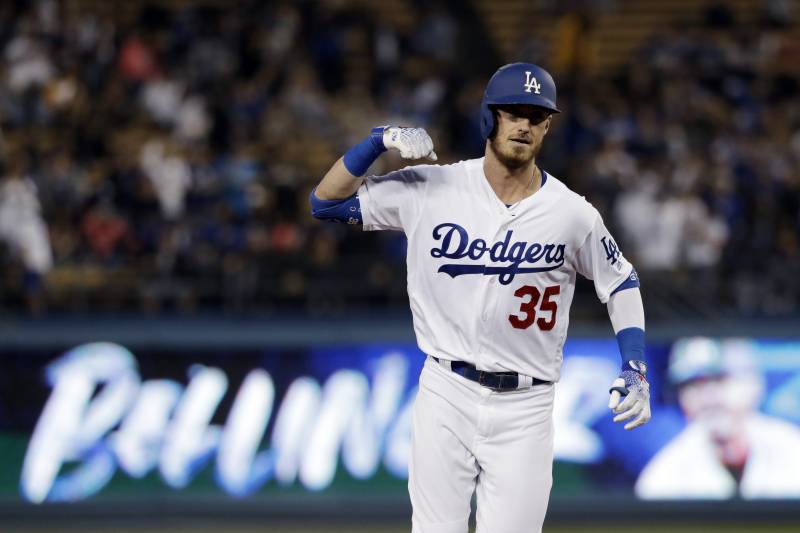 Marcio Jose Sanchez/Associated Press
In 2019, the Los Angeles Dodgers introduced themselves with eight home runs by six different players, a record for Opening Day. Cody Bellinger is the MVP favorite and Hyun-Jin Ryu is the Cy Young favorite.
The results of the MRI on New York Yankees outfielder Giancarlo Stanton right knee were "good," manager Aaron Boone said Wednesday.
The Kansas City Royals have designated reliever Brad Boxberger for assignment, opening a roster spot for Eric Skoglund's return from an 80-game PED suspension.
Milwaukee Brewers outfielder Lorenzo Cain will miss his third straight game Wednesday after undergoing a cryotherapy procedure on his right thumb in Los Angeles on Tuesday.
The White Sox lost half their starting infield to injury Wednesday, as shortstop Tim Anderson is headed to the 10-day injured list and third baseman Yoan Moncada left Chicago's game in Boston with a knee injury.
Roberto Luongo of the Florida Panthers announced his retirement from the NHL on Wednesday after a stellar 19-season career.
Goaltender Brian Elliott is returning to the Philadelphia Flyers on a one-year, $2 million contract, general manager Chuck Fletcher announced Wednesday.
The San Jose Sharks have issued qualifying offers to restricted free-agent forwards Timo Meier, Kevin Labanc and Dylan Gambrell.
The Seattle hockey franchise have their first corporate sponsor: life-insurance firm Symetra Financial Corp. The Bellevue, Washington-based company will have its logo all over the team's new arena, along with naming rights to one of the building's two club areas.
Golden State Warriors star Kevin Durant has declined his $31.5 million player option and will become an unrestricted free agent.
The math is simple J.R. Smith is set to make $15.7 million next season, however, if he is waived before Sunday, the Cavaliers team or whatever team he is a member of only has to pay $3.9 million of that.
As free-agent guard Isaiah Thomas probes the marketplace, this summer affords him something that the past two did not an unobstructed work regimen.
With a roster that returns two-time NFL Defensive Player of the Year Aaron Donald and each skill position starter, including receiver Cooper Kupp, who is coming off a season-ending knee injury, the Rams are in position to appear again in the Super Bowl.
Four-year veteran Matt LaCosse was running with the first unit in spring practices, but is he a realistic option to maintain a Gronk-type standard? Veteran Benjamin Watson could be part of the mix, but he will miss the first four games of the season while serving an NFL suspension.
This spring, it has been the Ryan Fitzpatrick show at the Dolphins facility, as the veteran has outplayed Josh Rosen during organized team activities and minicamp.
The Eagles are counting on Carson Wentz staying upright. They moved on from Nick Foles and handed Wentz a four-year, $128 million contract extension.
Cincinnati Bengals rookie offensive tackle Jonah Williams, the team's first-round draft pick, likely will miss the 2019 season after undergoing shoulder surgery.
Kansas City Chiefs offensive coordinator Eric Bieniemy scoffed at the idea that not being a playcaller cost him an opportunity to become a head coach after he interviewed for four head-coaching vacancies.
Former NFL and Canadian Football League running back Cierre Marcelle Wood, 28, and Amy Taylor, 26, are accused of killing Taylor's daughter, La'Rayah Davis, who was found lifeless on April 9 in Wood's apartment.
BMW's contract with the PGA Tour and Western Golf Association expires after this year's event. Once the final putt drops at Medinah in August, the company will not return as title sponsor. The premium car brand will instead focus on its global partnership with the 2020 Ryder Cup at Whistling Straits in Wisconsin.
Bob Ley, after a 40-year career at ESPN, announced his retirement from the network Wednesday.
Manchester City hope to complete the signing of Atletico Madrid midfielder Rodri Hernandez by next week.
Real Madrid confirmed on Tuesday evening they will have a women's team compete in Spain's top flight beginning in the 2020-21 campaign.
Under Armour has developed shoes that would be able read an athlete's blood pressure and adjust the soles to help improve blood flow while recovering from a workout.
UFC fighter Desmond Green is facing four DUI manslaughter charges for his alleged role in a five-vehicle crash last August that killed two people.