Sports That Matters
Brought to you by Site Ground
June 13th, 2019
Welcome Back!
1. What's new in sports.
Photo: Chuck Cook-USA TODAY Sports
After Robey-Coleman's blatant pass interference in the NFC title game was blanked by officials, paving the way for a Los Angeles Super Bowl bid.
Coaches will be able to throw their challenge flag and initiate a review when they feel officials have missed a clear pass interference penalty on the field or called a pass interference penalty on a clean play.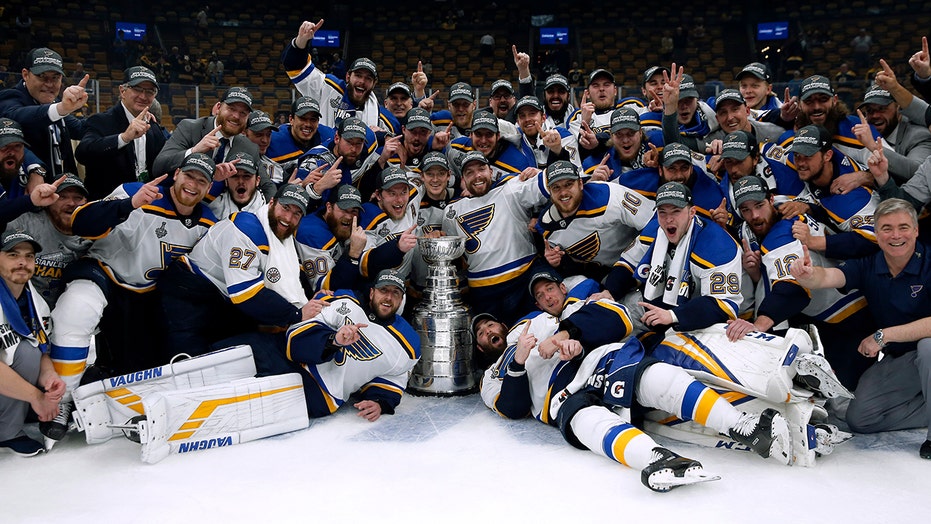 Photo: Fox News
A parade 52 years in the making will finally happen Saturday in St. Louis, when the city celebrates the Blues' first-ever Stanley Cup championship.
Jordan Binnington's storybook ride from fourth stringer to Stanley Cup-winning goaltender was fueled by a few free meals.
Thirteen St. Louis Blues players took their turn with the iconic trophy, raising it above their heads, lowering it for a kiss, posing for a picture.
The Boston Bruins had it all lined up: a raucous home crowd as they hosted the first Game 7 of a Stanley Cup Final in their 95-year history and a fast start that provided a handful of excellent scoring chances in the opening period against a St. Louis team that looked out of sorts and on its heels for a second straight game.
After selling out their Game 7 watch party at Enterprise Center in a matter of minutes, the Blues teamed up with the Cardinals to host a watch party at Busch Stadium, with the proceeds benefiting their charities.
The St. Louis Blues and key league business partners are reaping immediate commercial rewards after lifting the Stanley Cup for the first time in franchise history.
Sales of the Blues' championship apparel and memorabilia broke the league sales record for the 12-hour period after winning a title.
As measured by Fanatics, the largest retailer of NHL merchandise, the Blues' merchandise sales were 10 per cent higher than those of last year's champions, the Washington Capitals, who previously held the record.
Photo: From Sports Illustrated
The most polarizing figure in the NBA is not any owner, player, exec or even LeBron James it's Rich Paul, the King's agent and friend, who unleashed havoc on the league this past season when he demanded that New Orleans trade star client Anthony Davis in a seeming bid to unite him with James in L.A. Paul's next moves could reshape the entire league, but here's the thing: He and LeBron have bigger plans.
Three-time NBA All-Star Kemba Walker said he would consider taking less money than he is eligible to make to stay with the Charlotte Hornets if that means helping them build a winning team.
Add the Cleveland Cavaliers to the list of NBA teams who have a female assistant coach on their staff. Coach John Beilein is hiring California women's coach Lindsay Gottlieb to be an assistant.
Duke star Zion Williamson is suing to enforce his termination of an agreement he signed with a Florida marketing company, maintaining their deal was unlawful under North Carolina law.
A former Texans security coordinator filed a complaint with the Equal Employment Opportunity Commission alleging that former general manager Brian Gaine targeted African-American employees for termination through his tenure.
Harrison Butker's first two seasons with the Kansas City Chiefs were good enough to make him one of the highest-paid kickers in the NFL.
The Indianapolis Colts signed cornerback Kenny Moore to an extension the four-year extension through the 2023 season is worth $34 million, with $18 million guaranteed and another $6 million available through escalators.
The wife of former Boston Red Sox star David Ortiz says he remains in guarded condition at a Boston hospital and "continues to heal and make progress."
One of the suspects being sought in the shooting of former Red Sox superstar David Ortiz is believed to be the same man who's wanted by Pennsylvania authorities on a charge of attempted homicide.
Nationwide is no longer on the side of Hendrick Motorsports. The team confirmed that the brand will be ending its sponsorship after this year.
Maximum Security drew the No. 2 post position in the $150,000 Pegasus Stakes at Monmouth Park on Sunday. The 3-year-old colt was made the overwhelming 1-2 favorite. Luis Saez is back in the saddle.
Santa Anita has put together a five-member team to review horses' medical, training and racing history for the final six racing days at the Southern California track where 29 horses have died since December.
Ascot Racecourse has announced it is introducing a cup recycling scheme during next week's Royal Meeting to reduce plastic waste.
Racegoers will be encouraged to place used drinks glasses in one of 200 dedicated bins around the site. Ascot said it will attempt to wash over 500,000 plastic glasses over the course of the five-day meeting, and that it had not introduced a deposit scheme in order to avoid inconveniencing customers.
Photo: AP Photo/Wayne Parry
Some gambling and technology executives say 90% of sports betting in the United States will be done over mobile phones or the internet in the next five to 10 years.
At least $9 billion has been bet legally on sports in the U.S. in the year since PASPA was overturned.
Under a cleaned up S 17C bill, the new language would allow for sports betting at all professional sports stadiums and arenas in New York with a seating capacity of more than 15,000. Originally, the language in the bill had excluded Citi Field and New Era Field. While it's progress, online sports betting in New York still has multiple roadblocks to get around.
Uber Eats is taking a bite out of sponsorship. Under the terms of its agreement with Ligue 1, the brand will serve as an official partner of French soccer's top flight next season before putting its name to the competition for the following two years. Uber Eats is set to pay $36 million over the course of the deal.
The esports industry has seen its first $100 million deal thanks to Immortals acquiring Infinite Esports and Entertainment from two of the owners of the Texas Rangers.
Chris Froome underwent successful surgery after the high-speed crash that left him with multiple fractures and shattered his hopes of going for a fifth Tour de France title next month.
A 14-year-old Tampa high school student died after collapsing during football drills on Tuesday.