Sports That Matters
Brought To You By Site Ground
June 11th, 2019
Welcome back! Great finish to Game 5 of the NBA Finals in Toronto, with the Golden State Warriors hand on the force Game 6 back in Oakland.
1. Game 5 goes down to the wire with the Warriors stealing Game 5 late.
Draymond Green deflects a last second game-winning attempt by Raptors Kyle Lowry preserving Golden State's 106-105 win in Game 5 of NBA Finals.
Steph Curry and Klay Thompson led the Warriors on a 9-2 run down 2:32 of the game to help them withstand an onslaught of buckets from Kawhi Leonard early in the fourth quarter.
Leonard scored 12 points on 5-for-9 shooting in a strong effort to put the two-time champions down six with 3:28 left. Leonard scored 12 of his team-high 26 points in the fourth quarter.
Kyle Lowry had 18 points and Marc Gasol scored 17 for the Raptors, who were trying to give Canada its first championship in one of the traditional major sports since the Blue Jays won the World Series in 1993.
Serge Ibaka scored 15 points and Fred VanVleet had 11 off Toronto's bench.
Stephen Curry recorded a game-high 31 points (10-23 FG, 5-14 3pt FG), along with 8 rebounds and 7 assists.
Klay Thompson scored 26 points on just 10-for-23 shooting, but shot a scorching hot 7-for-13 from the 3-point line.
DeMarcus Cousins had 14 points for the Warriors and Draymond Green finished with 10 points, 10 rebounds and eight assists.
But the big story of the first half was Kevin Durant re-aggravating his injured calf early in the second quarter with the Warriors up just two possessions.
Golden State center Kevon Looney re-aggravated his right 1st costal cartilage non-displaced fracture injury and will not return.
A script-defying N.B.A. finals continued Monday night when the Golden State Warriors welcomed Kevin Durant back from a monthlong injury absence, watched in horror as Durant reinjured himself after a storybook start — and then still managed to keep these N.B.A. finals going. (READ) by Marc Stein
The Toronto Raptors are still in the driver's seat. They're still in charge. They blew Game 5 of the NBA Finals by missing so many shots that even they couldn't recover, yes. Last year, after his Cavaliers had somehow escaped a knife-in-its-teeth Indiana team in a Game 7, Kevin Love turned to a Cleveland reporter and winked. "Don't let us get Game 1," he said. LeBron and company came to Toronto, stole their first chance, and the Raptors never recovered. (READ) by Bruce Arthur
Just before halftime in his first game back since injuring his calf earlier this postseason, Golden State Warriors star Kevin Durant went down with a similar injury in Game 5 of the NBA Finals on Monday night in Toronto. (READ) by Ryan Young
One way or another, Game 5 promised to be interesting, with Kevin Durant's return from a strained calf and the prospect of the Raptors winning their first championship in the franchise's 24-year history. (READ) by Jeff Zillgitt
It wasn't pretty, but the Warriors rallied past the Raptors in the fourth quarter after blowing a 14-point lead to take Game 5 106-105 on Monday night in Toronto. (READ) by Drew Nantais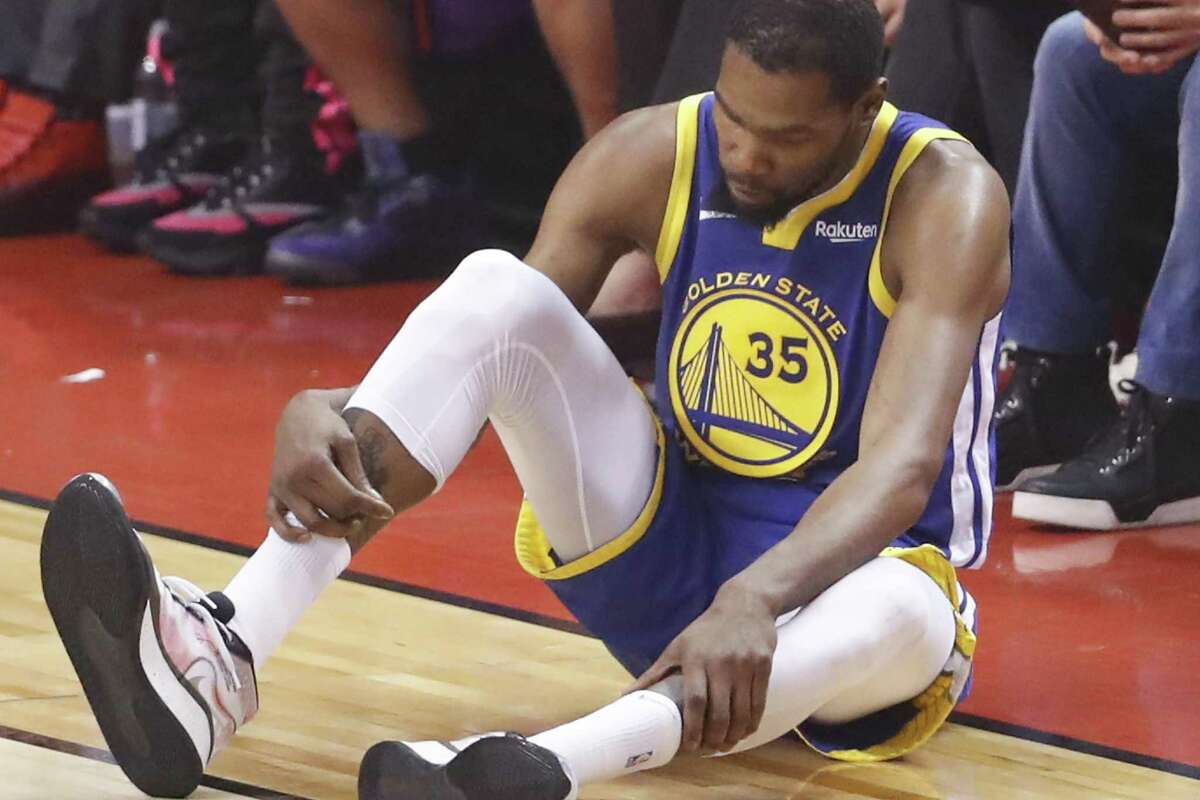 Photo: Scott Strazzante / The Chronicle
What started out with such high hopes for Kevin Durant and the Warriors on Monday night came to a devastating halt minutes into the second quarter of Game 5 of the NBA Finals, when the all-time scoring great injured his Achilles. (READ) by Rusty Simmons 
Faced with a chance to efficiently dispatch the Golden State Warriors in five games and in front of a throbbing crowd with a city on edge, the Toronto Raptors blinked for one of the few times in their otherwise steady playoff march. (READ) by Michael Grange
During the breaks in the contest, Torey Lanez and Baka Not Nice performed for the crowd. For the Canadian national anthem, the Raptors had the crowd sing together led by Doug Tranquada while Monica performed the U.S. national anthem.
The Raptors lead this best-of-seven series, 3-2, with Game 6 set to take place in Oakland on Thursday, June 13th at 9:00pm ET on ABC.