Brought to you by Site Ground
June 10th, 2019
Welcome back, we are going to Game 7 for the Stanley Cup!
1. What's New
Sir Winston captured the $1.5 million Belmont Stakes Saturday, holding off favored Tacitus by a length. The win gave trainer Mark Casse the final two jewels in the showcase for 3-year-old thoroughbreds. Sir Winston was a 10-1 long shot.
A second horse in two days and 29th overall has died at Santa Anita, where management has chosen to continue racing for the rest of the current meet.
Florida State coach Mike Martin, the all-time wins leader in all NCAA sports, will get one more shot at winning his first national championship before he retires.
The rustic Pennsylvania training camp where Muhammad Ali prepared for some of his most famous fights has undergone an elaborate restoration, opening to the public Saturday as a shrine to the heavyweight icon's life and career.
Rafael Nadal won 16 of 17 points and 12 of the remaining 14 games, pulling away to beat Dominic Thiem 6-3, 5-7, 6-1, 6-1 for his record-extending 12th championship at the French Open.
Rory McIlroy is familiar with the feeling that golf is easy and on Sunday he showed it en route to another 61, this one giving him a seven-shot victory in the Canadian Open.
England wins 2-1 over World Cup newcomer Scotland in its opening game in Group D on Sunday.
Defending champion Lewis Hamilton won the Canadian Grand Prix on Sunday to extend his overall lead after Ferrari driver Sebastian Vettel committed yet another error under pressure.
Track and field's world governing body is to change its name from the IAAF to World Athletics. The new name and logo will be introduced in October after one last edition of the world championships under the IAAF banner.
Tony Ferguson's path to the lightweight title is becoming clear. Ferguson (26-3) won his 12th straight fight, won by technical knockout after a medical stoppage in a lightweight fight against Donald Cerrone at UFC 238 on Saturday night.
2. Stanley Cup Finals Game 6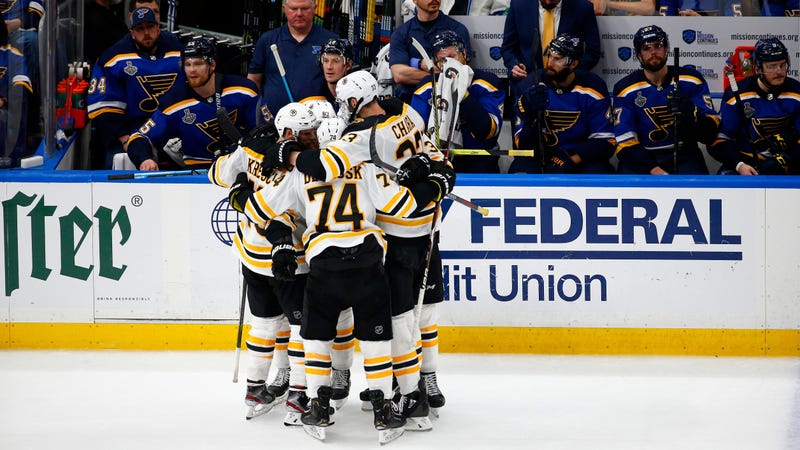 Photo: Dilip Vishwanat (Getty)
The Stanley Cup was in the building on Sunday night as the St. Louis Blues hosted the Boston Bruins for Game 6 of the Stanley Cup Final in St. Louis.
The Bruins' 5–1 win over the Blues in Game 6, forces a Game 7 (8 p.m. ET on NBC on Wednesday).
Bruins goaltender Tuukka Rask turned in his best game of the series, stopping 28 of 29.
Despite the disparity in play, Brad Marchand's 1-0 tally on a 5-on-3 power play was the only goal of the first two periods.
Brad Marchand and David Pastrnak both scored a goal and recorded an assist.
The Bruins doubled their lead early in the third. Brandon Carlo unleashed shot from the blue line and the bouncing puck hopped right past Binnington to put the Bruins up, 2–0.
The Blues got four power-play opportunities of their own, but as usual, they were stifled by Boston.
Boston is 24-1 all time when Marchand scores in the postseason.
Jordan Binnington has a 1.17 GAA in potential series-clinching games this postseason.
This will be the 17th Stanley Cup Final to go the distance, with the home team holding a 12-4 advantage in the prior 16. However, the road team has won each of the last two, with the Bruins doing so in 2011 at Vancouver and the Penguins in 2009 at Detroit.
3. NBA Finals
Photo: SI.com
The Toronto Raptors, the NBA's accidental pseudo-contender who catapulted themselves toward something greater with a trade for the ages, could clinch the NBA championship Monday. (READ) by Zach Lowe
It looks like Kevin Durant is ready to pull a Willis Reed on Monday night in a do-or-die Game 5 for the Warriors. Warriors coach Steve Kerr said Durant was cleared for Sunday's practice and would scrimmage with some of the younger players – the final hurdle to his return from a 4 ½ week absence with a partially torn calf. (READ) by Marc Berman
Golden State Warriors star Kevin Durant participated in practice Sunday and still has a chance to play in Game 5 of the NBA Finals against the Toronto Raptors on Monday. If Durant does suit up, Warriors point guard Stephen Curry believes his superstar teammate will make an impact no matter what. (READ) by Jason Patt
Playing on an injured left hamstring, Golden State Warriors swingman Klay Thompson scored 28 points in his return from a one-game absence. (READ) by Nick Friedell
Toronto Raptors guard Kyle Lowry was taken aback on Sunday during his Media Availability session when a young boy had the opportunity to ask him how it felt to be an "icon" to kids in Canada. (READ) by Marty Fenn
That's an interesting word. An operative word, if you will. Let's reset the scene. Casting its massive shadow over these NBA Finals is the specter of free agency. Specifically, will Golden State's Kevin Durant and Toronto's Kawhi Leonard choose to stay with their teams or move on? (READ) by Kurt Helin
Toronto Raptors guard Fred VanVleet suffered a nasty looking injury during the fourth quarter of his team's win over the Golden State Warriors in Game 4 of the 2019 NBA Finals on Friday night, but will be ready to go for Game 5 — albeit while wearing a mouthguard to prevent any more injuries to his teeth. (READ) by Jack Maloney & DJ Siddiqi
Serge Ibaka made a star turn in Game 4 of the NBA Finals, providing a back-breaking 20 points. Throughout this season, Ibaka spent less time hovering around the three-point line (he attempted his fewest three-pointers in the past four years) and more finding his intermediate game. (READ) by Rob Mahoney
4. Before Tony Romo, there was John Smoltz.
Photo: COURTESY OF FOX SPORTS
The only pitcher to record 200 wins and 150 saves in a career moved into the booth in 2010 and was immediately a hit.
Smoltz is "scary smart" and surprisingly prescient, "the rare ex-athlete willing and able to explain complexities of the craft on TV."
Smoltz, a key member of the 1995 World Champion Braves, is the only pitcher in MLB history to record at least 200 wins and 150 saves.
He spent the first 20 years of his 21-year career with Atlanta before finishing with the Red Sox and Cardinals in 2009.
Smoltz is known as one of the greatest postseason pitchers in MLB history with a lifetime record of 15-4 and 2.67 ERA. Smoltz holds a career 2.47 ERA in eight World Series games pitched, including 52 strikeouts in 51 innings.
Smoltz has the most strikeouts in postseason history (199) the second most postseason wins (15) and was the winner of the 1992 NLCS MVP award.
Smoltz is the recipient of the 2005 Lou Gehrig Memorial Award, the 2005 Roberto Clemente Award and the 2007 Branch Rickey Award. The Atlanta Braves retired Smoltz's jersey, No. 29, in 2012.
FOX quickly tapped him for World Series duty alongside Joe Buck. Calling Game 7 of Cubs-Indians in 2016, Smoltz delivered, predicting that Rajai Davis would have a chance on a ball down-and-in before the Cleveland outfielder turned just such a pitch into a tied game in the eighth inning.
Smoltz is far from baseball's most vitriolic pundit, but he has one of the biggest platforms (including a seat on MLB's competition committee), and he might be the most willing to air his grievances. Smoltz doesn't go into each broadcast thinking about appeasing any slice of the audience, even if they're tuning in for a good time. And as the fan base shows signs of splitting, he's not looking to smooth anything over. (READ) by Jacob Feldman
5. The Arizona Diamondbacks swept the Toronto Blue Jay on a current 10 game road trip. Off to Philadelphia for some "brotherly love!"
Arizona's biggest inning in almost two years gave left-hander Robbie Ray (5-3) struck out 10 in 6 2/3 innings, all the cushion he needed against the struggling Blue Jays.
Carson Kelly and Ketel Marte homered during an eight-run burst in the third inning, and the Diamondbacks beat Toronto 8-2 Sunday to complete a three-game sweep.
Eduardo Escobar had three hits and reached base five times for the Diamondbacks, who hadn't had a bigger inning since scoring nine times in the eighth against San Francisco on Aug. 27, 2017.
Arizona did all its damage in the third, scoring seven times after there were two outs and none on.
Marte started things off with a one-out homer, his 15th.
Escobar hit a two-out single and advanced on a wild pitch before walks to David Peralta and Christian Walker loaded the bases for Kevin Cron, who hit a two-run single. Pinch-hitter Jarrod Dyson loaded the bases again with an infield single before Tim Locastro chased Richard with a three-run triple.
Kelly homered on the first pitch he saw from Blue Jays left-hander Thomas Pannone. The two-run drive was his seventh.
Diamondbacks: RHP Taylor Clarke (1-2, 4.43) starts the opener of a three-game series at Philadelphia. Clarke has allowed two earned runs or fewer in three of his four starts.