Brought to you by Site Ground
June 8th, 2019
Welcome back have a great weekend!
1. What's New
There's been a buzz about thoroughbred racing since the Kentucky Derby and it just might increase when the "What if?" Triple Crown comes to an end with the Belmont Stake. What if Maximum Security, the first colt across the finish line, had not interfered with eventual Preakness winner War of Will at the top of the stretch in the Derby?
War of Will, with Tyler Gaffalione aboard, is the only horse among the Belmont's field of 10 to compete in all three legs of this year's Triple Crown.
The Atlanta Braves agreed to a $13 million deal to convince free agent Dallas Keuchel to pitch the rest of the season in Atlanta.
After missing more than one-third of a season while waiting for the right offer, Craig Kimbrel found a home with the Chicago Cubs.
Didi Gregorius is back with the New York Yankees, eight months after undergoing Tommy John surgery on his right elbow, Gregorius was activated from the injured list as the AL East-leading Yankees open a three-game series against the Indians.
Matt Lipka, who plays for the Yankees' Double-A affiliate Trenton Thunder, bunted in the ninth inning to break up a combined no-hitter being tossed by the Hartford Yard Goats pitching staff.
The massive contract extension the Philadelphia Eagles gave quarterback Carson Wentz will not affect the timing of an extension for Rams quarterback Jared Goff, Rams chief operating officer Kevin Demoff said Friday.
Former assistant basketball coach at Oklahoma State and the University of South Carolina Lamont Evans was sentenced to three months in prison for accepting bribes to link top players with bribe-paying managers and financial advisers. He also ordered him to forfeit $22,000 and work 100 hours of community service.
Rafael Nadal made quick work of Roger Federer in their first meeting at Roland Garros since 2011, outperforming his rival 6-3, 6-4, 6-2 in air whipping at more than 20 mph (12 kph) to reach his record 12th final in Paris as he pursues his record 12th championship.
On the eve of National Donut Day, Dunkin' has another sweet moment in its long history of support for hockey teams and players across America. Dunkin' and the National Hockey League today announced a new multiyear agreement to keep Dunkin'.
2. Warriors lose Game 4 of the 2019 NBA Finals, which puts them in a huge hole down 3-1 in the series.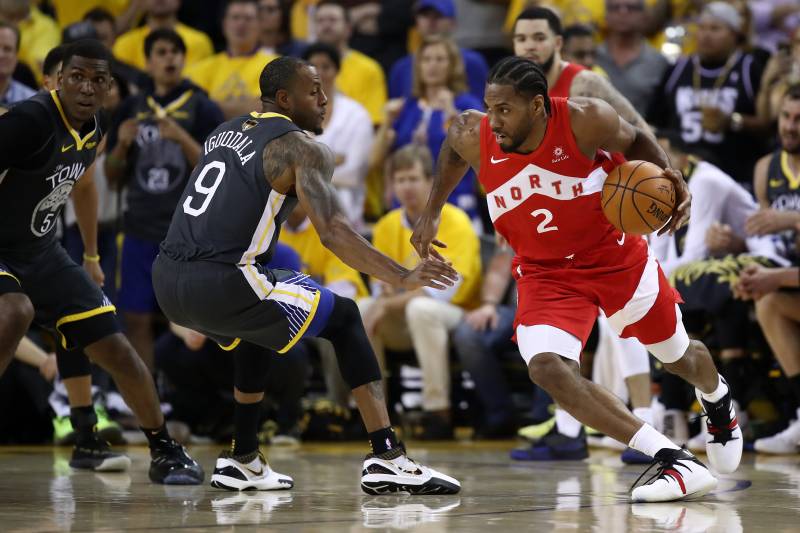 The Toronto Raptors are one win away from capturing their first championship after a 105-92 victory over the Golden State Warriors in Game 4 of the 2019 NBA Finals on Friday night at Oracle Arena.
As a team, Toronto shot 52.4 percent overall and with 44.7 percent accuracy from beyond the arc, led by veteran guard Danny Green, who drilled six 3-pointers.
Kawhi Leonard finished with a game-high 36 points (36 points on 11-of-22 shooting) and 12 rebounds.
Serge Ibaka (20 points on 9-of-12 shooting) in 22 minutes.
Toronto Raptors guard Fred VanVleet had to head to the locker room during Game 4 of the NBA Finals on Friday after a hard elbow opened up a bloody cut on his face and seemed to leave one of his teeth on the court.
VanVleet never re-entered the game though, finishing with eight points on 3-of-9 shooting, six assists and four rebounds in 29 minutes.
Klay Thompson to return with a left hamstring injury and finish with 28 points on 11-of-18 shooting and 6-of-10 from 3.
Stephen Curry had 28 points while going only 9-of-22 from the field and 2-of-9 from deep.
During this five-year run, the Warriors have trailed in four series. Golden State is 5-1 in games when trailing in the series, and it went on to win all four series.
The Warriors and Raptors will return to Scotiabank Arena for Game 5 on Monday at 9 p.m. ET.
3. US Women's Soccer set to bring home the 2019 Women's World Cup.
Photo: (Kirby Lee, USA TODAY Sports)
A total of 950,000 tickets have been sold so far for this year's FIFA Women's World Cup.
In 2015, more than 760 million people tuned into the Women's World Cup, according to FIFA.
The 52 matches will be played across nine different stadiums. The games will crisscross between nine French cities: Paris, Grenoble, Le Havre, Lyon, Montpellier, Nice, Reims, Rennes and Valenciennes. The semifinals and final will be in Lyon.
Outside of the games, FIFA TV will provide broadcasters with around 1,700 hours of non-live content related to the World Cup.
The total prize fund for this year's tournament is $30 million, with the winners are set to receive $4 million. That number is double what it was in 2015.
In comparison, the Men's World Cup champion France brought home $38 million from a prize pool of $400 million.
Bleacher Report, advertiser commitment for this year's Women's World Cup will outpace what the company did for last year's men's tournament. Adidas, Hulu, Nike, PlayStation and Volkswagen are just some of the brands who will be involved in supporting B/R's coverage around the event.
Both Nike and Volkswagen are official partners of the USWNT, while Hulu integrated the USWNT into its "Hulu Has Live Sports" campaign.
Other major global sponsors Visa, Adidas, Hyundai, Coca-Cola, Wanda, KIA, Qatar Airways, Proman, Orange, Crédit Agricole, EDF, SNCF, Living Football, Arkema, Budweiser, Coca-Cola, Continental, Cutter, Hisense, Johnson & Johnson, Powerade, Secret, TagHeuer, Thorne, Volpi, Volkswagen, AT&T, Samsung, T-Mobile, SAP, Commerzbank, Volkswagen, Coca-Cola, BWIN, Rewe, PMU, Volkswagen, Crédit Agricole, EDF, Orange, Continental Tires, Head and Shoulders, Budweiser, Boots, Lucozade
The team…
The U.S. is ranked No. 1 in the world. This U.S. team is so deep, especially on the attacking end. Up top, Alex Morgan, Megan Rapinoe and Tobin Heath will likely be the starters.
Mallory Pugh, Carli Lloyd and Christen Press can come off the bench and score. Other players who have a good chance of scoring are Crystal Dunn, Sam Mewis, Julie Ertz, Rachel Lavelle and Lindsay Horan.
No team has had 10 goalscorers since Germany in 2003.
Mallory Pugh, the 21-year-old phenom will be a real difference maker for the United States. She has recorded 15 goals and 15 assists in 52 caps for the USWNT.
Alyssa Naeher was awarded the 2014 NWSL Goalkeeper of the Year award, making a record 106 saves in 24 games. That performance helped earned her a spot on the USA's 2015 World Cup team.
The competition…
The United States plays in a relatively light group, facing Thailand, Chile and Sweden.
The runner-up in 2015 and champion in 2011, Japan is still one of the best teams in the world, but this squad is not playing its best soccer right now.
England has a number of strong players, including attacker Fran Kirby and defensive star Lucy Bronze.
Germany looks poised to make a deep run in the tournament.  Led by midfielder Dzsenifer Marozsán and forward Alexandra Popp.
Brazil, superstar Marta suffered a thigh injury two weeks ago that might hamper the team's fortunes.
Expectations for France are high, as the host country and after its men's team won last summer's World Cup.
Norway is overshadowed by France in Group A, but this team is going to shock a lot of people. The best player in the country and possibly the world, Ada Hegerberg, will not suit up for the Norwegian side due to her problems with the football association for inequality between the men and women's team.
Keep an eye on Australian star striker Sam Kerr. She's the all-time leading goalscorer in the U.S.-based National Women's Soccer League and she does a backflip when she scores, which is often.
Where can I watch…
The hunt for the most important trophy in women's soccer begins on June 7 and culminates with the final in Lyon on July 7.
The tournament will air in the United States English on Fox and FS1.  All games will be live on FOX Sports and the FOX Sports App.
The Spanish broadcast rights are with Telemundo, with games also airing on Universo. You can watch the tournament on fuboTV (Try for free).
4. MLB teams will hit more home runs in the 2019 season, then any season before. Is it the baseball, hitters launch angle, poor pitching? What's your guess? 
Photo: (Getty Images/Ringer illustration)
Major League Baseball is celebrating its 150th anniversary in 2019 and there have been almost 300,000 home runs hit dating back to the inaugural game on June 1, 1869 between the Cincinnati Red Stockings and Mansfield Independents. (READ) by Robert Kuenster
This year, MLB batters are on pace to hit some 6,500 home runs, which would beat the previous record, set in 2017, by about 400. (READ) by Michael Baumann
Home runs continue to fly at a historic rate and Major League Baseball set a calendar-month record with 1,135 home runs in May.
Batters hit 1,135 home runs in May, topping the previous mark of 1,119 in August 2017, according to the Elias Sports Bureau. Toronto rookie Vladimir Guerrero Jr. hit No. 1,120 for the month. (READ) by AP
Previously, the most home runs in a single month was 1,119 in August 2017.
The launch angle revolution is sweeping throughout baseball. Batted ball data goes back to 2002 and the league's 42.8 percent ground ball rate this year is the lowest ever. Last year's 43.2 percent ground ball rate was the previous low. Hitters are trying to hit the ball hard and hit it in the air, and that also equals more home runs. (READ) by Mike Axisa
5. Arizona Diamondbacks have a log jam at firstbase, just called up heavy hitting Kevin Cron, Walker and soon to come off the DL Jake Lamb. 
Photo: Mark J. Rebilas-USA TODAY Sports
Kevin Cron's first major league home run put Arizona Diamondbacks manager Torey Lovullo in a tough spot.
Cron homered, David Peralta had a solo shot among his three hits and the Diamondbacks beat the Toronto Blue Jays 8-2 Friday night.
Carlos Santana's two-run homer in the sixth inning helped rookie Zach Plesac get his first major league win and sent the Cleveland Indians to a 5-2 win over the New York Yankees, who welcomed back shortstop Didi Gregorius on Friday night.
Mitch Garver homered and had three hits, Marwin Gonzalez matched his career high with four hits and the Minnesota Twins beat the Detroit Tigers 6-3.
Jay Bruce hit a two-run homer, Zach Eflin threw 6 1/3 sharp innings and the Philadelphia Phillies beat the Cincinnati Reds 4-2.
Ian Desmond got plunked square in the back by a pitch from New York Mets rookie Drew Gagnon immediately after two colossal Colorado homers, leading to a bench-clearing scrum late in the Rockies' 5-1 victory.
Ronald Acuna Jr. hit a score-settling homer off Jose Urena and celebrated by tossing his bat over his shoulder, and the Atlanta Braves rode starter Mike Soroka to a 7-1 win over the Miami Marlins on Friday night.
35-year-old Cole Hamels threw eight innings of three-hit, shutout ball, Javier Baez hit a two-run homer and the Chicago Cubs topped the St. Louis Cardinals 3-1 on Friday. The Cubs have won 4 of 5 since being swept in a three-game series at St. Louis last weekend. The Cardinals opened a season-high 10 game road trip that will take them to Miami and New York to face the Mets.