Brought to you by Ground Site
June 7th, 2019
Welcome back its TGIF!
1. What's New
Nike Inc. is "very concerned" about a rape accusation against Brazilian soccer star Neymar, the world's largest sportswear maker said on Thursday, raising questions about its sponsorship of one of the sport's most famous players.
Brands are missing out on reaching valuable new audiences by shying away from sponsoring women's sports. In the level of investment and coverage, female sports remain well behind male sports. One estimate found that between 2011 and 2013, women's sports sponsorships accounted for just 0.4% of all sports sponsorships.
Three years ago, Russian athletics coach Vladimir Mokhnev was banned for 10 years by the Court of Arbitration for Sport, global sport's over-arching judicial body, for giving prohibited performance-enhancing drugs to members of the national track team.
Poland appears set to host the third edition of the European Games after the European Olympic Committees (EOC) confirmed the country as the sole bidder for the multi-sport event in 2023.
American billionaire Rocco Commisso has bought Italian Serie A soccer club ACF Fiorentina from the Della Valle family, his U.S. cable company Mediacom Communications. Deal terms were not disclosed but had earlier been reported that the deal was valued at around 160 million euros ($180 million).
Major League Baseball and charitable partner the Boys & Girls Clubs of America today released a new set of creative spots featuring Cleveland Indians shortstop Francisco Lindor that will air nationally this summer and promote the longtime alliance between the two organizations.
Dallas Keuchel one of the highly-regarded free agent pitcher, looks like he will sign with the New York Yankees.
2. Stanley Cup Finals Blues take a 3-2 lead with a Game 5 win 2-1 over the Bruins.
The St. Louis Blues beat the Boston Bruins 2-1, taking a 3-2 series lead in the 2019 Stanley Cup Final.
Jordan Binnington was brilliant during Game 5, helping the Blues take a 1-0 lead into the third period, even though Boston carried several stretches of play. Most importantly, Binnington helped St. Louis survive what was quite an onslaught from the Bruins during the first period.
St. Louis Blues rookie goalie Jordan Binnington made 37 saves to beat the Boston Bruins 2-1 and put the Blues one win short of the first Stanley Cup championship in their 52-year history.
"It's exciting," said defenseman Colton Parayko. "It's huge for our group. We've had quite the season so far. We continued to battle we never gave up on each other. We expect the best game in the whole series from them so we're going to have to match it."
Ryan O'Reilly scored the opening goal, and he also made an alert play to set up the 2-0 tally to David Perron.
To make the moment even more glaring, that goal ended up being the game-winner, as Jake DeBrusk scored to shrink St. Louis' lead to 2-1. Boston made furious pushes to tie things up, but couldn't manage, as Binnington and the Blues held on.
The Blues took a 2-0 lead midway through the second period, after Tyler Bozak was not penalized for upending Noel Acciari with a knee to the back of the knee in the Boston end of the ice. Seconds later, David Perron slipped the puck past Tukkaa Rask for the Blues' second goal.
Everyone involved began to lose their composure, starting with the Bruins' official Twitter account.
Bruins president Cam Neely launched a water bottle with form that would've made former Red Sox ace Pedro Martinez (in attendance for Game 5, no less) very proud. It's Neely's 54th birthday and it doesn't seem like he'll be having a party after the game.
3. New England Patriots received their Super Bowl ring and they are the biggest ever!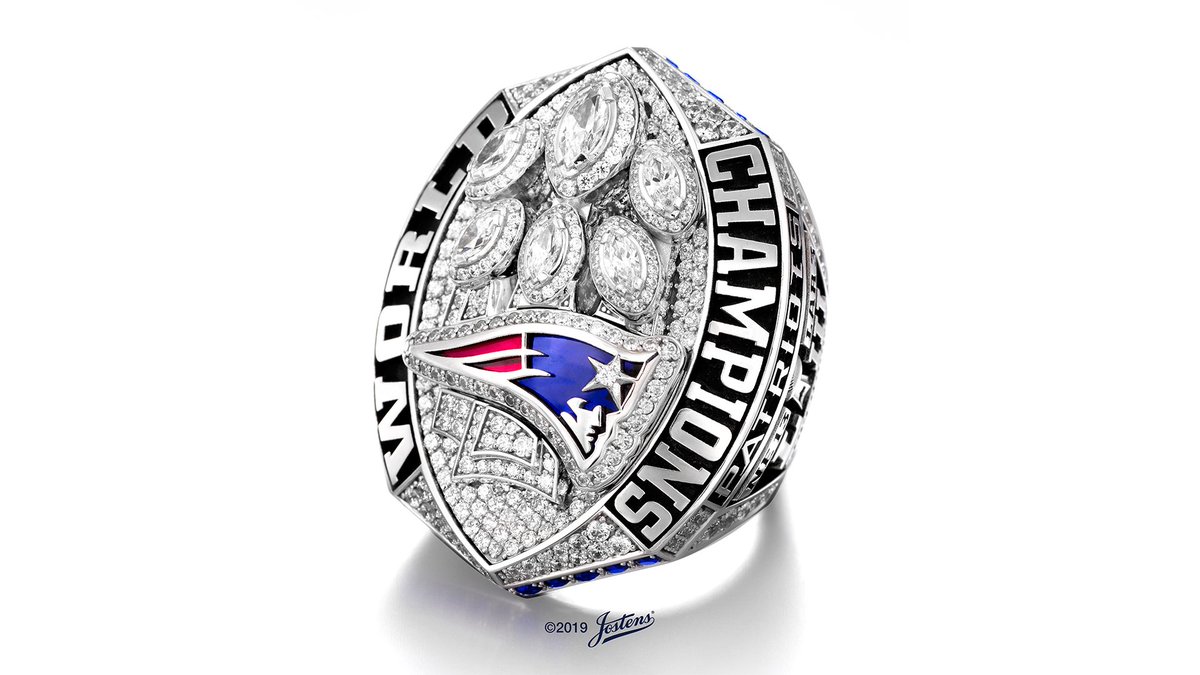 New England Patriots players, coaches, team executives and football staff received their Super Bowl LIII championship rings on Thursday night at a private party at owner Robert Kraft's residence — an event that brought former players and coaches back together for one final celebrate.
New England Patriots quarterback Tom Brady expressed regret for applying to trademark the term "Tom Terrific," explaining Thursday that his intention was to ensure people didn't refer to him by that nickname.
The Philadelphia Eagles have signed franchise quarterback Carson Wentz to a four-year extension through the 2024 season. The extension is for $128 million and includes guarantees of over $107 million.
Wentz did not reach Russell Wilson's $35MM-per-year agreement — though, he did eclipse Wilson and all others in total guarantees — he comes in just below Ben Roethlisberger and Aaron Rodgers in average annual value.
Veteran wide receiver Jermaine Kearse has signed with the Detroit Lions, a move that reunites him with offensive coordinator Darrell Bevell. The one-year deal is for $1.35 million, with $350,000 guaranteed, and has a max value of $2.3 million. Kearse made $5 million last season in the final year of his contract with the New York Jets.
Odell Beckham Jr. dished out compliments about the arm of his new Cleveland Browns quarterback Baker Mayfield on Wednesday. New York Giants coach Pat Shurmur didn't view it as criticism of Beckham's former quarterback Eli Manning.
Washington Redskins tackle Trent Williams' frustration with a medical condition is partly why he hasn't attended the team's mandatory minicamp this week. Williams, a seven-time Pro Bowler who hasn't played a full 16-game season since 2013 because of injuries, could feel this is his final chance to parlay any leverage into a new deal.
Left tackle Joe Staley signed a two-year contract extension with the team. The extension would take Staley, 34, through the 2021 season and positions him to finish his career with the only NFL team he has ever known.
When the Chicago Bears kick off the celebration for their 100th season with a weekend-long extravaganza that begins Friday, Hall of Fame running back Gale Sayers will be in attendance despite his "severe dementia."
The NFL will return to Canada for the first time in six years this August when the Raiders and Packers meet in Winnipeg. The game, which will take place during Week 3 of the preseason, will be held Aug. 22 at IG Field, the home of the CFL's Winnipeg Blue Bombers. Oakland will be considered the home team.
Roger Goodell's comments on what he considers necessary stadium upgrades to New Era Field in Western New York have again brought on a tidal wave of alarmists and the subsequent soothing sounds of settle-down corporate jargon.
The Jacksonville Jaguars inked wide receiver Terrelle Pryor shortly after he auditioned on the practice field. It's a one-year, $930K veteran's minimum contract. Pryor will count for just $645K against the salary cap.
Landry Jones and Christine Michael will work out for the XFL at an upcoming showcase.