May 9th, 2019
Welcome Back! No Constitutional Crisis Here!!!
Click on the "My Take" page for the shows latest comments.
What's New:
On This Day In Sports:
1. National Basketball Association Results
Bucks forward Giannis Antetokounmpo (34) looks to shoot against Boston Celtics guard Kyrie Irving (11) and forward Jayson Tatum (0) during Game 5. (Photo: Jeff Hanisch, USA TODAY Sports)
Giannis Antetokounmpo had 20 points, eight rebounds and eight assists, and the Milwaukee Bucks routed the Boston Celtics 116-91 on Wednesday night to advance to the Eastern Conference final.
It's the first Eastern Conference final for Milwaukee since 2001.
Brad Stevens' most talented team was disappointing Wednesday night with a 116-91 loss to the Milwaukee Bucks in Game 5 of the Eastern Conference semifinals.
The Boston Celtics reached the East finals each of the previous two seasons.
Kyrie Irving shot badly in Game 5, finishing with 15 points, one rebound, one assist, one steal, three turnovers, two fouls, and a lot of missed assignments. He took one free throw and went 1-for-7 from behind the arc.
Irving is the first Celtic to go four straight playoff games taking 15 or more shots and making them at a rate lower than 40 percent since Sam Jones in 1966.
 Khris Middleton and Eric Bledsoe combined for 37 points to close out Game 5.
The Golden State Warriors the Houston Rockets 104-99 in Game 5, Warriors lead 3-2 in the series. Golden State has won all three games at Oracle Arena in the series.
Kevin Durant limped off the court following a noncontact injury in the third quarter. He didn't return with what the Warriors announced was a right calf strain.
Durant had 22 points, five rebounds and four assists in 32 minutes before leaving the game.
Draymond Green dropped 12 rebounds, 11 assists and 8 points. Two points short of a triple double.
Klay Thompson scored 27 points, including a key layup with 4.1 seconds left to seal the victory.
The Warriors shot 13/37 for 35% from three, while the Rockets were 12/41 for 29%.
James Harden scored 31 points for the Rockets.
2. National Hockey League Results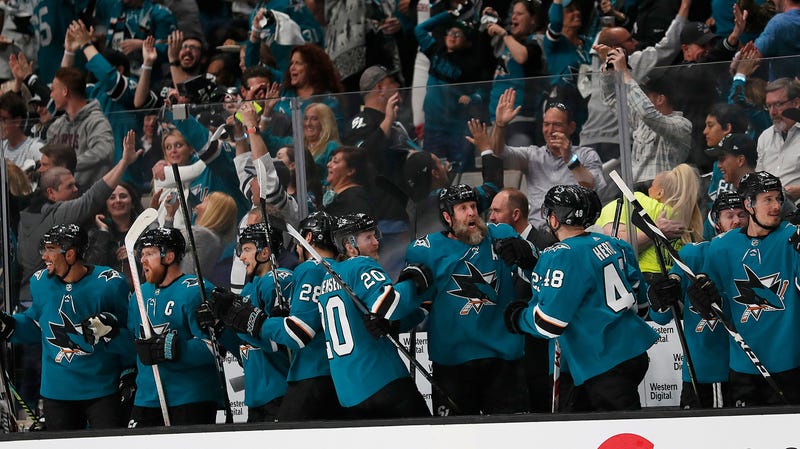 Photo: Josie Lepe (AP)
The San Jose Sharks advance with a 3-2 win that vaults them into the Western Conference Finals.
The Sharks will face the St. Louis Blues in the west final in a series that will begin later this week in San Jose.
Colorado Avalanche all-star center Nathan MacKinnon exited Wednesday's Game 7 against the Sharks early in the first period with an apparent upper-body injury. MacKinnon returned to the ice with just under four minutes remaining in the opening period.
Mikko Rantanen and Tyson Jost scored for the Avalanche, who were trying to make their first conference final since 2002. Philipp Grubauer made 24 saves.
The team captain Joe Pavelski who has been out since a hit in Game 7 of the previous series returned to the ice. He immediately made an impact scoring the first goal of the game. He ended up with a score and an assist in his return.
Sharks goalie Martin Jones finished with 27 saves, including 14 in the third period.
The Sharks won multiple Game 7's in the same postseason for the first time in franchise history.
The last team to advance to the conference finals with two Game 7 wins was St. Louis in 2016.
3. The Fighting Irish May Be The Sleeper Team in 2019-2020.
4. Major League Baseball Taking Back Seat With NBA and NHL Playoffs, But There Are A Few Teams That Are Surprises.
Photo: Kathy Willens, AP
Yusei Kikuchi pitched brilliantly into the eighth inning and Ryon Healy had four extra-base hits as the Seattle Mariners routed the New York Yankees 10-1 on Wednesday night. The rookie left-hander from Japan allowed only three soft hits in 7 2/3 innings.Yankees manager Aaron Boone said he was aware cameras showed a dark substance perhaps illegal pine tar smudged under the brim of Kikuchi's cap.
Andrew Benintendi delivered the tiebreaking home run, and Boston received a masterful pitching performance from Chris Sale and a game-saving catch from Bradley in a 2-1 victory over the Baltimore Orioles on Wednesday night.
For the second straight night, the surging Chicago Cubs walked off with a victory. Jason Heyward homered leading off the 11th inning to lift Chicago over the Miami Marlins 3-2 Wednesday in Addison Russell's return to the majors.
The Chicago Cubs said they have identified and now banned the fan who was observed on camera making what appeared to be a hand gesture associated with racism during Tuesday night's broadcast of a home game.
Michael Brantley homered twice, Peacock pitched seven innings and Josh James completed the three-hitter in Houston's Astros 9-0 win over the Kansas City Royals.
Jorge Polanco had five hits, including a two-run home run, Kyle Gibson struck out a career-high 11 and the Minnesota Twins beat Toronto Blue Jays 9-1 on Wednesday, completing a three-game sweep of the struggling Blue Jays.
Matthew Boyd pitched six strong innings and Ronny Rodriguez drove in a career-high four runs, helping the Detroit Tigers beat the Los Angeles Angels 10-3 Wednesday night.
Jose Ramirez hit a two-run homer with two outs in the ninth inning Wednesday night, giving the Cleveland Indians a 5-3 win over the Chicago White Sox that snapped an Indians' losing streak that felt like more than three games.
Texas Rangers slugger Joey Gallo earned a place in baseball's history books. Gallo hit a two-run shot into the Allegheny River in the third inning of the Rangers' 9-6 win at the Pittsburgh Pirates, becoming the first player in major league history to hit 100 home runs before reaching 100 singles (he has 93).
Hunter Renfroe hit a tiebreaking solo homer in the seventh after Margot robbed Pete Alonso at the wall, and San Diego Padres beat the New York Mets 3-2 Wednesday to claim a three-game set.
Christian Yelich hit his major league-leading 16th home run and the Milwaukee Brewers won their sixth straight game, beating the Washington Nationals 7-3 on Wednesday.
Running out of options in a 13 inning game and an expended bullpen, Arizona manager Torey Lovullo turned to Archie Bradley and Zack Godley. Bradley and Godley turn in shut down performances in Wednesday's 3-2 victory over the Tampa Bay Rays in 13 innings. Wilmer Flores drove in the winning run with a two-out RBI single.
Philadelphia Phillies chairman David Montgomery is dead at age 72 from cancer, the team announced Wednesday. Montgomery had surgery in 2014 for jawbone cancer. MLB commissioner Rob Manfred said in a statement. "David was a first-class representative of his hometown team, the Philadelphia Phillies, for nearly half a century. He never forgot his days as a fan at Connie Mack Stadium, and he carried those lessons to Veterans Stadium and Citizens Bank Park.